Best Boutique Hotels in Marrakech
Oyster knows what travelers look for in their hotels. When we visit properties around the world, we evaluate how every feature stacks up against the competition, from the rooms to the pools to the restaurants. So if you're planning a trip and need a place to start, you've come to the right place. Take a look at our top boutique hotel picks in Marrakech, and get inspired!
See All Marrakech Hotels
1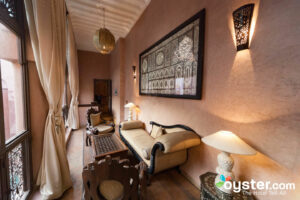 Located in Marrakech's historic Medina, the elegant Riad Noir d'Ivoire is a luxury boutique hotel masquerading behind a traditional riad's walls. The entire riad has been restored with rich modern furnishings with both Berber and more typically Marrakeshi artwork, textiles, and accents, and the sprawling courtyard is home to two swimming pools. The kitchen serves exceptional Moroccan and French food throughout the day -- in addition to the free continental breakfast -- to wherever on the grounds guests would like to eat. The nine spacious, sumptuous rooms have flat-screen TVs and the rare-for-Morocco alcoholic minibar; the five suites have private balconies. The riad also has a hammam, small gym, lounge bar, boutique, and library. Wi-Fi is included.
2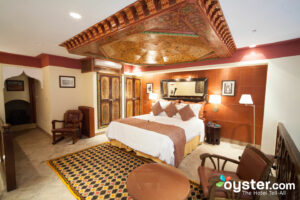 La Maison Aribe is a luxurious boutique hotel built around an interior courtyard with 12 guest rooms and 14 suites, all decorated in unique and color-saturated Moroccan style. Located in the heart of Marakech's old city, the hotel is close to the Jemaa el Fna marketplace and many other must-see sights. Other highlights include cooking classes, two restaurants, a piano bar, an intimate spa, and two pools, one on site and another at the property's country club.
3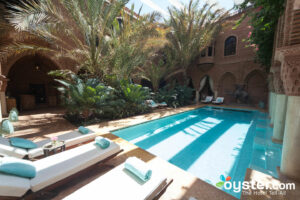 La Sultana Marrakech is a collection of five riads combined to create a 28-room luxury hotel with an intimate spa, a rooftop restaurant with panoramic views of Marrakech, and richly decorated interiors that showcase impeccable Moroccan style and craftsmanship. The hotel is located in the southern section of the Medina, close to palaces, museums, and souks. Guest rooms and suites are unique in their decor, featuring a mélange of decorative Moroccan tile-work, carved wood doors and ceilings, and gilded bathrooms. Other comparable properties in this price range in the Medina include the Riad Kniza and La Maison Arabe.
4
The 28-room El Fenn is a chic, upscale boutique with plenty of old Morocco charm set in the heart of medina. Interiors are hands-down some of the most gorgeous you'll find in Marrakech, with lots of jewel tones, inviting places to lounge strewn with colorful throw pillows, and pretty keyhole arches. This property also delivers on stellar facilities with several pools, a hammam spa, peaceful courtyards with a hammock, and excellent rooftop dining. It's no surprise their spacious and luxurious rooms are popular with the celebrity set. Wi-Fi is free throughout.
5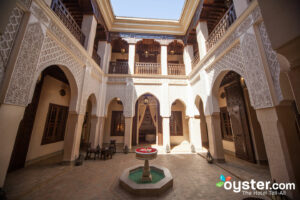 The lovingly restored 18th-century Riad Kniza is a luxurious 11-room hideout in the heart of Marrakech's old city. The hotel's serene atmosphere and authentic Moroccan decor attract well-seasoned travelers who prefer to explore the sites of the old city and then return to a plush, quiet retreat. The rooms are spacious with fireplaces and lots of Moorish detail and there are several courtyards and gorgeously decorated salons in which to enjoy a leisurely Moroccan meal.
6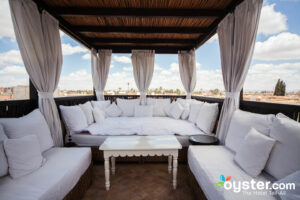 Deep in the medina, in a tangled web of narrow red streets, Riad Kheirredine fashions itself as a doorway to the soul of Morocco. The secret's out (and the prices are up) on this traditionally styled, four-pearl guesthouse. The staff is a dream come true, and the riad's white-linen opulence could be the setting for a fairy tale. Unlike many riad rooms in the old city, these have minibars and Bluetooth music systems, but like most, they're narrow (as they're built around a courtyard or garden), and don't have TVs or coffeemakers. Riad Kheirredine is not as ornately furnished, nor that close to Jamaa El Fna Square (some might consider this a plus) as other riads, but its rooftop terrace and fantastic service stand out.
7
An historic riad in the heart of Marrakech's picturesque Medina, Riad le Clos des Arts was once home to a family of artists and has been lovingly restored by an expat Italian couple to honor that tradition of beauty and hospitality. Each of the seven rooms -- four rooms and three suites -- has been individually decorated with traditional Moroccan tilework, rich fabrics, and both traditional and modern furniture and artwork, to guarantee upscale modern comfort. An extensive homemade breakfast -- included in the room rate -- is served on the rooftop terrace each morning, alongside a small pool and both outdoor and shaded loungers; an exceptional Moroccan dinner can be served in the courtyard salon upon request.
8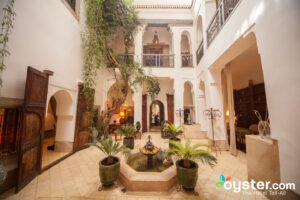 Walking into Riad Dar Oulhoum, a hidden three-and-a-half pear property within the historic medina, is like entering a private museum. It's tucked away in a maze of hard-to-navigate streets, far from parking or modern conveniences but a great place for travelers who want to discover Marrakech from the inside out. The rooms are superbly decorated with antiques and crafts collected everywhere from Fez to Bali. The expert guidance offered by the staff is helpful but not overbearing, and the Moroccan-style food is excellent. There's no pool or on-site spa, but this is one traditional guesthouse that doesn't lack authentic details, or style, and the rates are lower than at other riads with the same amenities.
9
A luxury guesthouse in the historic quarter, Riad Dar Anika is a private sanctuary with a wonderful garden courtyard and a staff with a penchant for luxury pampering. With 12 rooms, it's a bit larger than other riads, and has a heated pool and a marble hammam. The rooms are covered in colorful Moroccan textiles and rich hand-carved wood, though even the higher-tier rooms are small. It's located toward the southern end of the medina, and has the rare benefit of being right off a main avenue near street parking, making it easier to find than competing riads located deeper in the maze-like streets of the medina.
10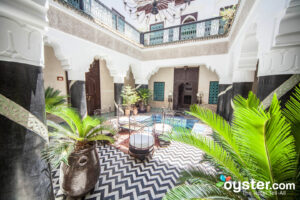 This brilliantly designed three-and-a-half pearl riad adds upscale amenities to a thoroughly traditional Moroccan experience. Travelers who want to explore Marrakech on their own terms will appreciate the medina location, and the restored 18th-century building is an attraction in itself. The characteristic riad courtyard and rooftop terrace have an elegant ambience, and the Riad El Mansour adds a full-service spa and small fitness room. The rooms are equally impressive, though light sleepers may want to avoid the ground floor, especially if other guests are using the pool late at night.
11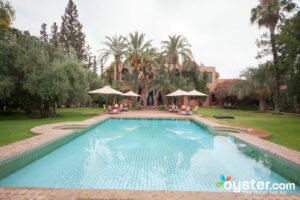 The eight-room boutique Dar Ayniwen Villa has the feel of a luxury guesthouse with top-notch amenities. The architecture and decor are dramatic, with spectacular museum-quality antiques in common areas and guest rooms, each of which is unique and individually-designed. The hotel sits amid acres of lushly landscaped gardens and an exotic aviary; the restaurant serves fine Moroccan cuisine in a lovely dining room or spectacular winter tent. The romance factor is high (as are the prices). This is a special location with a one-of-a-kind Moroccan feel.
12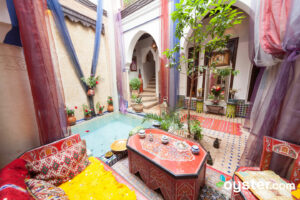 This charming, family-run riad hidden among the Marrakech Medina's winding streets has just six individually decorated rooms, a breezy central courtyard with a small plunge pool, and a rooftop with a Berber tent, all of which offer serene respite from the bustle outside. The decor at this mid-range property is a bit more colorful that some other Medina riads, with a homemade feel to it, but it's hostess Sara's personalized touch that makes the hotel a haven in the city. A free homemade breakfast is served each morning, and lunch and dinner -- made from fresh ingredients sourced daily -- can be ordered in advance to be served in the courtyard or on the rooftop. Wi-Fi is free.
13
A small boutique hotel in the medina, the Villa Makassar offers quiet, intimate upscale accommodations. The 10 rooms vary in decor but are sleek and modern, with beautiful Art Deco-inspired touches. The Makassar also has a spa and a fine-dining restaurant, although the whirlpool and hammam come with a fee. As with most hotels of its size in the medina, there's no fitness center, and the pool is not large enough to swim laps. Those who prefer extended poolside lounging and more standard hotel amenities may prefer to stay at the Sofitel Marrakech Palais Imperial, a 10-minute walk from the medina.