Best Beach Hotels in Lahaina, Maui
Take a look at the best beach hotels in Lahaina.
See All Lahaina Hotels
1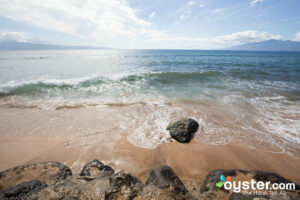 The Maui Kai is a solid mid-range choice at the northern end of Kaanapali Beach, a short jaunt from Lahaina. Contemporary rooms come in studio, one-, and two-bedroom configurations and have fully equipped kitchens; most also have sweeping ocean views. There's a swimming pool with a hot tub and guests have direct access to the beach, although it's known to disappear during high tide. Frills are few and far between, but rates are reasonable and parking and Wi-Fi are free.
2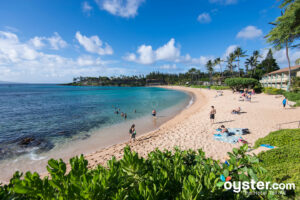 The Napili Surf Beach Resort is a small, two-story apartment hotel located in a picturesque, beachfront setting. Lahaina is a short drive away, meaning travelers can stay on the beach without being too far from central Maui. Situated on the Napili Bay, the atmosphere is casual and tranquil, making it a solid pick for those looking for a relaxed beach vacation with options for boating, swimming, and paddleboarding, but little in the way of frills. Rooms are simple and clean, though the tropical decor could use a bit of a refresh. All come with balconies and fully equipped kitchenettes, but lack air-conditioning. While there are plenty of beach activities offered, the hotel has limited amenities outside of its two small pools.
3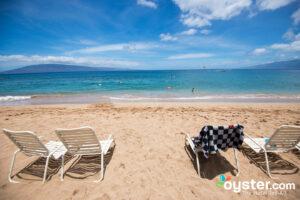 The upscale Kaanapali Alii consists of 184 one and two-bedroom apartments. They are privately-owned and decorated, but they're all spacious and come with private balconies, sweeping views, and multiple bathrooms. The gorgeous Kaanapali beach is right outside, and there is no fee to use the resort's fitness center, pool, and barbecue spot, or attend yoga classes. Plenty of restaurant and shops are within walking distance (although there are none on-site), and each unit features a fully-equipped kitchen. Nearby hotel options include the Westin Maui Resort & Spa and Hyatt Regency Resort and Spa, which are slightly cheaper with similar amenities.
4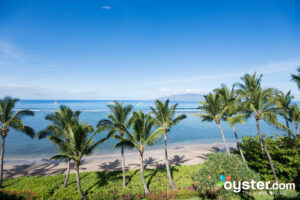 Lahaina Shores Beach Resort offers leisure travelers an excellent home base from which to explore downtown Lahaina, Front Street, and West Maui. The resort's 199 condo-style rooms have light, tropical decor and are clean and comfortable with lanais and kitchens/kitchenettes. Mountain and oceanfront views are available, but for travelers who can afford it, the views of the Pacific are worth the splurge. There's little in the way of amenities beyond a small outdoor, ocean-facing pool, and there's neither a bar nor a restaurant on-site.
5
The highlight of this mid-range condo resort is its prime oceanfront real estate, giving every unit great panoramic ocean views from comfortable private lanais. And with just 44 units, the Noelani Condominium Resort maintains a friendly, family-oriented vibe where guests mingle by the two pools and hot tub for the weekly live music and great sunsets. The condos have fully equipped kitchens (if dated bedding), and while the beach next door is tiny, there are more beach options within a short walk or drive. For a condo resort on a better beach, consider the nearby Sands of Kahana.
6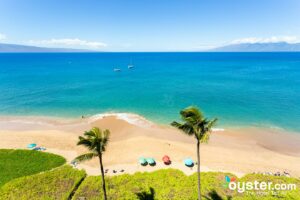 It's all about location at this 360-room condo-hotel on prime Kaanapali beachfront where inconsistent rooms range from luxe to dowdy, amenities are few and forgettable, and prices are steep. At least the fully equipped kitchens help take the sting out of Maui's otherwise expensive dining.
7
This low-key, low-rise condo hotel in serene Napili Bay has an authentic Hawaiian vibe that you won't find at Maui's mega-resorts. The pools are small, the gym is small and dank, and some rooms could use renovation, but it's still a gem for travelers intent on quiet, beachside relaxation and an ocean view from every room.
8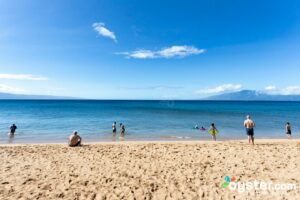 Situated on 26 acres, the expansive Westin Kaanapali Ocean Resort Villas features a slew of amenities -- fitness center, kids' club, spa -- along with its two pool areas and beachfront access. All 1,021 modern units are stylishly outfitted and have fully equipped kitchens, private balconies, and whirlpool tubs. The atmosphere is heavily geared toward families; couples or solo travelers looking for a quiet escape may want to consider Travaasa Hana or Makena Beach and Golf Resort.
9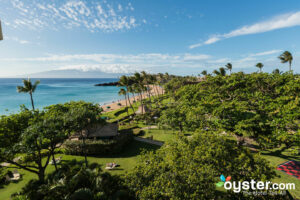 The 432-room mid-range Ka'anapali Beach Hotel is the embodiment of Hawaiian tradition and the Aloha spirit. With regular Hawaiian entertainment and free activities like lei making and Hularobics, it harkens back to an earlier time for Maui resorts. Though it's not as updated as and lacks some of the features of nearby resorts like the Sheraton, its more affordable rates make this a decent value option for the excellent beachfront location on the beautiful golden sands of Ka'anapali beach.
10
Honua Kai Resort & Spa, made up of individually owned units, combines hotel amenities in an upscale condominium complex. The rooms are huge, with full modern kitchens and private lanais, though not all have the best ocean views, and different owners provide different decor and amenities. The expansive beachfront grounds have multiple connecting pools and hot tubs that can get overrun with kids making the most of the waterslide. Couples can find solace in the adults-only pool, but the laid-back vibe may be lacking. Eco-conscious travelers will likely appreciate the restaurant and cafe's focus on local produce -- even the spa features an organic Hawaiian product line whose ingredients are sourced from the islands. The steep prices and the daily resort fee might trigger a bit of sticker shock, but as family-friendly Maui destinations go, this one is highly recommended.
11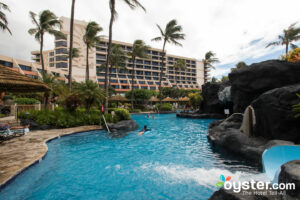 A Marriott Vacation Club property with 442 studio, one-, and two-bedroom villas, Marriott's Maui Ocean Club - Lahaina & Napili Towers primarily appeals to families with kids. The property's three massive pool complexes feature kid-friendly amenities, like water slides and climbable pirate ships, and the hotel's beachfront location means guests have easy access to Maui's famous Kaanapali Beach. Most villas are equipped with full kitchens and in-unit laundry, and feature separate living and sleeping spaces. The resort has one full service restaurant, a poolside grab-and-go, and a Starbucks, but on-site dining is mediocre at best. It's worth comparing rates at The Westin Kaanapali Ocean Resort Villas, a similar (though much newer) property with nicer rooms.
12
The 260-unit mid-range Aston Maui Kaanapali Villas is a laid-back condo resort community located on 11 acres of tropical gardens and the justifiably popular Kaanapali Beach. Fantastic swimming, snorkeling, sailing, and surfing are easily accessible, with plenty of golden sand for all. For non-beachgoers, there are small pools, hot tubs, and beautiful gardens with loungers and benches scattered throughout. Each room is individually decorated by its owner, but all are spacious, clean, and styled with a tropical touch. Watch out for a pesky facilities fee at checkout.
13
The 152-unit mid-range Napili Shores Maui by Outrigger is a low-key condo resort located on northwest Maui. The atmosphere is tranquil and relaxed, with two small ocean-view pools on-site and a sandy beach just 50 yards away. There's a southern barbecue joint serving dinner while the Gazebo Restaurant serves breakfast and lunch, including macadamia nut pancakes that are so popular that locals line up for an hour for tables. Rooms vary in decor based on individual owners, but all units have full kitchens and private patios.
14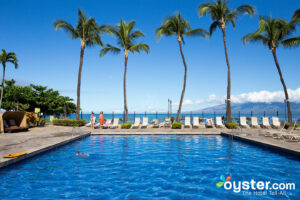 The 463-room mid-range Aston Kaanapali Shores, located on the western shore of Maui, is an oceanfront resort offering hotel rooms and apartments of various sizes with full kitchens and furnished lanais. The resort has a laid-back, homey vibe, combining hotel amenities and the benefits of a casual condo community. There's also a golden sand beach right on the grounds. Rooms and apartments are privately owned and vary in terms of decor and furnishings, but all are pleasant and clean.
15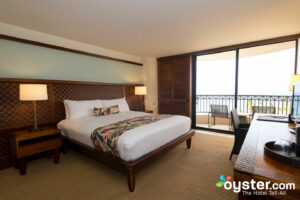 The mid-range Royal Lahaina Resort is a solid bang-for-your-buck pick on Kaanapali Beach. With 350 rooms, two pools, a nightly luau, 11 tennis courts, an open-air restaurant, a tiny spa, and a modern fitness center, this property has many of the same amenities as its pricier neighbors. Plus, it offers free Wi-Fi and doesn't charge a daily resort fee. The hotel shows some signs of age, but its rooms have been nicely refreshed and feature tasteful Hawaiian inspired decor. Travelers should note that entry-level rooms are located in the not-so-nice Kaanapali Ocean Inn next door. Those looking for something a bit more upscale may prefer the Sheraton Maui Resort, which has better amenities but is pricier.