Best Value Hotels in Lahaina, Maui
Take a look at the best value hotels in Lahaina.
See All Lahaina Hotels
1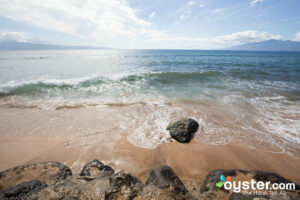 The Maui Kai is a solid mid-range choice at the northern end of Kaanapali Beach, a short jaunt from Lahaina. Contemporary rooms come in studio, one-, and two-bedroom configurations and have fully equipped kitchens; most also have sweeping ocean views. There's a swimming pool with a hot tub and guests have direct access to the beach, although it's known to disappear during high tide. Frills are few and far between, but rates are reasonable and parking and Wi-Fi are free.
2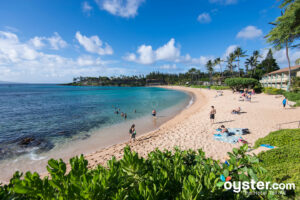 The Napili Surf Beach Resort is a small, two-story apartment hotel located in a picturesque, beachfront setting. Lahaina is a short drive away, meaning travelers can stay on the beach without being too far from central Maui. Situated on the Napili Bay, the atmosphere is casual and tranquil, making it a solid pick for those looking for a relaxed beach vacation with options for boating, swimming, and paddleboarding, but little in the way of frills. Rooms are simple and clean, though the tropical decor could use a bit of a refresh. All come with balconies and fully equipped kitchenettes, but lack air-conditioning. While there are plenty of beach activities offered, the hotel has limited amenities outside of its two small pools.
3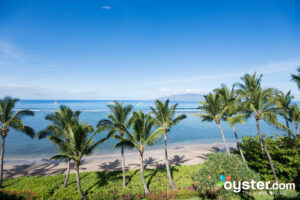 Lahaina Shores Beach Resort offers leisure travelers an excellent home base from which to explore downtown Lahaina, Front Street, and West Maui. The resort's 199 condo-style rooms have light, tropical decor and are clean and comfortable with lanais and kitchens/kitchenettes. Mountain and oceanfront views are available, but for travelers who can afford it, the views of the Pacific are worth the splurge. There's little in the way of amenities beyond a small outdoor, ocean-facing pool, and there's neither a bar nor a restaurant on-site.
4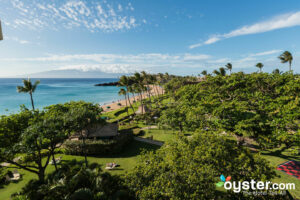 The 432-room mid-range Ka'anapali Beach Hotel is the embodiment of Hawaiian tradition and the Aloha spirit. With regular Hawaiian entertainment and free activities like lei making and Hularobics, it harkens back to an earlier time for Maui resorts. Though it's not as updated as and lacks some of the features of nearby resorts like the Sheraton, its more affordable rates make this a decent value option for the excellent beachfront location on the beautiful golden sands of Ka'anapali beach.
5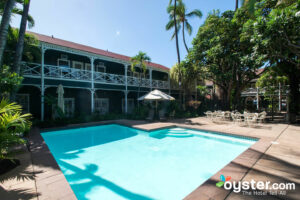 Built in 1901, the Best Western Pioneer Inn is the oldest continually operating hotel in Hawaii. The mid-range hotel's greatest asset is its harbor-front location in downtown Lahaina -- though there aren't any beaches within walking distance. The historic property looks much like it did at the turn of the century, with its colonial exterior, charming front porch, and gingerbread trim. The hotel's 34 rooms are classic spaces with wood furniture and white linens, but the decor is more generic than historic. On-site amenities include a small outdoor pool, popular full restaurant (with happy hour and live music), and small event space. Travelers looking for a beachfront property may prefer the Kaanapali Ocean Inn, though it isn't historic and tends to be pricier.
6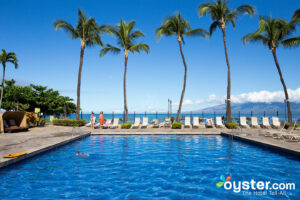 The 463-room mid-range Aston Kaanapali Shores, located on the western shore of Maui, is an oceanfront resort offering hotel rooms and apartments of various sizes with full kitchens and furnished lanais. The resort has a laid-back, homey vibe, combining hotel amenities and the benefits of a casual condo community. There's also a golden sand beach right on the grounds. Rooms and apartments are privately owned and vary in terms of decor and furnishings, but all are pleasant and clean.
7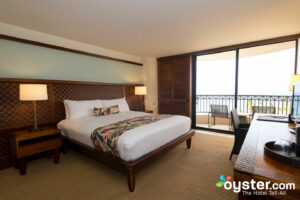 The mid-range Royal Lahaina Resort is a solid bang-for-your-buck pick on Kaanapali Beach. With 350 rooms, two pools, a nightly luau, 11 tennis courts, an open-air restaurant, a tiny spa, and a modern fitness center, this property has many of the same amenities as its pricier neighbors. Plus, it offers free Wi-Fi and doesn't charge a daily resort fee. The hotel shows some signs of age, but its rooms have been nicely refreshed and feature tasteful Hawaiian inspired decor. Travelers should note that entry-level rooms are located in the not-so-nice Kaanapali Ocean Inn next door. Those looking for something a bit more upscale may prefer the Sheraton Maui Resort, which has better amenities but is pricier.
8
The Outrigger Maui Eldorado, an older but well-maintained mid-range property alongside Kaanapali's golf course, has large individually owned condo rentals that can make a good base for touring the area. Units vary by owner, but each has a private lanai and a full kitchen. There's no dining on-site, though many options exist nearby, and it's just a short drive to the center of Lahaina. The beach is about a five-minute walk from the Outrigger, and once there, guests can use the hotel's cabana, which includes bathrooms, a sundeck, and a kitchen. The rates are lower at the Outrigger than for rentals right on the beach, but be aware of the fees that can add up, especially for guests who opt for housekeeping.
9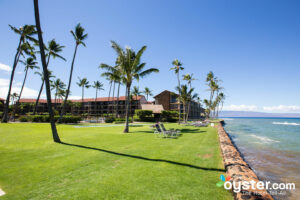 The 364-room mid-range Aston at Papakea Resort is a relaxed ocean-view condo complex on 13 acres of lush grounds with a rock sea wall. Dolphins, seals, and other wildlife can be seen right off the property. There's no on-site restaurant, but guests may dine at the companion property next door. Apartments vary in decor and amenities because they're independently owned, but all have balconies and full kitchens, and most have views of the water.
10
With 413 condos spread over 12 floors, the three-pearl Royal Kahana is one of the taller and larger properties in its neighborhood. Guests have the option of studio, one-, or two-bedroom condos, all of which have washer/dryers, full kitchens, and balconies; some come with gorgeous ocean views (though decor is on the dated side in all). The property has direct access to the beach, as well as a pool, tennis courts, a fitness center, and a meeting room.The nearby Maui Kai also offers condo-style lodging , but the beach next to the property is known to flood during high tide.
11
This mid-range property offers a good variety of amenities for a condo resort -- including a nice free-form pool, hot tubs, and a decent fitness center and game room. However, the buildings and interiors are showing signs of age. Another drawback is the location across the street from the beach, so while it's only a short five-minute walk to the shore, there are very limited ocean views from the condos. This budget-friendly option does offer an attractive price tag for the Lahaina area, if you don't mind that some of the units are very small and furnishings are dated. For condos right on the beach (typically at slightly higher rates), consider Aston Maui Kaanapali Villas or Lahaina Shores Beach Resort.
12
Though it has its own name, the Kaanapali Ocean Inn is considered the budget-friendly section of the Royal Lahaina Resort. The two hotels function as a single property, sharing outdoor pools, restaurants, sports facilities, and access to the lovely Kaanapali Beach. The 59 rooms here have cheerful, albeit old-fashioned, decor, as well as flat-screen TVs, air-conditioning, mini-fridges, and tea- and coffee-making facilities; some add ocean-view balconies. However, many are showing wear and tear. Guests here will have to go next door for anything aside from the beach, but it's a decent pick for budget travelers. It's worth considering nearby Kaanapali Beach Hotel, which has slightly higher rates but all amenities in one place.
13
The 12-room, value Lahaina Inn is a historic property near the town's bustling Front Street. It's an ideal place to stay for travelers who want to take advantage of everything Lahaina has to offer, such as great shopping, dining, and the best "nightlife" on Maui. But, the hotel isn't on or near the beach, and it doesn't have any amenities, like a pool, spa, fitness center, or restaurant. Rooms are decorated in a traditional style that reflects old Hawaii and have flat-screen TVs, but there are signs of wear and tear throughout. Lahaina Inn guests have access to sister property, the Royal Lahaina Resort, but it's a 10-minute drive from the hotel. Travelers looking for a hotel in Lahaina with more amenities might prefer the nearby Plantation Inn, though it's pricier.