Most Romantic Hotels in Lahaina, Maui
Take a look at the most romantic hotels in Lahaina.
See All Lahaina Hotels
1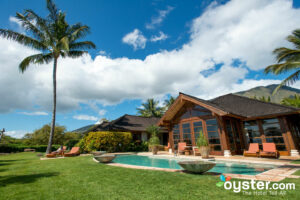 With just six rooms arranged around a beautiful common area that's all decked out in lavish Balinese-style decor, this is about as opposite of a generic mega-resort as you can get. This adult-only bed-and-breakfast offers an intimate, romantic alternative to busy chain hotels. Although amenities are limited to a great continental breakfast and a small, lovely pool, the experience here less about action and more about relaxing and enjoying the great views of the ocean below (though note there is no beach here). This is the only upscale bed-and-breakfast in Lahaina; the Maui Guest House is also intimate but not nearly as luxe.
2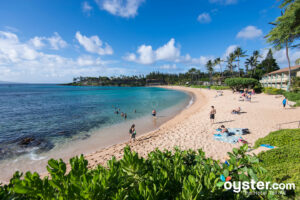 The Napili Surf Beach Resort is a small, two-story apartment hotel located in a picturesque, beachfront setting. Lahaina is a short drive away, meaning travelers can stay on the beach without being too far from central Maui. Situated on the Napili Bay, the atmosphere is casual and tranquil, making it a solid pick for those looking for a relaxed beach vacation with options for boating, swimming, and paddleboarding, but little in the way of frills. Rooms are simple and clean, though the tropical decor could use a bit of a refresh. All come with balconies and fully equipped kitchenettes, but lack air-conditioning. While there are plenty of beach activities offered, the hotel has limited amenities outside of its two small pools.
3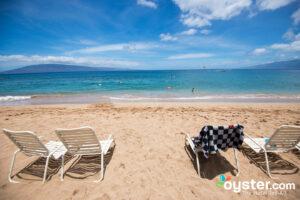 The upscale Kaanapali Alii consists of 184 one and two-bedroom apartments. They are privately-owned and decorated, but they're all spacious and come with private balconies, sweeping views, and multiple bathrooms. The gorgeous Kaanapali beach is right outside, and there is no fee to use the resort's fitness center, pool, and barbecue spot, or attend yoga classes. Plenty of restaurant and shops are within walking distance (although there are none on-site), and each unit features a fully-equipped kitchen. Nearby hotel options include the Westin Maui Resort & Spa and Hyatt Regency Resort and Spa, which are slightly cheaper with similar amenities.
4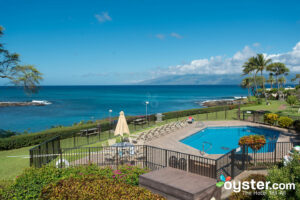 This 115-unit mid-range condo hotel is located on a small cove that some refer to as Turtle Bay, because – you guessed it – it's known to be a popular spot among sea turtles, making for some of the best snorkeling in the area. The property also boasts amazing ocean views from every unit, and is just a five-minute walk to a lovely beach. The one- and two-bedroom condos have fully equipped kitchens and nice seating on breezy lanais, though some units enjoy newer appliances and more updates than others. Those who want to be right on the beach should consider the nearby Napili Surf Beach Resort, but should note that not all of its condos have ocean views.
5
The charming 18-room Plantation Inn falls somewhere between a boutique hotel and a bed-and-breakfast. The three-and-a-half-pearl inn's colorful decor evokes an old Hawaii feel, with hibiscus-print quilts, yellow wainscoting, and original artwork. Guests can take advantage of the small outdoor pool and dine at the on-site restaurant, Gerard's, which is considered one of Maui's best French eateries. Downtown Lahaina is less than a five-minute walk from the property, but popular Kaanapali Beach is a 10-minute drive (a smaller one is a 15-minute walk away). Freebies include an excellent hot breakfast, Wi-Fi, and parking, and guests can use all of the amenities at sister property, the Kaanapali Beach Hotel. It's worth comparing rates at Ho'oilo House, an upscale bed-and-breakfast with a more secluded setting.
6
This low-key, low-rise condo hotel in serene Napili Bay has an authentic Hawaiian vibe that you won't find at Maui's mega-resorts. The pools are small, the gym is small and dank, and some rooms could use renovation, but it's still a gem for travelers intent on quiet, beachside relaxation and an ocean view from every room.
7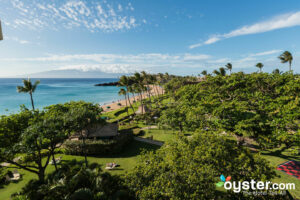 The 432-room mid-range Ka'anapali Beach Hotel is the embodiment of Hawaiian tradition and the Aloha spirit. With regular Hawaiian entertainment and free activities like lei making and Hularobics, it harkens back to an earlier time for Maui resorts. Though it's not as updated as and lacks some of the features of nearby resorts like the Sheraton, its more affordable rates make this a decent value option for the excellent beachfront location on the beautiful golden sands of Ka'anapali beach.
8
Honua Kai Resort & Spa, made up of individually owned units, combines hotel amenities in an upscale condominium complex. The rooms are huge, with full modern kitchens and private lanais, though not all have the best ocean views, and different owners provide different decor and amenities. The expansive beachfront grounds have multiple connecting pools and hot tubs that can get overrun with kids making the most of the waterslide. Couples can find solace in the adults-only pool, but the laid-back vibe may be lacking. Eco-conscious travelers will likely appreciate the restaurant and cafe's focus on local produce -- even the spa features an organic Hawaiian product line whose ingredients are sourced from the islands. The steep prices and the daily resort fee might trigger a bit of sticker shock, but as family-friendly Maui destinations go, this one is highly recommended.
9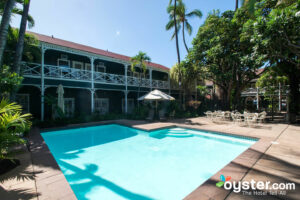 Built in 1901, the Best Western Pioneer Inn is the oldest continually operating hotel in Hawaii. The mid-range hotel's greatest asset is its harbor-front location in downtown Lahaina -- though there aren't any beaches within walking distance. The historic property looks much like it did at the turn of the century, with its colonial exterior, charming front porch, and gingerbread trim. The hotel's 34 rooms are classic spaces with wood furniture and white linens, but the decor is more generic than historic. On-site amenities include a small outdoor pool, popular full restaurant (with happy hour and live music), and small event space. Travelers looking for a beachfront property may prefer the Kaanapali Ocean Inn, though it isn't historic and tends to be pricier.
10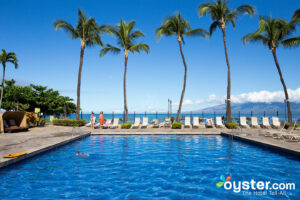 The 463-room mid-range Aston Kaanapali Shores, located on the western shore of Maui, is an oceanfront resort offering hotel rooms and apartments of various sizes with full kitchens and furnished lanais. The resort has a laid-back, homey vibe, combining hotel amenities and the benefits of a casual condo community. There's also a golden sand beach right on the grounds. Rooms and apartments are privately owned and vary in terms of decor and furnishings, but all are pleasant and clean.
11
The Outrigger Maui Eldorado, an older but well-maintained mid-range property alongside Kaanapali's golf course, has large individually owned condo rentals that can make a good base for touring the area. Units vary by owner, but each has a private lanai and a full kitchen. There's no dining on-site, though many options exist nearby, and it's just a short drive to the center of Lahaina. The beach is about a five-minute walk from the Outrigger, and once there, guests can use the hotel's cabana, which includes bathrooms, a sundeck, and a kitchen. The rates are lower at the Outrigger than for rentals right on the beach, but be aware of the fees that can add up, especially for guests who opt for housekeeping.
12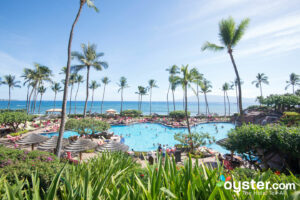 One of the top powerhouse resorts on Kaanapali Beach, the four-pearl Hyatt Regency Maui Resort and Spa has a seemingly endless list of amenities, restaurants, a massive pool complex, modern rooms, and nightly luaus -- but there are major crowds, extra charges for parking and resort fees, and construction noise. Overall, the Hyatt Regency's massive grounds and friendly-but-impersonal service aren't too different from its Kaanapali competitors, like the Westin Maui. The major difference? While they're all technically located on the same great four-mile stretch of Kaanapali Beach, the Hyatt faces a stretch that's far narrower and not as convenient for swimming.
13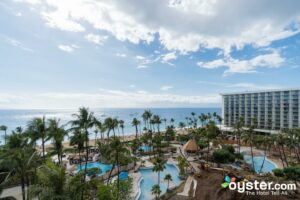 The expansive Westin Maui Resort & Spa is an upscale property with direct access to swimmable Kaanapali Beach and popular Whalers' Village. There are a whopping 759 rooms with simple, Hawaiian-inspired decor (not quite as upscale as one may expect at a four-pearl hotel). With the number of guests and size of the resort, lines can be long and service is more efficient than personal. Prices here are lower than neighboring hotels, though, and this Westin offers a slew of above-average amenities like a five-pool aquatic playground, four restaurants, and a full-service spa and gym. Resort fees are annoying, but they're a common theme in Maui. If you're looking for fewer kids and an infinity pool, compare rates at the similarly priced Andaz Maui at Wailea -- but you'll lose the proximity to Whalers' Village.