Best Luxury Hotels in Melaka
Take a look at the best luxury hotels in Melaka.
See All Melaka Hotels
1
Casa del Rio Melaka is an upscale riverside hotel in historic central Melaka that's just over five minutes from popular Jonker Street on foot. The beautiful property has a riverside terrace where guests can dine, and there's a rooftop infinity pool with a swim-up bar. The 66 rooms have charming Mediterranean decor, private balconies (some overlooking the river), and bathrooms with separate showers and tubs. It's one of the best hotels in town, but return guests report that rooms are starting to show a little wear and tear. Guests should compare rates with another area favorite, the Majestic Malacca, a luxury property with swish Dutch colonial decor and a history dating back to 1920.
2
The Majestic Malacca is an elegant luxury hotel set in a restored 1920s building with a modernized annex attached. The 54 rooms and suites are beautifully designed, with luxe marble bathrooms alongside modern amenities that include minibars and flat-screen TVs. The spa is a highlight, with menu of ancient Chinese remedies, and there's a modern gym as well. Unfortunately, the plunge pool is a bit small and the free Wi-Fi is slow. A free breakfast buffet is provided, and there's also a stylish saloon-style bar and afternoon tea. There's few other luxury hotels in the area, and visitors seeking a boutique property in the heart of the action might want to consider the Courtyard @ Heeren Boutique Hotel, directly on energetic Jonker Walk, where rates are far cheaper.
3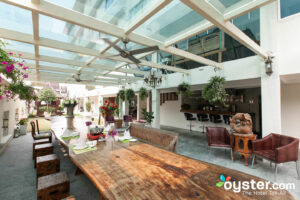 The Settlement Hotel is a cozy four-pearl boutique property that provides a combination of history and comfort, about 15 minutes away from the city center by car. The hotel itself is a study in architecturally conscious design, with lovely old-fashioned details and artwork throughout. There are 45 modern rooms with amenities like free Wi-Fi and flat-screen cable TVs. Bathrooms are spacious, and include deep soaking tubs. The four garden villas offer nice rustic details and spa-like bathrooms. Public amenities are equally impressive, from an on-site art gallery to an intimate spa villa, and a shuttle into town. There's also an international restaurant, a bar, and a great rooftop spot to relax. Travelers wanting to be closer to town should check out the more modern Hatten Hotel Melaka instead.
4
The Hatten Hotel Melaka is a modern, upscale property attached to a shopping mall, just outside of Melaka's historic core. The property has 704 bright and attractive rooms with free Wi-Fi, but the hotel can be crowded. A lounge with stunning city views is a highlight, as are the large infinity pool, modern fitness center, salon, and spa. The hotel also serves a free breakfast buffet with a nice variety of dishes, but again, it can get very busy. Travelers looking for a boutique stay with more intimacy and character right on vibrant Jonker Walk should consider Courtyard @ Heeren Boutique Hotel.
5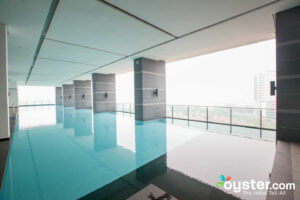 This upscale hotel is a sleek and modern property with interesting architecture. It's conveniently situated by the Malacca River and within a 15-minute walk of many of the city's top attractions. Two large outdoor pools are a highlight here, offering views over the city and a fun kids' pool area with a slide, fountains, and more. The modern gym is cantilevered over the pool, with views over the water and a good selection of machines. There's a restaurant serving buffet-style fare, both local and Western, but breakfast is not included in rates. The 306 rooms are spacious and all have balconies, plus modern bathrooms with rainfall showers (some also add tubs), flat-screen TVs, and tea/coffee facilities. The hotel unfortunately lacks a spa; for something with that feature check out the Majestic Malacca.