Best Beach Hotels in Sunny Isles, Miami
Take a look at the best beach hotels in Sunny Isles.
See All Sunny Isles Hotels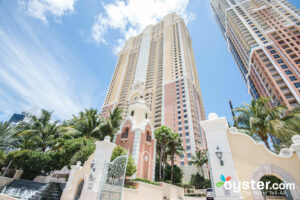 Four pools, great Italian cuisine, a luxurious spa, 98 huge, modern rooms, and some of Miami's most attentive service -- this is Sunny Isles' best hotel. For families looking for a relaxing beach stay, this a superb luxury pick.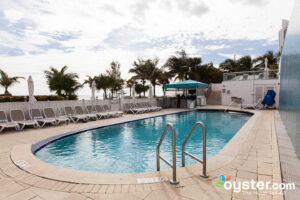 The Marenas Beach Resort is a four-pearl beachfront resort property with 186 rooms, some with ocean views, plus suites with full kitchens. Situated in Sunny Isles, this stretch of sand is a far cry from vibrant South Beach, and there's not much in the way of eating or drinking in the immediate area. Features include a restaurant, a fitness center, a game room, and plenty of activities for children, but past guests have complained about inattentive service from the front desk to the restaurants. Overall, it's a good choice for families, but younger travelers seeking something a bit livelier should consider the Red South Beach, an upper-mid-range boutique property that's a block from the beach, which is less expensive.
Sole on the Ocean is an excellent alternative to the chain hotel scene of North Miami Beach. This condo-style hotel offers attractive and convenient condos or smallish guest rooms, some with gorgeous ocean views. The hotel does all of the decorating so there's no worry of some units looking better than others. It's a solid pick for those looking to hang at the beach and by the pool, with the occasional foray into South Beach for shopping or nightlife. Fresh American Bistro and the on-site spa are luxe touches. Watch out for seemingly endless extra charges for everything from valet parking to pots and pans.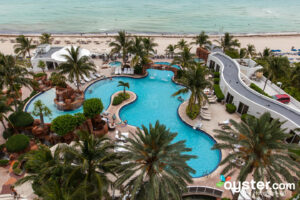 An amenities-packed hotel right on the beach in Sunny Isles, the Trump International Beach Resort is more casual than other Trump properties. Limited nightlife options, plus two pools and a free kids' club, make it a better fit for families and business travelers than scene-hunting sophisticates.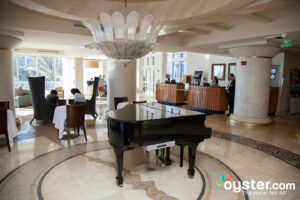 A 147-room mid-level hotel, the Doubletree Ocean Point Resort & Spa is an attractive pick for families located way north of South Beach in suburban Sunny Isles. Hotel highlights include a lovely beach, lots of sunlight, and glimpses of the ocean from nearly every balcony. Large rooms -- many of them suites with full kitchens -- and an attractive (though small) pool with a children's splash area are enticements for families. However, this is not the right destination for nightlife seekers and guests report some construction noise.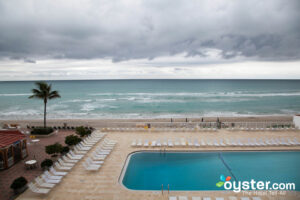 In its heyday during the '50s and '60s, the Marco Polo's fabulous oceanfront venue made it one of the top resorts in Sunny Isles where go-go sun worshippers could escape the winter. Today, this faded 250-room hotel still boasts spectacular views and the same beach locale, but little else remains that's especially enticing. Despite recent renovations, the spacious rooms are lackluster, and the same is true for public spaces. There are four on-site restaurants and snack bars, none of them noteworthy, and few dining options nearby. The hotel is popular for weddings and religious events, which means that large family groups are not uncommon. Still, it's one of the most affordable options in Sunny Isles; budget-minded guests planning to spend their days by the beach and pool might be satisfied.
Spacious rooms, a huge assortment of kid-centered activities, and a beachside location in safe, suburban Sunny Isles -- the Newport is a solid option for a family vacation. It might not be as swanky as the nearby Acqualina or Trump International, or even the Loews in South Beach, but it's a good value. Note that there's a daily resort fee that includes Wi-Fi, beach chairs, and access to the pool and gym.