Hotels for Celebrity Sightings in South Beach
South Beach is full of sand, sun and sass, and no one is drawn to those Miami vices quite like A-list celebs. Whether it's a red carpet affair or some quality beach time, celebrities always come to Miami to see and be seen. Here's our list of where to stay in South Beach if you're hoping to spot your fav movie stars, musicians and athletes.
See All Miami Beach Hotels
1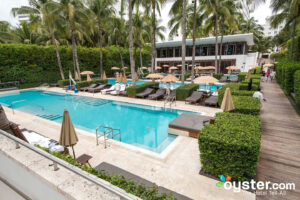 Celebrity sightings at the Setai, where the enormous rooms can easily accommodate a small posse, are really too numerous to mention. Everyone from Jay-Z to Cat Power to Chris Brown has laid down tracks at the Lenny Kravitz-designed on-site recording studio, and the hotel regularly plays host to major fashion and entertainment events. The Setai is also reported to be a favorite of Lindsay Lohan, Paris Hilton, Gisele, U2, and Madonna, among others. Hilary Duff and Jennifer Hudson have performed at the hotel on New Year's Eve, and Beyonce and Britney Spears have frequented the hotel as well.
2
The hotel's nightclub, the Florida Room, was designed by Lenny Kravitz, and its Lucite piano's keys have been tickled by both Kravitz and Jamie Foxx. Queen Latifah, Sean Paul, Ludacris, Wyclef and Grace Jones have performed here as well. George Clooney reportedly stayed at the hotel in the spring of 2009 while filming Up in the Air, and Justin Timberlake is also said to have laid his fair head down at the Delano. Matthew McConaughey, Sandra Bullock, Chris Rock, Owen Wilson, Beyonce and Tobey Maguire have all reportedly stayed here, too. Players on the Miami Heat have been known to grab a drink at the Rose Bar.
3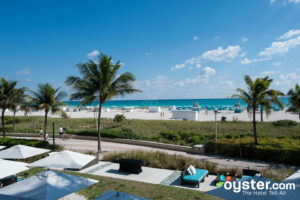 "No" is not in the vocabulary of the staff at the Ritz-Carlton South Beach, which prides itself on its excellent service to even its most particular patrons, including Russell Simmons, Britney Spears, Jennifer Lopez and Marc Anthony. The hotel has a staff of tanning butlers who wander around the pool offering free spritzes of Evian, sunscreen application, and sunglasses cleaning. These butlers claim to have have rubbed the likes of Jessica Simpson, Nick Lachey, Johnny Knoxville, and Vivica A. Fox.
4
The Shore Club is a necessary stop for celebrities in Miami, and it's home to Nobu -- a sushi restaurant co-owned by Robert De Niro -- and the sceney Sky Bar. It is rumored that stars stay free at this hotel, where Jessica, Tara Reid, Naomi Campbell, and Lance Armstrong have been spotted.
5 The Gansevoort South is where the hip come to see and be seen, and it's not surprising that celebrities jump on that bandwagon. Khloe Kardashian and Reggie Bush reportedly partied here on a Saturday night a few months back, and Brooke Shields was seen shopping for bathing suits and hats at the hotel's Inca boutique. On New Year's Eve, rapper T.I. performed at a party hosted by Chloë Sevigny.
6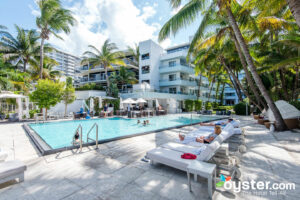 The Sagamore knows how to throw a party, and we all know celebs can't resist a good soiree. Maxim Magazine had its Super Bowl XLI Party here, where Nick Lachey, Fergie, Kevin Federline, Andy Roddick, Taye Diggs, and Tony Romo rooted for their favorite team in style. Musicians came out for a Heineken Premium Light party at the Sagamore's Social Miami, where DJ AM, Travis Barker, and Lil Jon graced the red carpet.
7
After announcing his contract with Miami Heat, LeBron James partied with teammates at the W South Beach, booking six poolside cabanas for the weekend. Knight and Day costars Cameron Diaz and Tom Cruise took a break from filming to attend a superbowl bash in 2010 with their significant others, Alex Rodriguez and Katie Holmes, and the hotel's a known favorite of the likes of Pamela Anderson and Hilary Swank.