Best Boutique Hotels in Downtown, Montreal
Take a look at the best boutique hotels in Downtown.
See All Downtown Hotels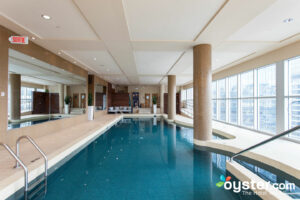 The 131-room Hotel Le Crystal is a sleek and luxurious high-rise with great Montreal city views from the 12th-floor indoor pool, a hot tub with a patio, and a modern gym. One- and two-bedroom suites feature kitchenettes and living rooms, and some have fireplaces and balconies overlooking the city. A bistro serves French cuisine and Starbucks is in the lobby. For conventions there's 6,000 square feet of modernly designed space. This downtown location is near the Bell Centre; travelers seeking a quiet Old Town location can try the InterContinental Montreal.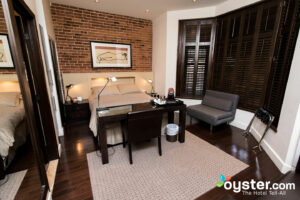 This mid-range seven-room boutique hotel in Montreal's Latin Quarter is housed in a stone-front refurbished home dating to the late 1800s, close to tons of eateries and boutiques. The rooms have wood floors, dark plantation shutters, and in some, brick accent walls. Those facing the street tend to experience noise from the lively bar/restaurant scene nearby. Suites are much larger, with living rooms closed off by French doors; suite bedrooms are also more spacious and have private balconies overlooking the Rue St. Denis. Bathrooms are basic and clean with contemporary walk-in showers, though no tubs. Free breakfast and Wi-Fi are additional perks, as is the little cafe La Brioche Lyonnaise, which stays open nightly until midnight.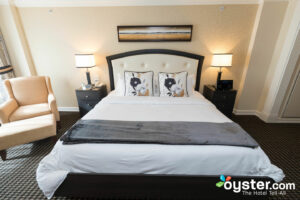 Le St-Martin Montreal Hotel Particulier is an upscale boutique property that occupies a high-rise building downtown. Its prime location, solid restaurant, and heated outdoor jet pool are major selling points, as are its 123 contemporary rooms and suites. Decor is elegant with clean lines, and spacious bathrooms are luxurious and raise the bar of overall design. Flat-screen TVs, minibars, Keurig espresso-makers, and iPod docks come standard. Higher-category accommodations offer fireplaces and lavish soaking tubs. On the downside, the gym is cramped, the pool is dinky, and the hotel doesn't have a spa. For a boutique stay with similar rates in Old Montreal, check out charming Hotel Nelligan.
The eight suites at the two-and-a-half-pearl Parc Suites Hotel are like mini apartments, with their own fully equipped kitchens. Located in downtown Montreal, this family-run property is less than 10 minutes from the city's arts and entertainment district, the Quartier des Spectacles. Modern suites have a homey charm and feature balconies with seating, flat-screen TVs, and free Wi-Fi. The hotel permits pets, but fees and restrictions apply. There is no on-site restaurant or bar, but the unaffiliated restaurant downstairs serves a hearty breakfast and there are several dining options in the area. Guests looking for a more chic boutique hotel that offers free breakfast should consider Le Petit Hotel, which is in historic Old Montreal, though rates will be higher.
Located on the border of picturesque Old Montreal and the downtown financial district, the 152-room W Montreal is one of the city's trendiest hotels. A popular destination for young, affluent couples and partiers (including bachelor and bachelorette celebrants), the modern hotel has a high-energy, club-like atmosphere, with three bars, a restaurant, and colorful LED lighting. Guest rooms -- which are not always immune to the hotel's din -- are sleek and comfortable, with high-tech modern amenities like flat-screen TVs and Bluetooth speakers. Rooms have open layout, so there's little privacy between the bedrooms and bathrooms -- a concept that some guests find sexy, others startling. Budget-conscious partyhounds could consider Hotel Zero 1, a hip hotel option at a lower price point.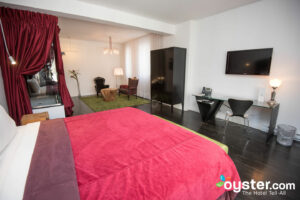 Hotel Chez Swann is a three-pearl boutique in downtown Montreal, close to several attractions and the McGill University campus. Its 23 elegant, contemporary guest rooms feature colorful, artsy decor with lavish beds and peek-a-boo showers. They lack coffee- and tea-making facilities and minibars, but do have flat-screen TVs and free Wi-Fi. The hotel offers a decent set of features, including an on-site restaurant, juice bar, free breakfast, and a tiny spin studio. The W Montreal is a good alternative in the area that also has peek-a-boo bathrooms, as well as three bars, a spa, and a better equipped gym -- but in-room Wi-Fi incurs a charge and rooms aren't soundproofed.
The 27-room Auberge Le Pomerol is a cozy, mid-range budget-friendly property that's centrally located within walking distance of downtown Montreal and the Old Port. Adjacent to the hotel is the Berri QUAM metro station, where three lines convene. Rooms are well-maintained and come with flat-screen TVs and free Wi-Fi, and a free continental breakfast is delivered to rooms every morning. Most rooms, though, are small -- especially bathrooms -- and size and layout can vary widely in this converted apartment building. While attractively priced, there are several similar properties in central Montreal that may offer even better rates, such as Hotel St-Denis.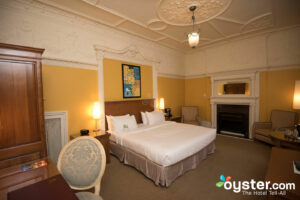 Chateau Versailles, a 65-room, upper-middle-range boutique hotel on Sherbrooke Street, an elegant thoroughfare known for its historic mansions, is a 15- to 20-minute walk from downtown Montreal. Comprising four historic townhouses, the hotel is filled with fireplaces, ceiling friezes, and antiques, and its traditional guest rooms come with Keurig coffeemakers and minibars, but some show wear and tear, and the free Wi-Fi connection is spotty. The free breakfast buffet includes fresh croissants, and the hotel has a small gym and sauna but no bar or full-service restaurant. Guests seeking more modern accommodations closer to downtown could try the similarly priced Hilton Garden Montreal Centre-Ville.
The 39-room Abri Du Voyageur Hotel is a value property with rustic character in the Quartier des Spectacles, Montreal's entertainment district. Air-conditioned rooms have hardwood floors, exposed brick walls, flat-screen TVs, and free Wi-Fi, but some share bathrooms and have outdated elements, though Studio Apartments with kitchenettes are available. In a lively area filled with bars, restaurants, and summer festivals, the hotel sits atop an adult entertainment store, which might rattle some travelers, and guests have complained about noise -- the building dates from 1876, and there is little soundproofing. Guests can arrange for on-site massages, and there's a computer and printer in the lobby. For more stylish budget-friendly rooms, try LikeAHotel - Le Prince Arthur, just off Boulevard St. Laurent, a 10-minute walk from the arts district.
This all-suites hotel is located in the Latin Quarter, a lively area in Downtown Montreal, in a 1920 Art Deco building that once operated as a parking garage. The 50 huge rooms (starting at 800 square feet) come with full, modern kitchens and sleek, contemporary decor -- but the renovated warehouse feel isn't for everyone, and some guests have complained of lingering quirks. Don't expect a typical hotel experience, as there are no services whatsoever (no fitness center, no restaurant on-site, no business center), only a rooftop terrace with great downtown views, and three event spaces.
The mid-range Chateau St-Marc enjoys a convenient location in a downtown residential neighborhood a brief walk from the metro station and Rue St. Catherine's plentiful restaurants and shops. Housed in a converted town house (circa 1879) the 55-room property is traditionally furnished and loaded with period details. Individually decorated rooms are generally spacious with upscale amenities and luxurious bathrooms. But, similar to other small historic properties, they can have quirks in layout and decor that some people find annoying while others consider charming. Travelers looking for less quirk and more predictability could try the Hilton Garden Inn Montreal Centre-Ville.