Best Party Hotels in Downtown, Montreal
Take a look at the best party hotels in Downtown.
See All Downtown Hotels
Located on the border of picturesque Old Montreal and the downtown financial district, the 152-room W Montreal is one of the city's trendiest hotels. A popular destination for young, affluent couples and partiers (including bachelor and bachelorette celebrants), the modern hotel has a high-energy, club-like atmosphere, with three bars, a restaurant, and colorful LED lighting. Guest rooms -- which are not always immune to the hotel's din -- are sleek and comfortable, with high-tech modern amenities like flat-screen TVs and Bluetooth speakers. Rooms have open layout, so there's little privacy between the bedrooms and bathrooms -- a concept that some guests find sexy, others startling. Budget-conscious partyhounds could consider Hotel Zero 1, a hip hotel option at a lower price point.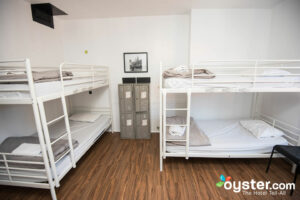 Part of the worldwide Hostelling International chain, the two-pearl HI-Montreal is well located in a residential neighborhood downtown near attractions and public transportation. Spartan shared rooms are clean and no-frills, but they're reasonably priced for travelers who need little more than a place to bunk. A few private rooms have the added bonus of a flat-screen TV and in-room bathrooms, though their atmosphere is equally stark. But free breakfast, hostel-organized activities, and the hip bar/lounge make this hostel a friendly communal place. Rates at nearby hotels such as the Hotel Espresso aren't much higher on certain dates, so shop around before assuming this is the best deal in the city for private accommodations downtown.
The upper-middle-range Hotel Zero 1 is convenient to Old Montreal and adjacent to Chinatown's shops and restaurants. With ultra-modern decor throughout, the hotel offers a hip-yet-casual atmosphere with loads of amenities plus nice outdoor spaces to relax. Its 164 rooms have sharp, contemporary design and elegant extras like kitchenettes, iPod docks, and free Wi-Fi. But some guests find the small, dark and decidedly untraditional rooms unappealing. For a more traditional hotel, travelers may want to consider the Hilton Garden Inn Montreal Centre-Ville.