Most Romantic Hotels in Downtown, Montreal
Take a look at the most romantic hotels in Downtown.
See All Downtown Hotels
1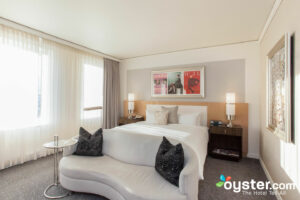 This 142-room hotel stands smack-dab in the heart of Downtown Montreal, amid tourist attractions, boutiques and restaurants. Decent-sized rooms come with iPod docks and flat-screen TVs, as well as marble bathrooms with small TVs and big whirlpool tubs, but the fresh white-and-white decor is what makes them truly stand out. The hotel lacks a pool, but it does have a nice (albeit small) fitness center, a spacious restaurant, and several meeting rooms.
2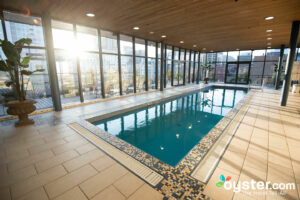 Le Square Phillips Hotel and Suites is a mid-range property in downtown Montreal within walking distance of many of the city's major malls and the Quartier des Spectacles, the lively arts district. It's a good choice for families or business travelers on longer stays, with 163 spacious suites. All units are simply decorated and have full kitchens; some also have separate bedrooms or loft sleeping areas. Both breakfast and Wi-Fi are included in room rates and the hotel has a fitness center and an indoor rooftop pool with an outdoor terrace overlooking downtown Montreal. Business travelers may want to compare rates at The Loft Hotel in the bar-heavy Latin Quarter, which is more stylish and also offers suites with full kitchens -- though the surroundings may not be the best for families.
3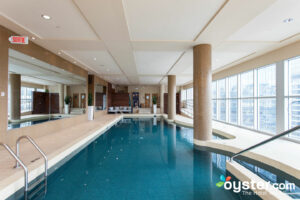 The 131-room Hotel Le Crystal is a sleek and luxurious high-rise with great Montreal city views from the 12th-floor indoor pool, a hot tub with a patio, and a modern gym. One- and two-bedroom suites feature kitchenettes and living rooms, and some have fireplaces and balconies overlooking the city. A bistro serves French cuisine and Starbucks is in the lobby. For conventions there's 6,000 square feet of modernly designed space. This downtown location is near the Bell Centre; travelers seeking a quiet Old Town location can try the InterContinental Montreal.
4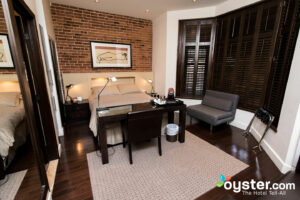 This mid-range seven-room boutique hotel in Montreal's Latin Quarter is housed in a stone-front refurbished home dating to the late 1800s, close to tons of eateries and boutiques. The rooms have wood floors, dark plantation shutters, and in some, brick accent walls. Those facing the street tend to experience noise from the lively bar/restaurant scene nearby. Suites are much larger, with living rooms closed off by French doors; suite bedrooms are also more spacious and have private balconies overlooking the Rue St. Denis. Bathrooms are basic and clean with contemporary walk-in showers, though no tubs. Free breakfast and Wi-Fi are additional perks, as is the little cafe La Brioche Lyonnaise, which stays open nightly until midnight.
5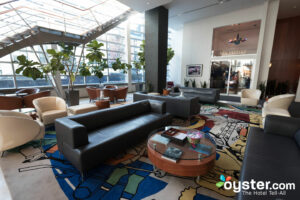 The Sofitel Montreal is a 258-room luxury property on posh Sherbrooke Street in downtown Montreal, a few blocks from Mont Royal Park. The hotel is a good choice for business travelers seeking artsy sophistication, and for those visiting McGill University, which is next door. Guest rooms are luxe, with such creative decor touches as Impressionist-style paintings and black-and-white framed photographs, and come equipped with goose-feather bedding and floor-to-ceiling windows. The hotel has an upscale restaurant that serves seasonal French cuisine, and an elegant event space. The fitness center, however, is tiny with outdated equipment. Guests might want to compare rates at the nearby Omni Mont-Royal Hotel, which has a somewhat larger fitness center and a pool.
6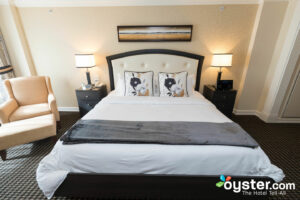 Le St-Martin Montreal Hotel Particulier is an upscale boutique property that occupies a high-rise building downtown. Its prime location, solid restaurant, and heated outdoor jet pool are major selling points, as are its 123 contemporary rooms and suites. Decor is elegant with clean lines, and spacious bathrooms are luxurious and raise the bar of overall design. Flat-screen TVs, minibars, Keurig espresso-makers, and iPod docks come standard. Higher-category accommodations offer fireplaces and lavish soaking tubs. On the downside, the gym is cramped, the pool is dinky, and the hotel doesn't have a spa. For a boutique stay with similar rates in Old Montreal, check out charming Hotel Nelligan.
7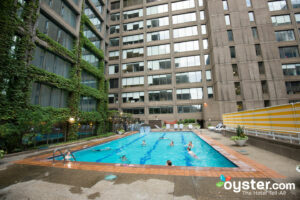 The Omni Mont-Royal Hotel is an upscale, cosmopolitan high-rise hotel with a downtown location near McGill University and Mount Royal Park, with lots of restaurants, shops, and attractions close by. It offers 299 elegant and spacious rooms and suites with amenities that include flat-screen TVs, iPod docks, minibars, and lovely marble bathrooms. Property highlights include a restaurant and bar, seasonal outdoor pool, and a well-equipped fitness center. There are 14 meeting rooms on-site catering to various events, plus a full-service spa for those seeking a dose of pampering. However, parking and Wi-Fi incur steep fees, as does breakfast, and street noise can be an issue in some rooms. Travelers might also want to consider the nearby Hotel Le Germain Montreal, which offers free Wi-Fi and continental breakfast.
8
The Fairmont Queen Elizabeth is a 950-room luxury property in the heart of Montreal's downtown core. Although some have contested the price increase since the 2016/2017 renovations, the new design-forward rooms, tasteful mid-century furnishings, and elegant open spaces are hard to fault. With a restaurant, cocktail bar, cafe, pool, spa, fitness center, and business hub all on-site, it can feel like a city within the city. The quality of each of these facilities is such that one might find good reason to never leave the hotel at all. Although priced similarly to the nearby Le Crystal, the Fairmont Queen Elizabeth is unrivaled when it comes to style, facilities, and overall attention to detail.
9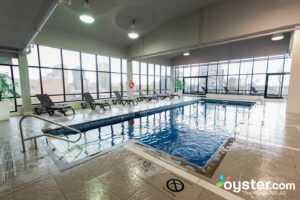 The Hilton Garden Inn has a convenient location near McGill University in Downtown Montreal, and spacious, clean (if generic) rooms with mini-fridges and microwaves. The indoor saltwater lap pool is attractive, with excellent city views and a connected outdoor terrace, and the fitness center is large and bright. But the property lacks distinctive charm.
10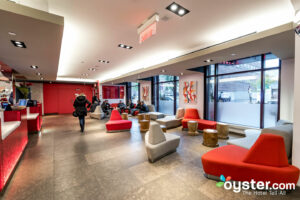 Novotel Montreal Centre offers spacious rooms with clean, contemporary decor (think: Ikea), and a convenient location in Downtown Montreal, right next to shopping on Sainte-Catherine Street. But there are few features -- just a decent fitness center, a solid restaurant with outdoor seating, and meetings rooms -- and there's a fee for Wi-Fi.
11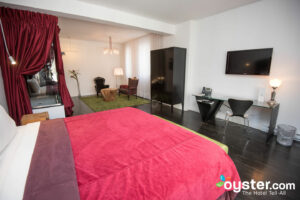 Hotel Chez Swann is a three-pearl boutique in downtown Montreal, close to several attractions and the McGill University campus. Its 23 elegant, contemporary guest rooms feature colorful, artsy decor with lavish beds and peek-a-boo showers. They lack coffee- and tea-making facilities and minibars, but do have flat-screen TVs and free Wi-Fi. The hotel offers a decent set of features, including an on-site restaurant, juice bar, free breakfast, and a tiny spin studio. The W Montreal is a good alternative in the area that also has peek-a-boo bathrooms, as well as three bars, a spa, and a better equipped gym -- but in-room Wi-Fi incurs a charge and rooms aren't soundproofed.
12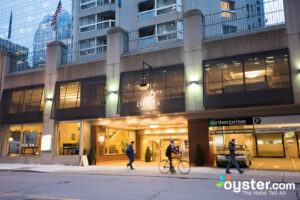 Delta Hotels by Marriott Montreal is a mid-range, 456-room hotel in downtown Montreal, a short walk from the entertainment and shopping districts. Guest rooms have modern bathrooms and spacious SmartDesks with multiple connectivity docks and ergonomic chairs, as well as mini-fridges. There's also a spa, an indoor saltwater pool, and two saunas along with a casual French restaurant and bar on site. The hotel also has a kids' playroom and enormous meeting spaces, though travelers may want to compare rates and features at the Hilton Garden Inn Montreal Centre-Ville downtown, which offers rooms with mini-fridges and microwaves at slightly higher rates.
13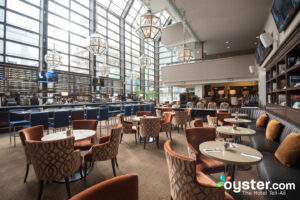 Le Centre Sheraton Montreal Hotel is an enormous upscale property that draws mature business travelers and tourists seeking reliability and convenience. Set in downtown Montreal near scenic Place du Canada, this 825-room hotel is the second largest in Montreal and offers a small indoor pool, tons of event space, and a classy lobby bar. Rooms are comfortable and equipped with large work desks, and some include access to the Club Lounge, with skyline views and free evening hors d'oeuvres. However, the hotel charges for extras such as Wi-Fi and even access to the fitness center for guests staying in some room categories. Business travelers seeking a more luxurious downtown property may want to compare features at the pricier Hotel Le Crystal, where every suite includes a kitchenette.
14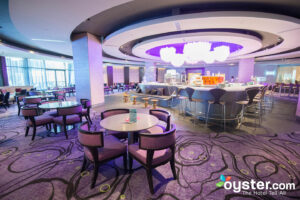 Designed for the business traveler, the 595-room Hyatt Regency Montreal has a great downtown location, and both the business center and fitness center are open around-the-clock. Pricey fees for Wi-Fi, parking, and meals are downsides, but perks include the indoor pool, large terrace, and underground access to lots of sites and attractions. Some guests find the second-floor lobby difficult to find, but its sleek, trendy feel -- which carries over into contemporary rooms -- gives this hotel its edge.
15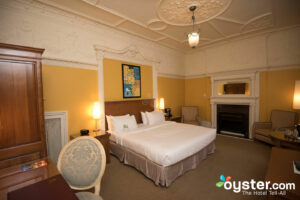 Chateau Versailles, a 65-room, upper-middle-range boutique hotel on Sherbrooke Street, an elegant thoroughfare known for its historic mansions, is a 15- to 20-minute walk from downtown Montreal. Comprising four historic townhouses, the hotel is filled with fireplaces, ceiling friezes, and antiques, and its traditional guest rooms come with Keurig coffeemakers and minibars, but some show wear and tear, and the free Wi-Fi connection is spotty. The free breakfast buffet includes fresh croissants, and the hotel has a small gym and sauna but no bar or full-service restaurant. Guests seeking more modern accommodations closer to downtown could try the similarly priced Hilton Garden Montreal Centre-Ville.