Best Kid-Friendly Hotels in Morocco
Take a look at the best kid-friendly hotels in Morocco.
See All Morocco Hotels
1
An historic riad in the heart of Marrakech's picturesque Medina, Riad le Clos des Arts was once home to a family of artists and has been lovingly restored by an expat Italian couple to honor that tradition of beauty and hospitality. Each of the seven rooms -- four rooms and three suites -- has been individually decorated with traditional Moroccan tilework, rich fabrics, and both traditional and modern furniture and artwork, to guarantee upscale modern comfort. An extensive homemade breakfast -- included in the room rate -- is served on the rooftop terrace each morning, alongside a small pool and both outdoor and shaded loungers; an exceptional Moroccan dinner can be served in the courtyard salon upon request.
2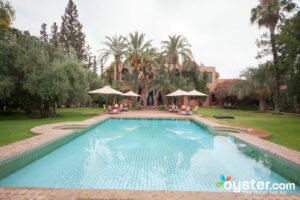 The eight-room boutique Dar Ayniwen Villa has the feel of a luxury guesthouse with top-notch amenities. The architecture and decor are dramatic, with spectacular museum-quality antiques in common areas and guest rooms, each of which is unique and individually-designed. The hotel sits amid acres of lushly landscaped gardens and an exotic aviary; the restaurant serves fine Moroccan cuisine in a lovely dining room or spectacular winter tent. The romance factor is high (as are the prices). This is a special location with a one-of-a-kind Moroccan feel.
3
Villa Gonatouki is a beautiful, mid-range villa property located in a rural area a 20-minute drive from the Medina of Essaouria. The 10 rooms feature marble interiors and beautiful handicrafts, and some have terraces with lovely views of the countryside and out to the sea beyond. Features include two swimming pools -- one with a kids' area and a second with an infinity edge -- plus a spa offering a hammam, facials, and massages. Breakfast is included in room rates and lunch and dinner can be arranged on request. The hotel also offers a shuttle service into town, which is especially useful given its rural location and lack of attractions within walking distance. Travelers wanting to be right in the center of things may prefer the kid-friendly Riad Baladin.
4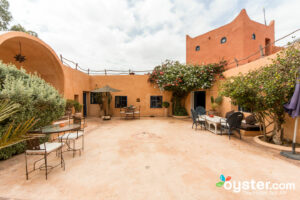 The Riad Baoussala is arguably the most upscale riad in the Essaouira, but its location a 15-minute drive outside the medina down a dirt road means renting a car is recommended. Its six suites outfitted in a combination of jewel tones and the warm hues of natural materials such as packed earth and untreated wood. The bohemian complex features a number of cozy nooks tucked into carved-rock common areas along with an ochre rooftop deck, all surrounded by eucalyptus gardens. The property is family-friendly, with kids' menus, stowaway cots available, and babysitting services. Advance notice must be given for dinner, which integrates plenty of fresh local produce and gets good feedback from guests. There's also a heated pool and a traditional hammam that can be used free of charge, and spa services are available for a fee.
5
Riad Chbanate is a small four-pearl, French-owned hotel housed in an 18th-century riad -- or traditional Moroccan mansion -- right in the Medina of Essaouira and about a five-minute walk from the beach. The eight individually decorated rooms here feature gorgeous, traditional decor and modern amenities including flat-screen TVs and minibars. Bathrooms are particularly spectacular, with deep marble soaking tubs. Dining options include a free breakfast of crepes, pastries, fruit, and eggs, and lunch and dinner can be cooked to order with prior notice. There's also a massage room on the property, and the riad can help guests arrange for off-site activities such as golfing, camel rides, and hammam visits. Travelers may want to also consider Riad Baoussala, which has its own hammam but doesn't have as central a location.
6
Tucked into an alley in the quiet Mouassin Quarter, just a few minutes on foot from Jemaa el Fnaa Square, this three-and-a-half-pearl riad bills itself as a "boutique hotel of timeless beauty and seductive atmosphere" -- and it delivers on both counts. The converted medina mansion, designed by Umberto Maria Branchini in 2010, has seven spacious suites with handcrafted furnishings and luxe fabrics. Sophisticated common areas combine local character with a contemporary sensibility (the most noteworthy is a softly lit dining room specializing in fine Moroccan and Mediterranean dishes). The panoramic roof terrace above and traditional hammam below are equally tempting. Riad Joya's service (which includes access to personal butlers) is top-notch too; however, if you want a pool, the Riad le Clos des Arts may be a better choice.
7
An upper-mid-range, 18th century riad in the heart of Marrakech's historic Medina, the five-suite Riad les Orangers d'Alilia Marrakech has been lovingly restored by its French owner into a chic, modern hideaway within walking distance of the city's major sights. The original architecture and ornate detailing have been maintained, and the courtyard and rooftop terrace are accentuated by the riad's signature fragrant orange trees. Guest rooms and common areas have been painted calming whites and creams and decked out with simple, modern furnishings. A homemade breakfast (included in the rate) is served each morning, traditional Moroccan meals can be served for lunch and dinner upon request. Unlike with many other riads in the Medina, guests can park almost in front of this one, and the lounge area has the rare television.
8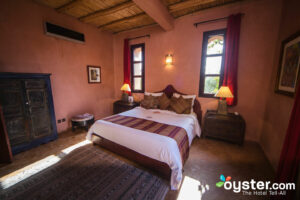 This hotel oasis is situated literally in the middle of scrub-brush fields, about a 15-minute drive from Essaouira. In the setting of a North African ksar, or castle, it provides luxurious gardens filled with tall palms and other arid-landscape plants, interspersed with swaths of decorative tile, bricks, and local stones and surrounded by views of the brush-dotted hills. The 26 rooms, sans TV or Wi-Fi, are dark, handsome spaces set with traditional textiles and wood furniture, each with air-conditioning and a large shower; rooms above the Luxe level also have tubs, and many rooms have outdoor space. The hotel is welcoming of families and offers a pool with shallow end for children, as well as children's menu; there is also an adult-only pool, a spa, and a traditional hammam.
9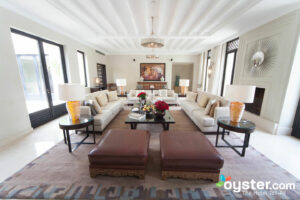 The Four Seasons Marrakech is a sprawling 141-room luxury resort with two pools, a modern spa, and quick taxi access to the Medina and Souks. The hotel features chic, contemporary style and a neutral color palette, although this may disappoint those craving the rich colors and textures associated with the Red City. The hotel's low-key vibe is attractive to travelers, families, and brand loyalists who crave the pampered, secluded compound-like atmosphere that's still within reach (it not walking distance) of the city's attractions.
10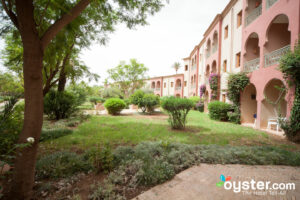 The 319-room upscale Eldorador Club Palmeraie is a family-oriented all-inclusive resort on 25 acres outside Marrakech. It's surrounded by palm and olive trees, lawns, and three swimming pools, including one for children. There are plenty of activities for young and old, including baby and kids' clubs, and trapeze classes, soccer, tennis, water polo, and more. The medina is a 15- to 20-minute ride via the hotel's shuttle, which runs from morning into the night, and is included in some reservation packages. Rooms combine modern and traditional decor, and while they show a bit of wear and tear, are clean and comfortable.
11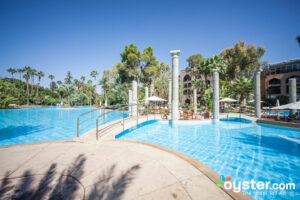 The 92-room Es Saadi Marrakech Resort - Palace is quite luxurious; an historic property with a famous casino that was once a celebrity playground, with attention still paid to every visual and sensory detail, it mixes modern amenities with exquisite traditional decor and handcrafted furniture. The spa is a high-end destination with gorgeous private hammams and a slow-food restaurant. Rooms are individually decorated with care and exquisite taste, and have private balconies. Some can get noisy, though.
12
Tigmiza Suites & Pavillons is a luxurious, 27-room hotel in its own walled complex, surrounded by lush, herb-scented gardens. Its location provides a peaceful setting a 20-minute drive away from the hubbub of the medina, though some might find it too far from the action. Decor is lovely throughout, especially in the individually themed suites, while lavish Villas provide extra seclusion and private pools. While not perfect -- pools can be too chilly and drinks are pricey -- this family-run boutique hotel is an outstanding example of its kind. The Sahara Palace nearby is even more luxurious, if not as intimate, so it may be worth comparing rates.
13
Located in Essaouira about five minutes from Morocco's coast, the upper-middle-range 23-room Riad Zahra Mogador appeals to surfers and sun worshippers who want to be near the beach. Rooms are simple but bright, with firm mattresses topped with traditional linens, and some units have terraces. The riad looks more like a hotel than many of the country's older guest houses, with tile floors and wrought-iron bannisters. Two restaurants serve Moroccan, international and Asian dishes, and breakfast is included. The outdoor pool has an accompanying bar. Travelers looking for a riad in Essaouira may want to also consider the comparably priced Riad Baladin, which is a little closer to town and a bit more rustic.
14
Riad Baladin is one of the top riads in the medina, with thoughtful style and just 10 rooms in a terraced building, many of which have folding-screen walls that lead to atrium patios. The traditional decor reflects the beach town location with light hues, blonde wood, overstuffed, linen-covered seating pillows, and packed-earth benches. However, some rooms lack bathroom doors. A free breakfast is served daily on the rooftop (which has ocean views!) and there's a hot tub for guests, though it costs extra to use. If this riad is booked, consider the comparable Riad Malaika nearby.
15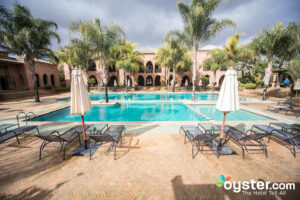 The 28-room Mosaic Palais Aziza & Spa is a luxury boutique hotel blending kasbah-style architecture with traditional Moroccan decor and a palatial finish. Located in the Palmeraie, about a 15-minute drive from the bustling souks of the medina, the Mosaic Palais sits amid five acres of tranquil gardens and pools. All rooms have private terraces or balconies, and range from Deluxe Rooms with hot tubs to freestanding Pavilions and Villas with private gardens. The on-site spa offers a palette of custom treatments, along with the traditional hammam. The on-site dining is outstanding. Maroliano, adjacent to the Mosaic Bar and Lounge, serves Moroccan fare with an Italian twist, while the more casual La Pergola, with its "theater kitchen" and alfresco dining, is for lighter far. The Citrus Bar serves signature cocktails poolside.