Best Value Hotels in Morocco
Take a look at the best value hotels in Morocco.
See All Morocco Hotels
1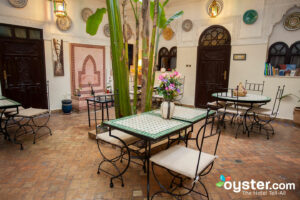 The two-and-a-half-pearl Riad Abaca Badra is a cozy, charming, and distinctive family-owned riad hotel in Rmila, at the north end of the Medina. It's a 15-minute walk from Jemaa el Fna square. Guests enjoy a well-regarded free hot breakfast featuring crepes and eggs, and the hotel also serves high-quality Moroccan cuisine for dinner. The rooftop terrace provides a hot tub and Saharan-style tent. The five rooms are a bit dated in their feel, but the look is colorful and distinctly Moroccan. Rooms have air conditioning, safes, and free Wi-Fi, but the amenities list is rather thin, as units lack TVs, electric kettles, and coffeemakers. Riad Andalla is closer to Jemaa el Fna, and its rooms are a bit more detailed, but it has no hot tub and room rates can run higher.
2
Villa Gonatouki is a beautiful, mid-range villa property located in a rural area a 20-minute drive from the Medina of Essaouria. The 10 rooms feature marble interiors and beautiful handicrafts, and some have terraces with lovely views of the countryside and out to the sea beyond. Features include two swimming pools -- one with a kids' area and a second with an infinity edge -- plus a spa offering a hammam, facials, and massages. Breakfast is included in room rates and lunch and dinner can be arranged on request. The hotel also offers a shuttle service into town, which is especially useful given its rural location and lack of attractions within walking distance. Travelers wanting to be right in the center of things may prefer the kid-friendly Riad Baladin.
3
Riad Andalla is a mid-range riad-style guesthouse featuring beautiful traditionally styled interiors. It's in a prime location -- smack in the center of the medina -- with Djemaa el Fna square and the main souks within a two-minute walk. The hotel's lovely rooftop terrace even overlooks this bustling square, and the night view is spectacular. The eight air-conditioned rooms, including two suites, are tastefully decorated, though a bit on the small side. There's no on-site hammam or plunge pool, but Riad Andalla, with its fireplace lounge and ornate courtyard, offers a cozy, traditional-style accommodation at exceptionally low rates.
4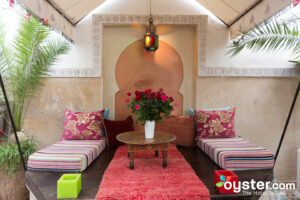 Riad Aguerzame is a four-room, mid-range riad located in the ancient medina, about a 15-minute walk to Djemaa el Fna square. While it is a perfectly pleasant, traditionally styled guesthouse furnished with lots of local handcrafts and mosaics, it's not overly lavish -- there's no hammam or plunge pool. Rooms are long and narrow with terra-cotta tile floors, but have distinctive Moroccan touches. An excellent breakfast comes with the room, and the riad serves a Moroccan dinner, which needs to be arranged in advance. The terrace offers superb rooftop views, but the standout feature here is the attentive, personalized service provided by the owner and his staff.
5
Comprising three courtyards, a spacious rooftop terrace, several snug lounges, and 19 guest rooms, this mid-range property is one of the larger riads in the area. Located in the thick of the medina's bustling souks, Riad Karmela is within a five-minute walk of the Marrakech Museum and a 10-minute walk of Jamaa el Fna Square. Rooms are clean and pleasant, though some are more elaborately decorated than others, and guests have complained about a slight mustiness. A rooftop hot tub and on-site hammam are both plus points, and make the comparatively low rates even more of a bargain. But those looking for traditional riad accommodations could compare rates with the Riad La Porte Rouge.
6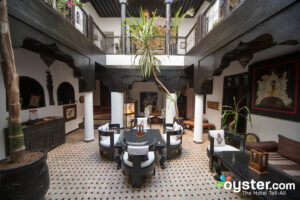 The seven-room Riad Dar Najat is a mid-range Moroccan-style guesthouse set right in the middle of Marrakech's ancient medina quarter. While tricky to find (as is typical in these lovely, narrow streets), it's less than 10 minutes on foot to the bustling Djemaa el-Fna square and neighboring souks. Interiors are attractive, especially on the secluded rooftop terrace which features a lovely tiled hot tub and lots of lounge furniture. Rooms are homey, quiet, and filled with art, though light on amenities (there are no TVs, minibars, or telephones). On-site dining is a real treat and the owners are especially hospitable. All in all, it's a fine example of riad-style lodgings, though for more extravagant bedrooms check out the nearby (and pricier) Riad le Clos des Arts. Wi-Fi is free throughout.
7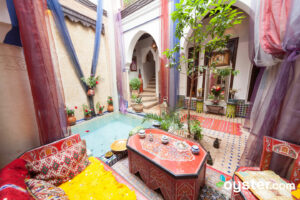 This charming, family-run riad hidden among the Marrakech Medina's winding streets has just six individually decorated rooms, a breezy central courtyard with a small plunge pool, and a rooftop with a Berber tent, all of which offer serene respite from the bustle outside. The decor at this mid-range property is a bit more colorful that some other Medina riads, with a homemade feel to it, but it's hostess Sara's personalized touch that makes the hotel a haven in the city. A free homemade breakfast is served each morning, and lunch and dinner -- made from fresh ingredients sourced daily -- can be ordered in advance to be served in the courtyard or on the rooftop. Wi-Fi is free.
8
MonRiad is a small, mid-range guesthouse located in the southern end of Marrakech's ancient medina, about a 20-minute walk to the bustling Djemaa el Fna square, and a five-minute walk to the Bahia Palace. Retaining the style and design of a typical Moroccan house, the white-walled MonRiad is charming but not overly lavish. As in most riads, which are designed around an interior courtyard, rooms are narrow, and decor is colorful but simple. A hearty breakfast is served daily, and a lovely rooftop terrace offers panoramic views.
9
Located in Essaouira about five minutes from Morocco's coast, the upper-middle-range 23-room Riad Zahra Mogador appeals to surfers and sun worshippers who want to be near the beach. Rooms are simple but bright, with firm mattresses topped with traditional linens, and some units have terraces. The riad looks more like a hotel than many of the country's older guest houses, with tile floors and wrought-iron bannisters. Two restaurants serve Moroccan, international and Asian dishes, and breakfast is included. The outdoor pool has an accompanying bar. Travelers looking for a riad in Essaouira may want to also consider the comparably priced Riad Baladin, which is a little closer to town and a bit more rustic.
10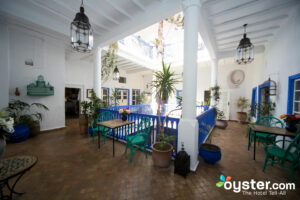 The value Villa Maroc is a 21-room riad in the heart of the Medina of Essauouira, a few minutes' walk from the beach. Rooms are simply furnished, especially by local standards, though they do feature a few lovely touches such as traditional rugs and lanterns. Amenities include a spa with a small hammam and massage treatments and a free continental breakfast served on a rooftop terrace. Dinner is available on request. The riad's central location makes it a great place to stay for those who want to spend most of their time out and about exploring, but those looking to stay somewhere with more impressive rooms might prefer Riad Baladin, which offers a bit more in terms of ambience and a hot tub.
11
Ecolodge Quaryati, about a 45-minute drive from central Marrakech, is an upper middle-range, eco-friendly complex. Its 41 air-conditioned rooms are modern yet traditionally simple, with balconies or patios. Some of the Suites and detached two- or three-bedroom villas have rooftop terraces with lovely views of the countryside and Atlas Mountains, along with satellite TV. Food is a highlight here, prepared with organic produce from nearby farms, and the swimming pool is large -- if a little cold. Hammam, scrubs, and massage treatments are available on-site. The reasonably priced Ecolodge Quaryati is for those after a secluded, peaceful, countryside retreat in a rustic setting.
12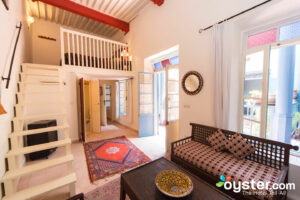 This eight-room budget hotel provides basic, tidy rooms and a relaxed atmosphere for travelers seeking a cheap stay. The units themselves are bright and cheery, with striped traditional bedspreads, tile floors, and plenty of light. Situated a seven-minute walk from Tagharte beach, the colorful, artistically decorated property is run by a family who fosters a homey environment, and even offers free cooking classes. Bed bugs have been reported at the property, though infrequently.
13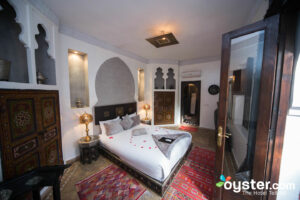 The seven-room La Porte Rouge is an attractive, traditionally styled Moroccan riad located at the southern end of the medina, about a 25-minute walk to Djemaa el-Fna square, and within a 15-minute walk of the Bahia Palace and the Mellah, the city's historic Jewish quarter. Rooms are nicely presented, with romantic touches and good Wi-Fi. The rooftop Berber-style tent is a particularly fine place to flop down, as is the shaded hot tub, also on the roof. There's a small treatment room, where guests can get various body scrubs and massages. While its location makes it a bit of a hike to the medina's major attractions, this mid-range property stands out for its traditional decor, calm ambience, and reasonable rates. Those looking for a more central location could compare rates with the Riad Karmela.
14
The three-pearl Riad Les Jardins Mandaline is a boutique, traditional property with eight rooms centered around a charming internal courtyard. As for many area riads, its alleyway location in Marrakech's Medina can be challenging, and further drawbacks include a lack of in-room TVs, fridges, and safes, as well as elevators. Still, Moroccan charm here is authentic, and rich decor is colorful. The courtyard's plunge pool is attractive, and free breakfasts are served by here or on a a rooftop terrace. Dining and spa facilities are additional offerings, and the 24-hour staff are notably welcoming, plus they can arrange excursions. For a property with a few more amenities, consider Les Borjs de la Kasbah, though rates will be higher.
15
The three-and-a-half-pearl, 14-room L'Heure d'Ete is a restored riad situated in the central Medina area, a three-minute walk from Jemaa el-Fna and the souks. Decor strikes a balance between modern and traditional, from the restaurant to the rooms, which feature air-conditioning and free Wi-Fi, but no TVs. The rooftop terrace is a highlight, with lots of padded loungers and a large whirlpool tub, and the hotel has a spa and hammam as well. Guests can choose to be served a Moroccan buffet breakfast (included in the price) on the rooftop terrace or in the restaurant, and nightly rates for the hotel are reasonable for the Medina area. Travelers looking for a pool or gym might try the nearby Riad al Ramal instead, though rates will be higher.