Most Romantic Hotels in Mykonos
Oyster knows what travelers look for in their hotels. When we visit properties around the world, we evaluate how every feature stacks up against the competition, from the rooms to the pools to the restaurants. So if you're planning a romantic trip and need a place to start, you've come to the right place. Take a look at our top romantic hotel picks in Mykonos and get inspired!
See All Mykonos Hotels
1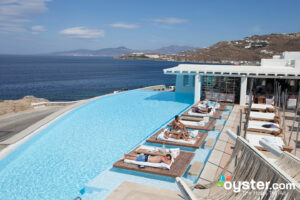 Hugging a cliff high above the Aegean, the five-pearl Cavo Tagoo offers one spectacular view after another from its multi-level terraces and windows. This 80-room boutique hotel whispers "barefoot luxury," the result of a 2007 renovation that combines whitewashed simplicity with sophisticated art and ultra-modern furnishings. The party scene in town is five minutes away via the hotel's free shuttle, but there's also plenty of action (some complain too much) at the pool bar for guests who want to mingle. Rooms -- with stone walls, wood floors, and beamed ceilings -- are gorgeous and sleek, and some have private pools that create a nice romantic ambience for a honeymoon or a couples retreat.
2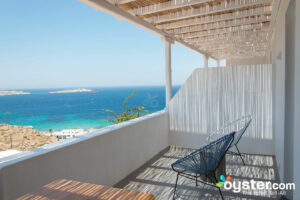 Boheme artfully combines the relaxed vibe of a luxury hotel, with a hip boutique aesthetic -- all within reach of Mykonos' vibrant nightlife scene, while still being a comfortable distance down the road from the center of it all. With only 20 suites, all of which have views of the sea, the property maintains an atmosphere of relaxation. In fact, everything has views of the sea from this elegant hillside, including the outdoor pool, spa, and open-air restaurant and bar. It stands out for its sophisticated bohemian-chic decor and gorgeous setting; the talented staff make delicious lemonade from the lemon trees growing on the grounds.
3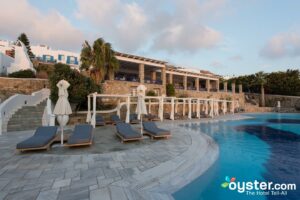 Mykonos Grand Hotel & Resort is a design-forward luxury property with many of the same features (chic outdoor swimming pool, beach facilities, spa, restaurants) as its competitors in this price range. The suites have private swimming pools, two bedrooms, and telescopes for star gazing. Other guest rooms have minimal decor and outdoor balconies, though these are less than private. The small beach here is lovely, with loungers reserved for hotel guests only, but it's a bit pebbly. The Althea Spa Center provides all-natural treatments and the White Bar offers seating in the lobby or outdoors on the terrace with views of the sun setting over the water.
4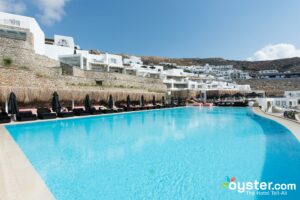 Myconian Villa Collection is a luxury property on a quiet strip of Elia Beach (it can get crowded, but it's not the party scene found on the sand in Mykonos Town) with modern villas and loads of lavish features. Highlights include an infinity saltwater pool, private beach on the Aegean, and an on-site spa with saltwater therapy treatments. Stays can be updated with luxury yacht rentals or private chefs. There's a free shuttle to town and a breakfast buffet included in the cost of the room.
5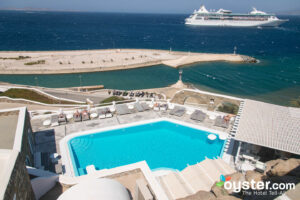 The 35-room upscale Kouros Hotel & Suites is a boutique property with gorgeous views of the Aegean Sea. It's a 10-minute walk to Mykonos town's dining and nightlife, and there's an artsy, contemporary vibe throughout. Rooms are modern and fresh, with sleek design-conscious furniture and stunning views from balconies or terraces. The outdoor pool is gorgeous, and the adjacent restaurant and bar offer even more of those views. There are also a fitness center and spa.
6
Petasos Beach Hotel & Spa is a luxury property built in the traditional Cycladic architecture style that prevails on Mykonos. It has many of the same features as its competitors (large spa, swimming pool, beach access, restaurants, and fitness center). Unlike competitors, however, the hotel doesn't own any of the beach facilities, so expect to pay extra for a chair and umbrella on the sand. Still, those looking for more activity may prefer this location -- the nearby beaches are among the island's most popular, and there are a number of restaurants and shops nearby (most competing properties tend to be more secluded).
7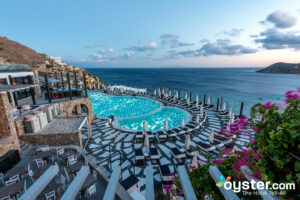 Royal Myconian Resort & Thalasso Spa Center is a luxury chain hotel with 148 stylish guest rooms, which include suites, and villas, on a steep hill above beautiful Elia Beach, where hotel guests have access to a private section with daybeds. From the hotel's restaurant and pool area are views of the Aegean Sea. In addition to the large pool, the hotel has an outdoor hot tub. The indoor spa offers guests a free daily thalassotherapy session, and private in-room beauty treatments are available for a fee.
8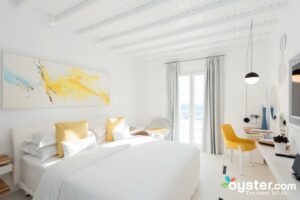 Myconian Ambassador Hotel & Thalasso Spa Center is a luxury hotel (it's part of the Relais & Chateaux chain) with 70 rooms overlooking Platis Gialos. Guests seem to love the hotel's little extras, such as juice at check-in and ice pops by the pool. Guest rooms are chic, white, and airy, and offer ocean views. The hotel has an infinity-edge outdoor pool, and a restaurant serving Mediterranean, Greek, and Mykonos dishes. The indoor spa offers guests a free, daily thalassotherapy session, and the hotel has a fitness center with several weight and cardio machines.
9
Nissaki Hotel is a posh, boutique hotel overlooking the exclusive Psarou Beach and less than a five-minute walk to the beach of Platis Gialos. The hotel has 18 upscale guest rooms with marble bathrooms and stylish furnishings. Guests can have massages while lounging by the chic infinity-pool and gaze at the yachts docked in the bay. There's an outdoor whirlpool tub and a separate family area with a shallow family pool surrounded by palm trees and illuminated at night. The hotel provides a free breakfast buffet, and an open-air restaurant with ocean views.
10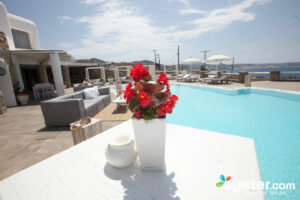 The 21-room Rocabella Mykonos Art Hotel & Spa is a luxurious boutique hideaway just above gorgeous Agios Stefanos beach. Built in quintessential Mykonos style -- with lots of winding stairs, whitewash, terraces, and stunning stone walls -- the hotel has a beach-y zen vibe that promotes instantaneous relaxation. Rooms are spacious and modern with artistic, natural decor -- plus amazing views of the sea. The little touches, such as aromatherapy candles for in-room turndown service, make a visit to the Rocabella the epitome of laid-back luxury. Unlike some competitors, the Rocbella has both a spa and gym.
11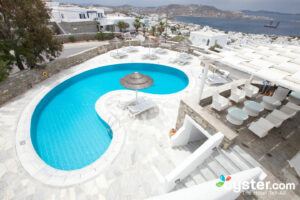 Perched on a hill above the harbor, the Hermes Mykonos Hotel has incredible views from nearly every window and balcony. Its distance from town is ideal, as it is close enough to walk to restaurants and bars, but far enough away to avoid the party scene noise. The rooms are richly decorated in marble and feature private balconies or patios. The small size of some rooms can be a drawback for guests, however. The pool is also small, but for a hotel with only 37 rooms in such close proximity of other attractions, crowding isn't much of an issue.
12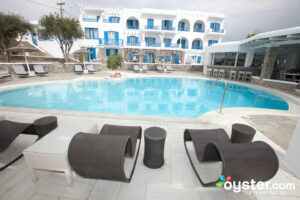 Argo Hotel Mykonos is a value, boutique-style hotel with 18 rooms within a minute's walk to the beach of Platis Gialos. Chic, airy guest rooms are available with one or two beds. The hotel has an outdoor pool with a pool bar and free breakfast buffet with a variety of foods. The hotel also owns a restaurant on the beach serving Greek cuisine.