Most Romantic Hotels in Central Myrtle Beach, Myrtle Beach
Take a look at the most romantic hotels in Central Myrtle Beach.
See All Central Myrtle Beach Hotels
1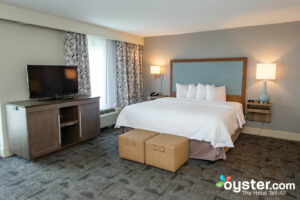 Guests don't seem to mind that the mid-range Hampton Inn Myrtle Beach - Broadway at the Beach is a 30-minute walk from the Myrtle Beach beachfront. Most are happy the hotel is in the Broadway at the Beach complex, packed with dining and entertainment options, which is great since the hotel lacks a restaurant and bar. It helps that the hotel offers a free hot breakfast buffet and indoor and outdoor pools. The 141 rooms were updated in 2016 and are equipped with microwaves and mini-fridges. For those who like chain brand names and a beachfront location, the Best Western Plus Grand Strand Inn & Suites offers both, but the rooms aren't as updated.
2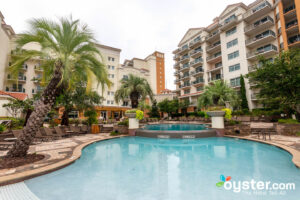 The upper-middle-range Marina Inn at Grande Dunes is a large hotel set on the lush grounds of the Grande Dunes Resort. It's located on the outskirts of Myrtle Beach with little within walking distance -- the beach is a five-minute drive (the hotel offers a free shuttle). The 200 guest rooms are spacious and come with mini-fridges, microwaves, private balconies, and free Wi-Fi. Three main dining facilities are available, along with seasonal beach and pool bars. There is both an indoor and outdoor swimming pool along with two hot tubs, a nice fitness center, and a sauna. Breakfast is not included in room rates and there's a daily resort fee. Travelers looking for a beachfront location can compare rates at the Anderson Ocean Club and Spa, with similar features.
3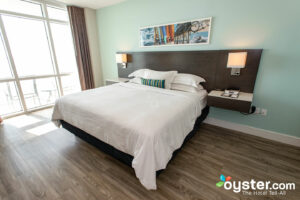 The beachfront Ocean 22 by Hilton Grand Vacations opened in 2015 as an upper-middle-range option that draws families and couples. It features lovely indoor and outdoor pools that include a sunbathing lawn and a seasonal bar. There's also a well equipped fitness center, as well as a game room stocked with toys and games. Though there's no full restaurant here, the hotel has an inviting lobby bar and a small shop selling snacks, sandwiches, and Starbucks coffee. The 220 one-, two-, and three-bedroom suites are sleek and contemporary, and all come with furnished balconies, living rooms, and full kitchens decked out with stainless steel appliances. Expect to pay a resort fee that covers self-parking (valet parking is extra), Wi-Fi, and two bottles of water. Travelers looking for more activities might want to consider Captain's Quarters Resort, which is not as chic or modern, but has a water park, bowling alley, and arcade.
4
Hilton Garden Inn Myrtle Beach/Coastal Grand Mall provides the safe, clean, and typical mid-range stay that Hilton members expect of the brand. While indoor and outdoor pools, a hot tub, and a restaurant serving a paid breakfast and dinner are convenient, some might not appreciate a 10-minute drive to the Myrtle Beach Boardwalk and Promenade. A free airport shuttle and a location across from the Coastal Grand Mall may make up for the beach inconvenience, as could the 112 contemporary rooms with modern amenities like microwaves, mini-fridges, and Keurig coffeemakers. Travelers who trust chain brand names might consider Best Western Plus Grand Strand Inn & Suites, which has similar amenities and lower rates, plus free breakfast and a beachfront location.
5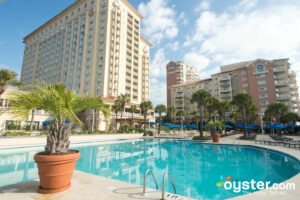 It's refreshing to find a hotel in Myrtle Beach with lovely (as opposed to dated) interiors like you'll find at Myrtle Beach Marriott Resort & Spa at Grand Dunes. The hotel on a quiet stretch of beach about a 15-minute drive from Myrtle Beach Boardwalk and Promenade. This upscale property offers a wide-range of amenities for its diverse clientele. Kids like luxe amenities like a stylish video game lounge, indoor and outdoor pools, and a seasonal waterslide. With four restaurants and bars serving American cuisine, guests have a lot of dining options from which to choose. The 408 rooms are modern and come with mini-fridges and coffeemakers, though many lack full ocean views. Guests should note there's a pricey resort fee and that there are still fees for breakfast, the business center, and reserving a pool chair in the summer. North Beach Plantation is an appropriate alternative property with upscale amenities and condos with kitchens.
6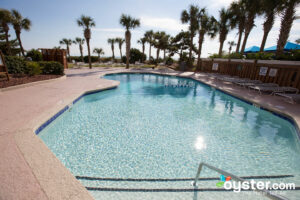 Picture a classic Myrtle Beach hotel, and chances are it looks a lot like the budget-friendly Beach Colony Resort. With direct ocean access and a convenient Central Myrtle Beach location (a bit north of the boardwalk), there are plenty of reasons to choose this hotel -- not the least of which are the condominium-style hotel rooms that are perfect for families. Still, the hotel could use some updating, especially in public spaces. The rooms themselves run the gamut in terms of decor, since each is owned by individual owners and rented out through the hotel.
7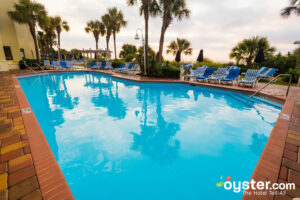 For a family getaway in Myrtle Beach, the mid-range Sea Crest Oceanfront Resort offers a long list of amenities for families. There's a water park, eight pool features, and an outdoor beach bar that serves food and drinks. The gym is dated and a full breakfast buffet isn't offered, but there is a coffee shop providing Starbucks coffee and some light breakfast options. Of the 248 rooms, many are Efficiencies with kitchens, making it easy for travelers to prepare their own meals, though perhaps the same can be said of Standard Rooms which have mini-fridges and microwaves. Take note that the decor is dated in the rooms and cleanliness complaints have occurred. Dunes Village Resort is a good alternative that offers restaurants and a breakfast buffet.
8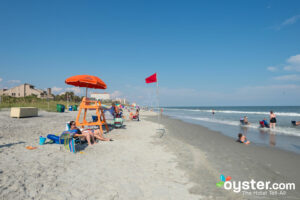 The mostly contemporary but slightly dated decor at the cheerful Grande Shores Ocean Resort doesn't stop families from visiting and having a great time. With 11 water features, a rooftop pool, a small gym, kids' club, and American restaurant with a hot breakfast buffet, guests are kept well entertained -- which is great since the Myrtle Beach Boardwalk and Promenade take 14 minutes to reach by car. The 231 rooms offer coffeemakers and mini-fridges, while efficiencies and condos add kitchens into the mix for a self-sufficient stay. Free DVD rentals and a laundry room are nice extras for families. Captain's Quarters Resort is much closer to the Myrtle Beach action and also has a bowling alley, seasonal beach shack, and pool with a play pirate ship.
9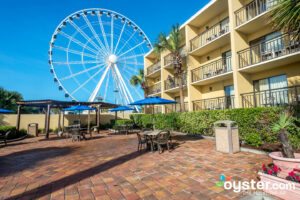 This mid-range Holiday Inn is conveniently situated right by the beach and the Myrtle Beach Boardwalk and Promenade, plus it's close to dining options and shops. Though interiors are outdated and chainlike, they're clean, and all of the 138 guest rooms have private balconies (with either ocean vistas or unattractive parking lot views) as well as flat-screen TVs, coffeemakers, and microwaves. Many units have kitchens. The hotel has both indoor and outdoor pools, including an indoor lazy river, plus there's a seasonal poolside bar. Other features include modest fitness facilities and a free continental breakfast, though it gets mixed reviews from guests. Captain's Quarters Resort is a comparable alternative with more dining options and a bowling alley, but it's also a dated property.
10
The Strand A Boutique Resort, is located in downtown Myrtle Beach and is within easy walking distance of many popular restaurants and shops. The mid-range beachfront hotel draws families and couples with an outdoor pool, hot tub, and kiddy pool. A free hot breakfast is served each morning, and the bar and restaurant offer lunch and dinner. The overall look is contemporary and inspired by the beach location with splashes of blues and greens. All 141 rooms are spacious, and come with flat-screen TVs, kitchenettes (some full kitchens), and balconies. Free garage parking and free Wi-Fi add value to a stay. Travelers looking for a little more action might consider the sister resort, Compass Cove, which has a 23 water amenities for the kids and two restaurants at a similar price.
11
Part of the Best Western chain, this centrally located eco-friendly hotel offers a range of accommodations, including cottages and penthouses, along with an outdoor and indoor pools and hot tubs, a lazy river, and a free breakfast that includes biscuits and gravy.
12
The lower-middle-range Aqua Beach Inn is a no-fuss property in downtown Myrtle Beach. It's situated just a four-minute walk from the boardwalk, beach, and SkyWheel, along with numerous nearby restaurants, bars, and shops. The 60 guest rooms are spacious with standard decor, flat-screen TVs, kitchenettes, private balconies, and free Wi-Fi. Only the higher level rooms have sea views. As the units are self-catering there are no on-site dining facilities available -- only a small shop selling basic conveniences. There's an outdoor swimming pool with adjacent hot tub and barbecue facilities. Travelers looking for more features can also consider Captain's Quarters Resort with a beachfront location, several pools, two lazy rivers, bowling alley, and dining facilities (for similar rates).
13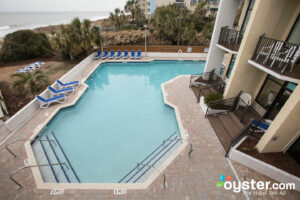 The Ocean Park Resort is a 125-room, 12-story property located on a stretch of sand lined by similar-looking high-rises. Though the beachfront location is a highlight, Ocean Park falls into the value hotel category and is not what you would expect from a property that calls itself a resort. It does have two pools (inside and outside), but there are no on-site restaurants and the rooms are a bit plain (though they're nicer than those at some competing hotels).
14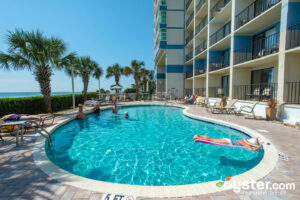 There's a lot of promise at the two-and-a-half-pearl Carolinian Beach Resort. In 2017, it updated 100 rooms to a contemporary style not often seen among the Myrtle Beach beachfront properties and are planning to do the same with the Suites (which have kitchens) in 2018. A free hot breakfast is a nice perk, but there's no restaurant or bar on-site. Families and couples have a lot of water amenities to choose from, from the beach to lazy rivers, hot tubs, and indoor and outdoor pools. One major annoyance is resort fees, weekend surcharges, and marketing fees added to rates. Couples enjoy Carolinian Beach Resort's relaxed and not overly family-focused vibe, but might consider North Beach Plantation which has an upscale design, spa, and swim-up bar.
15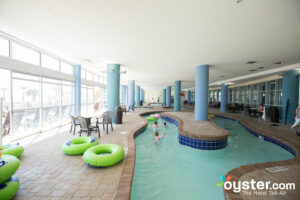 The Bay View on the Boardwalk is a 250-room, mid-range hotel that is located across from the ocean and the Myrtle Beach boardwalk. Popular tourist attractions like the Myrtle Beach SkyWheel and 2nd Avenue Pier are within walking distance. The hotel charges a resort fee, but does not offer as many amenities as a typical resort (it lacks a full-service restaurant, an outdoor pool, and a spa). Rooms are spacious and some have amazing views, but furnishings and decor need updating.