Best Luxury Hotels in Nashville
Nashville's top hotels include an elegant country farmhouse, an art-filled eco-hotel, and a spectacular destination resort that's one of the most popular convention venues in the nation. Discover all of our picks for the best luxury hotels in Nashville.
See All Nashville Hotels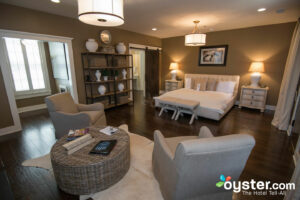 Within this 184-acre site are so many attractions -- an amphitheater that hosts a range of shows, a whiskey and rum distillery, a wine tasting room, two restaurants -- the Inn at Fontanel is a destination in itself. There are also hiking trails, zip-lines, a fitness center, a convenience store, and a gift shop. Like the rest of the property, the six separate suites have lots of wow factor. The rustic, elegant rooms vary in size and amenities, but all include coffeemakers, free Wi-Fi, flat-screen TVs with satellite channels, room service, and free bottled water. The King Guest House has a fireplace, the Grand Southern Suite has a huge walk-in closets, and the Carriage House has a rooftop patio.
The Hutton is a stylish hotel with an art-gallery-like lobby and adjacent bar area that can become festive during evening wine receptions. The hotel's 247 thoughtfully decorated rooms are on the small side, but their marble bathrooms are exceptional, with large walk-in showers with rainfall showerheads. Both hotel guests (a mix of business travelers and tourists) and locals love the fine-dining restaurant, 1808 Grille.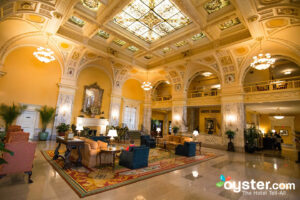 The most descriptive word for the scene at The Hermitage is grand. The lobby is expansive and beautifully designed in a Beaux Arts style, with stained glass ceilings and marble columns. The rooms are large -- the average size runs from 500 to 650 feet -- and feature classic decor, beds made by the company used by the British Royal Family, and marble bathrooms with deep soaking tubs and flat-screen TVs. The Hermitage's own produce and cattle farms supply about 85% of the food used at the hotel's on-site restaurant, the Capitol Grille, which is popular among guests and locals alike.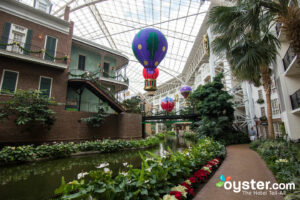 The upscale Gaylord Opryland Resort & Convention Center is a true destination resort and among the nation's most popular hosts for major conventions. Nine acres of lush, climate-controlled gardens attract droves of tourists, as does fast access to Opry Mills and Grand Ole Opry. Amenities include a full-service spa, 17 dining options, and numerous shops. There are almost 3,000 guest rooms that are spacious and tastefully decorated with contemporary details. But the resort's sheer size can make it confusing and daunting to simply get around. It's certainly not for everyone, and it's not inexpensive, with often-hefty room rates, daily resort fees, and pricey parking.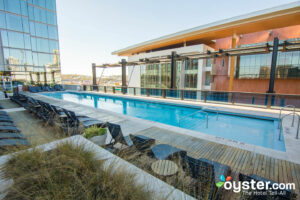 The 854-room Omni Nashville Hotel is a large, upscale property in the center of downtown Nashville, connected to the Country Music Hall of Fame and Museum. An array of features include 80,000-square-feet of meeting and event space, two restaurants, a bar, coffee shop, fitness center, and a spa. Guest rooms are modern, though less luxurious than the rest of the hotel, and include flat-screen TVs, coffeemakers, and bottled water, but there have been complaints about noise issues due to thin walls.