Best Value Hotels in New Providence in the Bahamas
The soft white-sand beaches, summery trade winds, and turquoise water with warm currents are the main draws for Bahamas visitors. These hotels in New Providence Island — the main island in the Bahamas, which contains the capital city of Nassau and Paradise Island — may not have all the bells and whistles of some of their resort neighbors, but they do have features that give them great value, things like all-inclusive rates, full kitchens, and free access to Atlantis. Learn more about the top value hotels in New Providence Island, in the Bahamas.
1
The "cheap seats" property of the Atlantis complex (though no part of the resort is cheap) has approximately 500 rooms in an aging 1960s building. Renovations to these family-friendly accommodations include tropical decor with flat-screen TVs, iPod docks, mini-fridges, and coffeemakers with free Starbucks (bottled water, however, is not free, and is the first indication of just how expensive the resort is). Take it for what it is, though: Guests at the Beach Tower have access to 11 pools, including a lazy river and large pool next to the property, and a long stretch of white-sand beach, as well as free admission to the 141-acre Aquaventure, marine exhibits, nightlife, and casino of the greater Atlantis resort. It's a lot of walking to get around, but it has less crowded environs and a shuttle service between towers. Expect to be aggravated by restaurant prices and fluctuating hours of operation. Water-view rooms are highly recommended.
2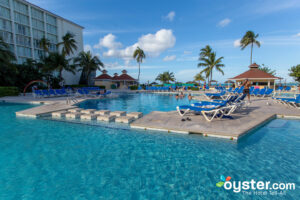 Located on Cable Beach, this budget-friendly all-inclusive has a full activity schedule and a high-energy atmosphere. The resort's 391 guest rooms are bland and dated, but they're big and feature flat-screen TVs and free Wi-Fi. Breezes features three freshwater pools and a hot tub, plus direct access to a 1,000-foot-long strip of surprisingly uncrowded beach. The resort's "super-inclusive package" encompasses a dizzying variety of activities, ranging from kayaking to talent contests. The property has a flying trapeze, rock-climbing wall, and tennis courts, all of which guests can try out with free instruction. For those who like all-inclusive resorts, it's among the best value options on the island -- but it gets plenty of spring breakers in season.
3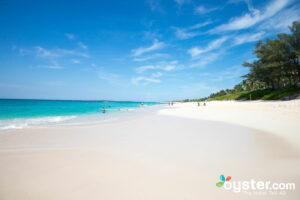 Smack dab between Atlantis Resort, Riu, and the One&Only Ocean Club on Paradise Island, this hidden gem offers 26 privately-owned units ranging in size from one- to five-bedrooms. Decor varies depending on the owner's taste, but these spacious villas all have fully-equipped kitchens, coffeemakers, sofa beds, and patios at generally great prices. Guests can walk to the aforementioned neighboring resorts for restaurants and nightlife. Lounge chairs are never a problem at one of two pools, but do not miss out on having private access to the spectacular Cabbage Beach. Sunrise's on-site restaurant serves breakfast, lunch, and dinner, and offers occasional live entertainment (which can stay loud late).
4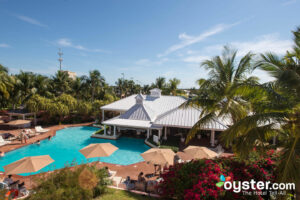 The 223-room, value-packed Comfort Suites Paradise Island is a definite upgrade from what most people expect of the chain. The hotel underwent a 6.3-million-dollar renovation in 2013 and it shows: the rooms are modern and contemporary, the pool is clean and inviting, the restaurant is large with an attractive outdoor seating area, and there is even a chic bar in the lobby. All rooms are Junior Suites and have partially sectioned-off living room areas, mini-fridges, and work desks with office chairs. Guests get free access to Atlantis -- a nearby resort that's more like a theme park, with aquariums and casinos. Atlantis also has its own beach, which is a welcome bonus considering the Comfort Suites doesn't have any shoreline on-site.
5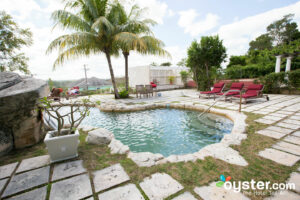 This boutique guest house, located along the north coast of New Providence Island, has a pleasantly old-fashioned style and relaxed ambience. The 10 guest rooms are cozy and inviting, featuring hardwood or parquet flooring and neutral color schemes. All rooms include flat-screen TVs, iPod docks, and free Wi-Fi (free Wi-Fi is available throughout the hotel). Free breakfast is served in an appealing restaurant located just off the lobby. The menu includes cereals, toasts, cheese, yogurt, ham, fruit, and made-to-order eggs. There's an honor bar in the lobby, where guests can help themselves to spirits and wine. Free parking is offered on the street in front of the hotel.
6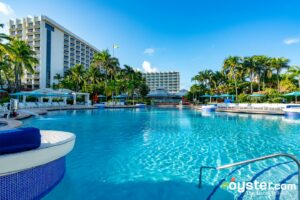 With 600-plus rooms, the comfortable Coral Towers is a section of Atlantis that appeals to mid-range travelers -- mostly families. It's cheaper than the Royal Tower but closer to the action (and crowds) than the budget-friendly Beach Tower. Though decor and amenities are similar to the Beach Tower, Coral offers larger room options, such as the Regal Suite, which has two full bathrooms. Next to the harbor, Coral offers easy access to Marina Village. In front of the hotel is Paradise Lagoon, which offers non-motorized water sports (for a fee).
7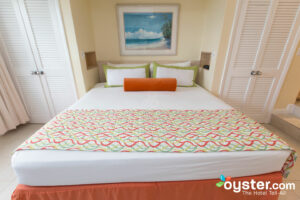 Although there's nothing especially outstanding about this mid-range property (aside from its direct access to beautiful Cabbage Beach), it offers reasonable value on a notoriously pricey island. All 44 of the resort's cheerful two-bedroom villas feature roomy living areas, full kitchens, and private balconies or terraces. The property's on-site amenities include two outdoor pools (one with a swim-up bar), Reef Bar & Grill, and a fitness center.
8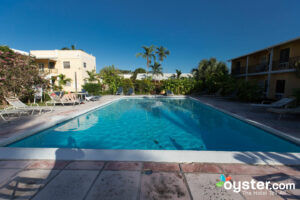 Orange Hill Beach Inn is a three-pearl hotel located on the northern coast of New Providence Island. The hotel's 33 guest rooms are simply decorated and practical; many feature either kitchenettes or full kitchens and some have partial coast views. There's an on-site restaurant and honor bar, appealing outdoor pool, as well as a peaceful beach right across the street. However, the lackluster decor could use a refresh throughout, plus entertainment and dining options within walking distance are limited. One cool perk: Staff makes a daily run to the grocery store and takes requests.