Most Romantic Hotels in New Providence in the Bahamas
New Providence is a Caribbean paradise where a flashy mega-resort may share a property line with a quiet beach hideaway. The main island of the Bahamas is home to countless hotels, but these eight are especially well-suited for couples.
1
There's truly nothing else quite like the One&Only on Paradise Island, or anywhere in the Bahamas for that matter. The luxurious resort's beautiful grounds include two outdoor pools, a romantic garden terrace inspired by Versailles, and the stunning white sandy beach. The 106 rooms and suites are spread out over the expansive grounds; the newer Crescent Wing Rooms have contemporary decor, ocean-facing balconies, and spacious marble bathrooms with big jetted tubs, and walk-in steam showers, while rooms in the Hartford Wing -- this is the original Ocean Club from 1962 -- have colonial-style decor, mahogany furnishings, and marble baths. Health and wellness nuts are spoilt for choice with daily yoga, an 18-hole golf course, tennis courts, an indoor/outdoor fitness center, and a Balinese-style spa with private villas. Guests have access to the amenities at the Atlantis (but the advantage of being removed from the crowds). After a day in the sun, guests return to the room to find champagne and strawberries waiting, and many choose to begin their evening with sunset drinks at Jean-Georges' Dune restaurant.
2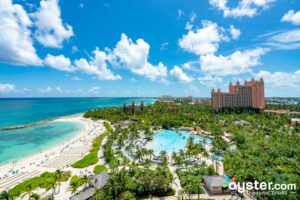 This 600-suite tower is the most fashionable address on the entire Atlantis property, for good reason. Arriving guests are whisked in via a driveway that is tucked away next to the main hub, Royal Towers, and far from any sight of crowds. The open-air lobby is graced with soaring cathedral-style ceilings and ponds with floating water lilies. Chic guests strolling through are typically heading to or from the adult-only Cain at the Cove pool or the quiet large pool called Cascades that is shared with Reef guests. At dusk, eye-catching chandeliers come alive with low lighting. Lounge music and a wafting tropical breeze add to the sexy ambiance. Bathing suits are replaced with evening attire (all Atlantis pools close early) as guests make their way to one of many restaurants around the property and then continue with drinks at the casino, or the lounges and clubs in that vicinity.
3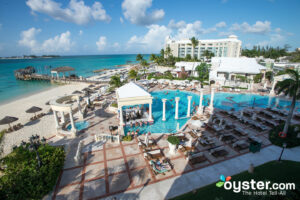 "Love is all you need" is the motto of Sandals Resort, where everything is designed for couples. The 408-room property impresses upon arrival with Roman columns, statues, fountains, three levels of elegant accommodations, 10 distinct restaurants, and eight bars. Guests receive a slew of information at onset, including a schedule of both land and water activities and daily events, but many choose to relax at the beach or make use of one of two main pool bars to drink and mingle. Head to the offshore island for an easy excursion -– a boat leaves every hour and there's a Jamaican restaurant (included) and cabanas for napping. It's not all romance though; the resort does attract its fair share of partiers -– hence the rowdy Piano Bar and English Cricketeer Pub which are both open till the wee hours.
4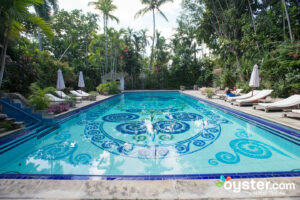 Located in the heart of Nassau, the Graycliff Hotel is a colonial mansion with a historic past. The upscale property has loads of character and charm -- a beautiful facade with a two-story veranda, frequent live jazz music in the lounge, and a chocolatier, cigar factory, and museum on-site. Two pools (one with stunning hand-painted tiles), three restaurants (including the five-star Graycliff Restaurant), and a world-class wine cellar round out the offerings. The 20 spacious rooms are stuffed with antiques but still include modern amenities like flat-screen TVs, minibars, and Wi-Fi. However, some rooms can be noisy at night, the Wi-Fi is spotty, and the hotel is not on the beach.
5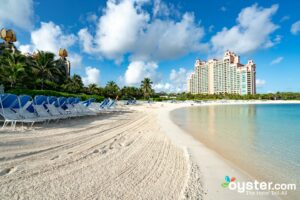 The Atlantis mega-resort complex encompasses six distinct resort sections spread out over the massive grounds, each with its own unique feel. The quiet, laid-back Reef stands out from the others in that it is a condo-style hotel, the only one that offers residential-style studios and suites. Many of the modern rooms have partial or full views of the ocean from the floor-to-ceiling windows. Bathrooms are extra-spacious with double vanity sinks, small wall-mounted flat-screen TVs, jetted tubs, and separate walk-in glass showers. The property has a nice stretch of beach and a large pool that is exclusive to Reef and Cove guests, and major Atlantis highlights such as Aquaventure are within walking distance. A Starbucks and a convenience store are available in the lobby, or guests can walk or take a shuttle to the resort hub for more selection.
6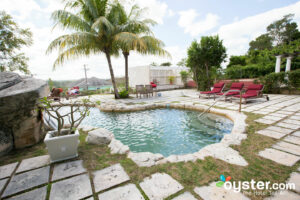 Modeled after a Colonial-era mansion, complete with pickled-wood ceilings and louvered shutters, this guest house has a homey hideaway vibe. Most guests are couples, and with only 10 rooms in total, the ambience is predictably calm and laid-back. The atmosphere lends itself well to reading in the gardens or enjoying long conversations on the scenic porch. Its hilltop location allows for sweeping views of the ocean from the restaurant and many of the rooms. The area around the hotel doesn't offer many attractions or dining options, but the out-of-the-way location seems to suit most guests.
7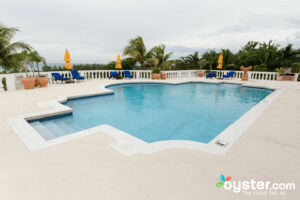 Set in a renovated mansion that's perched 70 feet above sea level, the Ocean West has stately, hacienda-style decor and an impressive oceanfront setting. The 10 rooms are refined, with dark-wood furniture, gold accents, and bold artwork in gilded or intricate wood frames on plain white walls. All rooms include mini-fridges, microwaves, flat-screen TVs, and free Wi-Fi; some rooms have fireplaces or private balconies. The hotel has an ocean-view pool, small bar, and small fitness center, but there's no direct beach access and not much within walking distance.
8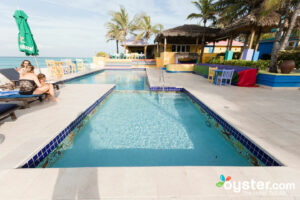 Compass Point Beach Resort is a three-and-a-half-pearl hotel located on Love Beach. The 18 huts at this laid-back resort are big on local charm -- with rainbow-colored exteriors and homey interiors -- but small on space. Founded by music producer Chris Blackwell of Island Records fame, this resort has an interesting history, along with a hip restaurant (continental breakfast is free) and direct access to one of the island's prettiest beaches, which it's named after. The secluded location is a great fit for guests with rental cars or those seeking a more intimate getaway, but it might feel too isolated for some. And paying for daily housekeeping is another downside.