Gay-Friendly Hotels in New York City
Gay and lesbian travelers account for a sizeable portion of the New York tourism market. In 2008, they made up 10 percent of the 47 million visitors to the city, and in 2009 New York City officials promoted Manhattan as a gay tourist destination in a $1.9 million Rainbow Pilgrimage Campaign. So it's no surprise that virtually every hotel in New York is hospitable to members of the LGBT community. Some, however, go further than others, either by investing in targeted advertising or by offering special packages and discounts. All of the hotels on this list are TAG approved or members of the International Gay & Lesbian Travel Association.
See All New York City Hotels
1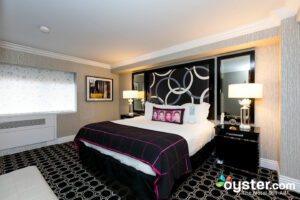 The Muse is part of the San-Francisco-based Kimpton Hotel chain, the first hotel company to ever receive a 100 percent score on the Corporate Equality Index. Gay and lesbian employees are represented at every level of the company, according to the LGBT microsite, and the chain often offers special LGBT discounts, like the "Summer of Pride" deal. The company is a sponsor of Parents and Friends of Lesbians and Gays and National Lesbian and Gay Journalist Association, among other LGBT-friendly groups, and provides gift certificates for various LGBT fundraising causes. A hip wine bar, a newly renovated interior, and a Times Square location -- within walking distance of the gay bars in Hell's Kitchen and the theater district -- gives the Muse an edge over the more straightlaced 70 Park Avenue, also a Kimpton hotel.
2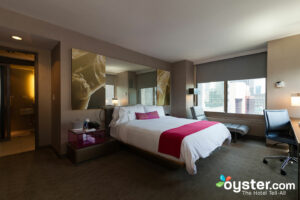 The W Hotels chain bills itself as the "poshest spot for the proud crowd" and offers a year-round "Pride 365" package; the 2009 version comes with a Bliss travel skin-care set, a Passport Magazine subscription, and two cocktails. LGBT travelers have four other W properties to choose from in Manhattan: W New York - The Court, W New York - The Tuscany, W New York - Union Square, and W New York -- but we reccomend the W Times Square for its hip bar, Living Room, and proximity to the bars of Hell's Kitchen and the theater district.
3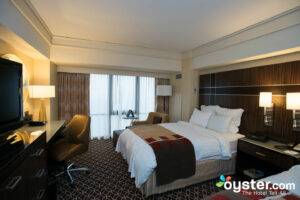 Examiner.com rated Marriott International as one of the top gay-friendly hotel chains, and the hotel earned a 100 percent score on the Corporate Equality Index for two years in a row. The OUT in New York package includes a five percent donation of the room rate to GLAAD and a gay and lesbian travel guide to New York. Other Marriott hotels in New York include Courtyard by Marriott New York City Manhattan Fifth Avenue, Marriott New York Financial Center, and Marriott New York East Side, but the Marquis is a great all-around choice, with comfortable beds, an excellent fitness center, solid service, a bustling, oh-so-New-York atmosphere, and a premiere Times Square location.
4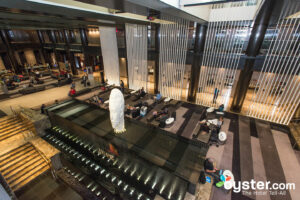 The Global Hyatt Corporation, a partner of the Gay and Lesbian Alliance Against Defamation (GLAAD), hosted three "Pride Rocks" parties in 2008 and promoted a GLAAD package that offered a two-night hotel stay and GLAAD membership. The chain's gay-friendly reputation was a little sullied by the owner of a San Diego Marriott who supported Proposition 8, but the corporate parent has continued its support of the LGBT community. The chain has run numerous print and online advertisements targeting the gay community and was named one of the top gay-friendly US hotel chains by Examiner.com.
5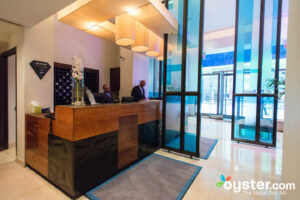 A unique hotel in the heart of New York City, The Alex Hotel is a great option for gay and lesbian travelers, as it's affiliated with the International Gay & Lesbian Travel Association. The hotel welcomes all. With its sleek, modern decor and high-end facilities, it delivers a truly cosmopolitan vibe to its guests. Plus, its on-site restaurant, Riingo offers organic American cuisine in a spot full of class and elegance.
6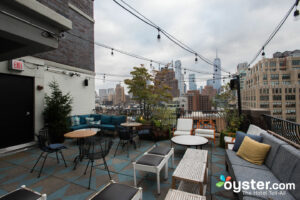 60 Thompson, the flagship of the boutqiue Thompson hotels brand, fulfills all the Travel Alterntive Group requirements for membership: It has nondiscriminatory hiring policies, a domestic partner benefits program for LGBT employees, and includes LGBT sensitivity issues in its sales and hospitality training. This hip SoHo boutique, one of Thompson's three New York City properties, has a hip nightlife scene and proximity to tons of great restaurants and shopping. Plus, the members-only rooftop bar A60 (which hotel guests can access) is a celebrity hot spot.