Best Value Hotels in Midtown West
Between expensive Broadway shows, expensive tourist attractions, and expensive dining, a trip to New York City is not the most wallet-friendly. And if you want to stay in a hotel near the action, prices are typically quite high. So here are at Oyster, we visited dozens of hotels in Midtown West to see which had the best bang-for-your-buck; we found hotels that while budget-friendly, also have comfy guest rooms, quality amenities, and a stellar location. Take a look at our expert picks for the best value hotels in Midtown West, and start planning your NYC getaway!
See All Midtown West Hotels
1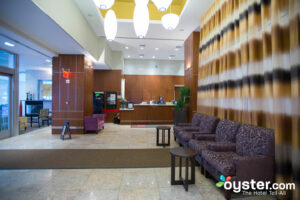 Those looking for a clean mid-range chain hotel right around the corner from the Empire State building can't do much better than this Hilton Garden Inn. Rates are affordable (for New York, at least) and the location is extremely convenient for seeing the sights -- the flagship Macy's store, Madison Square Garden, and multiple subway lines are also within easy walking distance. Just note that rooms ending in "02" are the smallest, so steer clear if you want a bit more space. Some of the city-view rooms have great views of the Empire State building, and all rooms have the microwaves and mini-fridges that are standard for the chain (and particularly helpful for saving money on food in pricey New York City).
2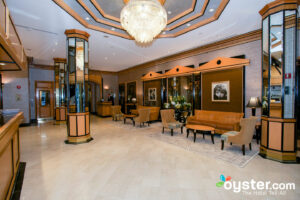 On a busy block just off of Herald Square, the mid-range Hotel Metro is attractive and tranquil. The Art Deco-themed lobby is cozy, with plush beige seating, and the breakfast room -- where a free continental spread is served -- doubles as a quiet lounge during the day. Room decor continues the Art Deco look, bathrooms are sleek, and modern amenities include flat-screen TVs, free Wi-Fi, and iPod docks. A highlight during the warmer months is the rooftop bar, complete with breathtakingviews of the Empire State Building.
3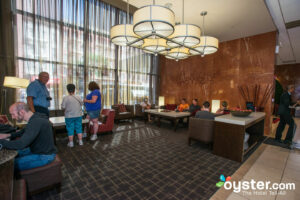 This Hampton Inn has a convenient Midtown West location that is slightly removed from the hubbub of Times Square (just to the south). Rooms are clean and modern, with flat-screen TVs, Nintendo consoles, and either one king or two queen-size beds. Numerous freebies (breakfast, Wi-Fi, tea and coffee) add value, but guests should still expect to pay a premium for location. The breakfast room is large, but it can still get crowded -- as can the lobby area.
4
Set in the heart of Manhattan's Fashion District, the Holiday Inn Express is a 135-room mid-range hotel with small but tidy rooms that feature a modern design and a cohesive, calming color palette. The central location in Midtown is ideal for tourists and business travelers. Shopping at Macy's flagship store, Times Square, Madison Square Garden, and the Empire State Building are all within a 10-minute walk.
5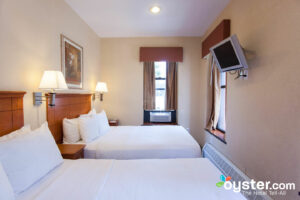 The Econo Lodge Times Square offers 56 tiny rooms in a basic hotel whose big draw is its location; the property is situated about two blocks from its namesake, and is near the Theater District and subways. The rooms have comfortable mattresses in spaces so small it's a challenge to drag a suitcase around the bed. Generally, cleanliness is at a good level at this value hotel, and the free continental breakfast often garners positive comments. Guests have noted worn carpeting, the occasional lapse in cleanliness, strong cleaning product smells, and that lower floors are noisy; the hotel provides earplugs, but sensitive sleepers may want to request higher floors.
6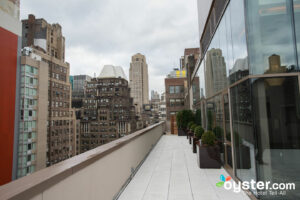 Opened in 2014, the 293-room Homewood Suites by Hilton is the brand's first entry into New York City, offering modern suite-like accommodations for budget-minded travelers. Built on the former site of a parking lot, the 22-story hotel offers a glimmer of modernity on a somewhat gloomy and busy block that's within walking distance of Times Square and Madison Square Garden. Free perks include daily breakfast, a 24-hour lobby coffee station, and dinner on weeknights, and the lobby, rooftop terrace, and rooms with kitchenettes and sofa beds create a homey feel. Nearby chain hotels, such as the Courtyard by Marriott, offer similar rates and are worth considering since guests here have complained of street noise and the smallish bathrooms.
7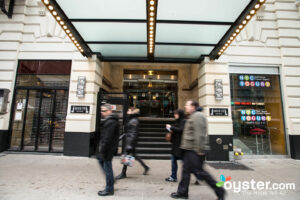 This 112-room affordable property is a block from Radio City Music Hall and close to Times Square. The studio, one- and two-bedroom apartments have been around for more than a few years, just like the people who run the place like clockwork; it attracts repeat guests for a reason. The spacious upper-middle-range units feel homey and most contain modern kitchenetteswith coffeemakers and microwaves. There's free Wi-Fi throughout, and a comfortable lobby for checking e-mail and reading one of the free newspapers. For those who don't mind sacrificing traditional hotel features (there is no restaurant, bar, or fitness center), it's one of the best options for the price in this tourist-centric location.
8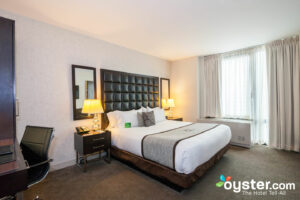 Opened in February 2010, this stylish 155-room boutique offers some of the best rooms for the price near Times Square, with 37-inch flat-screen TVs, iPod docks, Frette linens, and nightly turndown service. Freebies like in-room Wi-Fi, gym passes, morning newspaper delivery, and iMac use in the lobby add value, but the location on a gritty block isn't ideal.
9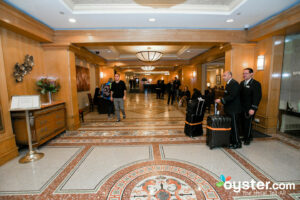 This gorgeous historic building often gets overlooked in the hustle and bustle of Herald Square, but with modern rooms, several dining options, and an interesting history (it's the birthplace of the Professional Golfers Association), the Radisson is a solid mid-range option. The location may not be particularly attractive, but it is certainly convenient; the hotel sits right above eight subway lines, and is within walking distance of numerous sights. It's worth comparing rates with the nearby Eventi, however, which boasts larger rooms and extra freebies.
10
European chain Yotel is known for its hip atmosphere and affordable rates. This Midtown West outpost is certainly hip, featuring three bars (including two on an enormous rooftop terrace), a Latin-Asian fusion restaurant, and funky, outer space design. And it's usually affordable, at least for the area. Rooms are tiny, and the location on quiet 10th avenue is a bit out of the way, but the cool factor will make this a worthwhile option for a young, well-heeled hipster set.