Best Value Hotels in New York
Take a look at the best value hotels in New York.
See All New York Hotels
1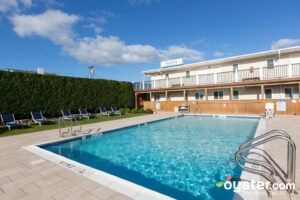 Aqualina Inn Montauk is a laid-back seasonal budget inn geared toward beachgoers. Situated between the beach and downtown Montauk, it's only a few minutes' walk from each. Highlights of the hotel include an outdoor pool surrounded by loungers and a central courtyard with picnic tables and grills. There's few other property features -- guests are on their own for breakfast, and check-in is at the sister hotel next door -- but the inn does offer free loaner bikes and beach chairs, umbrellas, towels, and sports items. The property's 22 rooms have bright beachy decor with wood floors, rustic wood furnishings, flat-screen TVs with Netflix, and self-catering amenities like microwaves, mini-fridges, and coffeemakers; upgrades add whirlpool tubs or balconies. Travelers can compare rates with its sister hotel, The Ocean Resort Inn, or the beachfront Montauk Blue Hotel nearby.
2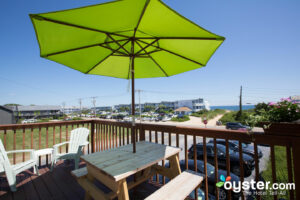 The Ocean Resort Inn is in the quasi-laid back surfing town of Montauk, Long Island, an area with a bit of authenticity in the otherwise tony Hamptons. This 26-room, lower-middle-range property is a throwback to a time when American seaside resorts were more about location than frills. The inn faces the Atlantic Ocean, but the sand is separated by a street and a row of houses. It has simple rooms with ocean-themed decor, and suites with hot tubs, and there's a cheerful courtyard with pastel umbrellas, redwood picnic tables, and a Weber barbecue grill, along with a pool at a hotel next door. Guests who arrive before check-in can drop off their luggage, put on a bathing suit in the changing room off the lobby, and head straight to the beach. Relaxed and casual is the mantra of this family-managed property. For a similar feel in the same area, travelers should check out Beachcomber Resort at Montauk, which has a private beach and a tennis court.
3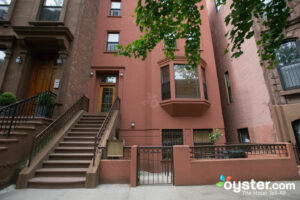 The owner -- and namesake -- of this two-room property comes from France and caters largely to her compatriots. Michelle resides in the basement apartment while her guests have the first floor to themselves. The two rooms are comfortable and bright, overlooking either a quiet brownstone-lined block of Harlem or Michelle's private backyard garden. Only the front room -- named after John Lennon -- has a private bathroom. The other (named for James Dean) has access to a bathroom in the hallway. There are no other amenities on-site, but the overall homey vibe, solid rates, and proximity to the famous Apollo Theater make this an attractive B&B option in New York City.
4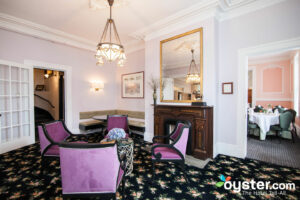 The three-pearl Saratoga Arms is a historic boutique hotel located in the heart of downtown Saratoga Springs. The property feels like an elegant bed-and-breakfast, with a traditional yet friendly ambience and a full breakfast included in the rate. Other extra perks include a 24/7 pantry with free snacks and drinks and a wrap-around porch where guests can enjoy the small plates menu and wine list at day's end. The 31 clean and spacious rooms are individually-decorated in a traditional and thoughtful fashion. Some include fireplaces, living rooms, and balconies. The budget-friendly Junior Queen rooms are significantly smaller than Standard Queens. Another good option with a pool and lower rates, is the mid-range Best Western Plus Saratoga Springs, but it's an eight-minute drive outside of town.
5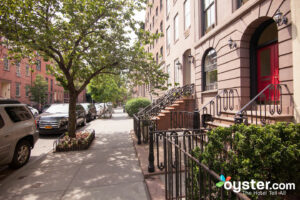 A one-suite guesthouse in a 19th-century brownstone on one of the most picturesque blocks in Manhattan's Chelsea neighborhood, A Garden in Chelsea feels like a private pied-à-terre in New York City. In addition to a kitchenette, leafy private garden, and simple but cozy decor, the hotel has two knowledgeable and helpful innkeepers who live upstairs. Popular sights like the High Line, Chelsea Market, Madison Square Park, and the Flatiron are all within walking distance, the subway is less than three blocks away, and the price reasonable for the neighborhood.
6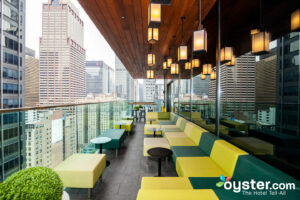 The upper-middle-range citizenM New York Times Square is an ultra-modern, funky property in the Theater District, about a five-minute walk from Times Square. From the self-check-in, airport-style kiosks to its spacious, living room-like lobby filled with colorful knickknacks and whimsical art, citizenM rejects typical hotel trappings -- in their words, there are "absolutely no trouser presses, bellboys, or other tired old hotel cliches." The lobby restaurant/bar is open 24/7 and serves barista-brewed coffee. The rooftop bar on the 21st floor offers spectacular skyline views and covered outdoor seating. Rooms, with storage units underneath the beds, are compact and functional, yet still quirky and colorful, outfitted with mini-fridges, but bathrooms are cramped. Those looking for a more traditional option could try the Hilton Garden Inn Times Square, which has spacious rooms with microwaves, coffeemakers, and mini-fridges, at comparable rates.
7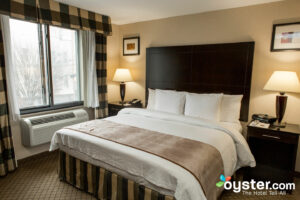 Hotel Le Jolie in Williamsburg, Brooklyn is a simple, 52-room value hotel, just across the East River from Manhattan. Location and value are the biggest draws for this somewhat bland property. A free continental breakfast and rooms with city views are among its high points. The rooms are clean and comfortable with rainfall showers and DirecTV. On-site parking is free, however it's very limited. The hotel's location yields plenty of trendy dining and nightlife, but it's right by the gritty Brooklyn-Queens Expressway and Manhattan's major tourist attractions are a drive or subway ride away. Travelers seeking more stylish decor, and features like bike and iPad rentals, may want to consider The New York Loft Hostel, four subway stops away in Bushwick.
8
The main highlight of this budget property is its beachfront location that's within a five-minute walk of restaurants and the Hampton Jitney stop. It's a simple and modest (but clean) property, and it doesn't offer many features beyond a gorgeous outdoor pool with an attractive sundeck and sweeping views of the beach. All 26 rooms have kitchenettes with microwaves, two-burner stoves (except Silver Studios) and fridges, plus free Wi-Fi. Many rooms also have beach views, some with private balconies/patios. Note that upper-floor rooms cost extra and breakfast is not served. Kenny's Tipperary Inn is a comparable alternative that offers similar amenities and rooms, all with balconies/patios, but it's not beachfront.
9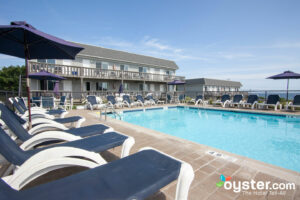 The family-friendly Hartman's Briney Breezes Motel is a small, welcoming property with a great location by the water and a few minutes from the Montauk town center. Owned by a local couple who live on the property, the hotel is casual and comfortable, offering thoughtful amenities including free Wi-Fi, free parking, barbecue grills, a heated outdoor pool, and green space, as well as reserved tee times for guests at the local golf course. Rooms are simple but clean and spacious and have pull-out sofa beds and kitchenettes, but balconies are shared which can limit privacy. Most rooms have a view of the ocean, but there is a main road that runs between the property and the beach.
10
Located in Hell's Kitchen within a five-minute walk of Times Square, the mid-range French Quarters Guest Apartments has 22 rooms and five suites, which include kitchenettes with mini-fridges, coffeemakers, sinks, and stove tops. Two-Bedroom Suites include separate living areas and private balconies or patios, some with scenic skyline views. A continental breakfast is included in the rate, and there's a popular on-site restaurant serving Creole-style cuisine, with room service available. Travelers might also want to check out the nearby TRYP by Wyndham New York Times Square, which includes fitness and business centers, though rates can be higher.
11
The Edge Hotel is a small and stylish two-and-a-half pearl property that opened in 2016 in Manhattan's Washington Heights neighborhood. Located a few minutes' walk from Columbia University Medical Center and three subway lines, the hotel is convenient for hospital visitors as well as tourists who want to be close to The Cloisters and don't mind taking a subway ride to the sights. The 54 compact and modern rooms provide 42-inch flat-screen TVs, Keurig coffeemakers, and some Manhattan views. However, walls are thin. Amenities include free continental breakfast, free Wi-Fi, a 24-hour grab-and-go kiosk, and a small, but modern, fitness center. The lobby is decorated with local artwork. Travelers wanting to be closer to Midtown could also try the Morningside Inn, a bare-bones property on the Upper West Side that has lower rates.
12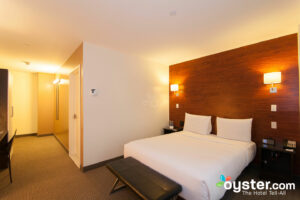 The mid-range Lex Hotel is a sleek, 48-room boutique hotel with affordable rates couched between New York's Gramercy Park and Murray Hill neighborhoods, near the subway and lots of dining options. The stylish rooms have queen-size beds, 40-inch flat-screen TVs, free Wi-Fi, and black-and-white tile bathrooms. Mini-fridges are available on request. Superior Queen Rooms and Junior Suites have balconies, but they face other buildings. A continental breakfast is included in the room rate, adding to the hotel's value. Travelers might want to compare rates with the nearby Marcel at Gramercy, which has funkier rooms and a 10th-floor lounge, but Wi-Fi and breakfast come with fees.
13
The 117-room, mid-range Hampton Inn Brooklyn/Downtown is located on a high-traffic street that's far from both NYC landmarks and the "hipster" parts of Brooklyn. However, guest rooms are relatively chic for a Hampton Inn outpost and include LCD flat-screen TVs and coffeemakers. On-site features like a fitness center, lobby bar, and free hot breakfast add to its appeal. On the downside, rooms on lower floors may experience some noise, and rates are on par with hotels in the middle of Midtown Manhattan. Travelers looking to be closer to tourist attractions may prefer the Hilton Garden Inn Times Square. Those wanting to be closer to the trendy Brooklyn scene, could consider McCarren Hotel & Pool.
14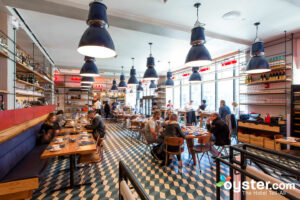 The fashionable Arlo SoHo is a four-pearl micro-hotel in trendy Hudson Square, between TriBeCa and SoHo. It has bars, lounges, and work spaces -- and 325 rooms -- yet still manages to feel intimate and puts a focus on all things local. Artisanal goods are available in the Bodega, and the cafe sells fresh juices and La Colombe coffee. The restaurant, Harold's Meat+Three is a bustling spot serving great Southern fare, and free classes are available through fitness partners like Surfset and Yoga Shanti. Yes, rooms are tiny -- even for NYC -- but they're sharp and bright, and feature free Wi-Fi and bespoke bath products. The best have Lower Manhattan views and spacious terraces. Alternatively, travelers who'd prefer to be in Midtown should check out their sister property, the Arlo Nomad.
15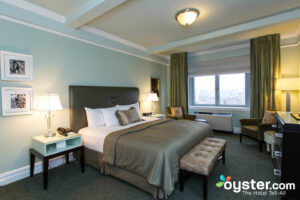 The Hotel Beacon is a low-key, 278-room upper-mid-range hotel with a residential vibe that caters to tourists and business travelers, many who are visiting local relatives, students at Columbia and Fordham Universities, or attending concerts at Beacon Theater. Traditional and unfussy with muted color palettes and tasteful artwork, the rooms are equipped with kitchenettes and views of the city skyline, but the bathrooms are small and lack storage space. While the hotel doesn't offer room service, there's a cafe next-door that delivers and several nearby gourmet grocers to entice guests to stock their cupboards and refrigerators.