Best Value Hotels in Niagara Falls
Oyster knows what travelers look for in their hotels. When we visit properties around the world, we evaluate how every feature stacks up against the competition, from the rooms to the pools to the restaurants. So if you're planning a trip and need a place to start, you've come to the right place. Take a look at our top picks for value in Niagara Falls, and get inspired!
See All Niagara Falls Hotels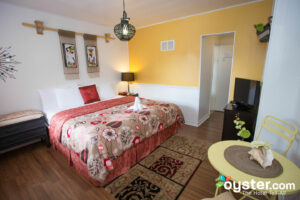 Unique and charming, the Rex Motel is a small, family-owned property with 15 individually decorated rooms. With free parking and free Wi-Fi, as well as gardens, a gazebo, and an outdoor play area, this hotel is great for couples and families seeking a cozy budget option. The location on the edge of the Clifton Hill tourist district means rooms are quiet, but most activities and attractions, including the falls, casinos, and a wide variety of restaurants, are a short drive away.
For guests who want an upper-middle-range boutique hotel experience in chain-filled Niagara, Sterling Inn & Spa is just the spot. With large, modern rooms, an award-winning on-site restaurant, and a full-service spa, this property is elegant and relaxing -- designed with romance in mind. The Sterling Inn is located on an unattractive corner in the Clifton Hill tourist district and doesn't offer the spectacular views that many nearby hotels promise. However, the quiet street is very close to the busier sections of town, and within walking distance of Niagara Falls, as well as many popular activities and attractions.
The Tower Hotel is a great mid-to-upper range option for travelers wanting an intimate, boutique hotel experience with beautiful views of Niagara Falls and the city. This smaller property doesn't include as many amenities as some of the nearby chain hotels, but each room is uniquely decorated and includes a kitchenette. What's more, views of Niagara Falls and the river are some of the best in the area -- every room is located on either the 26th, 27th, or 28th floor of the hotel and has floor-to-ceiling windows for prime viewing. With its dining options -- including a lobby cafe and Mediterranean restaurant with views of the falls -- and wedding services, as well as free Wi-Fi in guest rooms, the hotel is both convenient and charming. If you're afraid of heights, book elsewhere.
With contemporary, homey furnishings and a variety of amenities, the mid-range Country Inn & Suites Niagara Falls combines a central location with convenient services. With larger suites for families or groups as well as smaller standard rooms, this hotel also offers a large pool, whirlpool, game room, fitness center, meeting room, and laundry services. A short walk from a number of popular attractions, as well as the Casino Niagara and the falls, the hotel provides easy access to much of the Niagara Falls region. Both Wi-Fi and breakfast are free.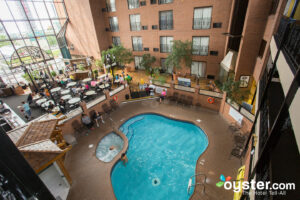 Clifton Victoria Inn is a convenient, 127-room mid-range option located on a busy corner, within walking distance of the falls, casinos, and other tourist attractions. Rooms are clean if unremarkable, and the availability of two-bedroom suites makes this hotel popular with families. The hotel is built around an atrium-style lobby with an indoor pool and whirlpool, and multiple freebies -- free breakfast, free parking, free in-room movies, and free Wi-Fi -- add value. The Best Western Plus Cairn Croft Hotel has lower nightly rates and a fitness center (which the Clifton lacks), but a less convenient location and fees for both Wi-Fi and parking.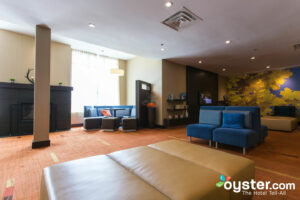 The Courtyard by Marriott Niagara Falls is a solid, contemporary mid-range choice. With two restaurants on the premises as well as a 24-hour market shop with snacks and drinks, guests can choose between the easy on-site dining options and the wide variety of restaurants within walking distance. And with both indoor and outdoor pools, as well as a large fitness center, there are several ways to unwind on the property. The Clifton Hill tourist district has plenty of entertainment and activities, and the hotel is just a few blocks away from the falls.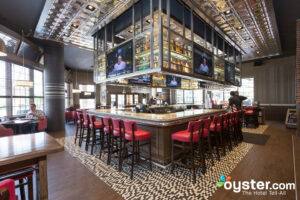 The Embassy Suites Niagara Falls is one of the larger hotel options in the area, with 512 suites, all with Niagara Falls views and at least two rooms. The hotel is centrally located in the Fallsview tourist district, a short walk to the waterfalls and to a variety of nearby restaurants, activities, and attractions. There are a range of property features, including a Starbucks, a steakhouse, a big indoor pool, and a 24-hour fitness center. That said, it's more expensive than nearby properties and doesn't have as many free amenities.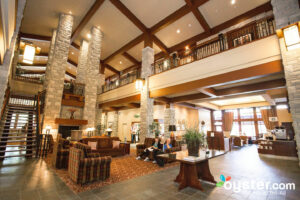 For travelers looking for a central location in Niagara Falls, beautiful views of the city and water, and plenty of features and amenities, the DoubleTree Fallsview Resort & Spa is a great mid-range option. Rooms are spacious and contemporary (if lacking style), and the hotel includes Aveda spa services, a full-service restaurant, lobby cafe, and several shops and galleries. An indoor pool and whirlpool are right next door to a lovely outdoor whirlpool and patio, giving guests some rare outdoor space, and the hotel is convenient to the area's best attractions, restaurants, and the falls.