Best Value Hotels in Ocho Rios, Jamaica
The Jamaican beach town of Ocho Rios is dominated by giant, all-inclusive mega-resorts that attract both young families and couples gone wild. But quiet comfort for those on a budget can still be found — if you know where to look. Check out our picks for the top affordable places to stay in the area.
See All Ocho Rios Hotels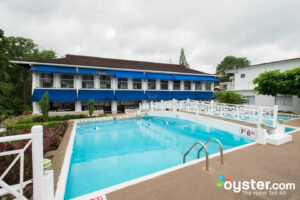 Hibiscus Lodge Hotel is a mid-range hotel with a beautiful clifftop location in Ocho Rios. The 27 rooms are clean and comfortable, and many have stunning ocean views; just don't expect cutting edge design of high-tech amenities. There's a nice pool, but the beach -- a man-made plot of sand -- leaves a lot of to desired. The hotel's restaurant, The Almond Tree, is popular with guests and non-guests alike, and the adjacent Swing Bar is a fun place to hang out any time of day. Hibiscus Lodge is not without faults -- the hotel's spotty Wi-Fi, tiny beach, and so-so room decor might be deal-breakers for some -- but travelers who don't care about modern aesthetics or high-end amenities will find perfectly happy here. Moxons Beach Club is a similarly sized mid-range hotel in the area that's also worth considering.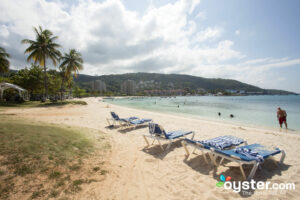 For families and groups who are more interested in a great location than a luxurious room, Rooms Ocho Rios is a solid budget choice. Rooms are basic but clean, with colorful decor -- and some obvious maintenance issues like stained tubs and chipped paint. Rooms Ocho Rios doesn't require guests to book an all-inclusive meal package, though they have several different options for those who are interested in eating exclusively on-site. There's a small, but rarely crowded, swimming pool with a swim-up bar. The beachfront, however, is the main highlight, with golden sand and calm blue water that's great for swimming. A small casino and windowless fitness center are added perks considering rates, but both are in need of major updates.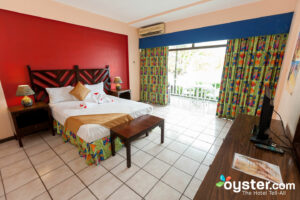 The lower-middle-range Kaz Kreol Beach Lodge has a quiet, beachfront location on gorgeous White River Bay, just outside of Ocho Rios. Its 19 rooms are simple and dated, but all have air-conditioning, king or queen beds, flat-screen TVs, mini-fridges, and ocean-view patios or balconies. Premium Rooms all have direct beach access. There's no pool, but the gorgeous, crescent-shaped beach makes up for this fact. Free kayaks are a plus. The ocean-view restaurant serves Jamaican and Greek cuisine and gets positive reviews from previous guests. Other amenities include an oceanfront bar, free welcome fruit or rum punch, and free one-way taxi service to downtown Ocho Rios.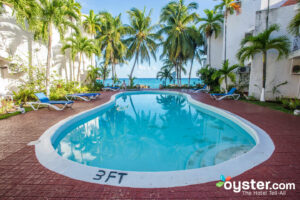 Near the Kaz Kreol, the 32-unit Chrisanns Beach Resort is a simple apartment-style beachfront hotel. Each of the hotel's 32 apartments is individually owned, so decor and features vary, though on the whole the look is homey, clean, and well-kept, with bright tropical accents throughout. All units feature full kitchens, king-size beds, and ocean-view patios or balconies, but Wi-Fi is only free in common areas. The list of common amenities begins and ends with the pool and beach, so guests will need to venture off property for dining (there's no restaurant here, like at Kaz Kreol) and entertainment.
Travelers looking for a cheap place to stay in Ocho Rios will find excellent budget accommodations at the Pineapple Court Hotel. With 14 rooms, a small pool, and an on-site restaurant, this two-and-a-half-pearl property is ideal for independent travelers who don't mind being a bit far from town (it's about 10 minutes from downtown Ocho Rios). But while Chrisanns is on a (man-made) beach, Pineapple Court is a five-minute walk from the nearest public beach.
You know the feeling when you show up to your high school reunion, and your class's all star quarterback now has a beer belly and dad jeans? We sort of get the same feeling when arriving at Shaw Park. It's clear that the place was once great, but there's a hint of sadness in the air from the hotel's evident downfall. Much of the property looks like it did in the 1970s -- mirrored walls, stone facades, black-and-white checkered flooring -- and not much has been done to revive the place. During our visit, there weren't many guests around, giving the hotel an almost eerily quiet atmosphere. The few guests we encountered were mostly older couples who were enjoying the peace and quiet.