Best Kid-Friendly Hotels in Orange County
Oyster knows what travelers look for in their hotels. When we visit properties around the world, we evaluate how every feature stacks up against the competition, from the rooms to the pools to the restaurants. So if you're planning a family trip and need a place to start, you've come to the right place. Take a look at our top kid-friendly hotel picks in Orange County, and get inspired!
See All California Hotels
1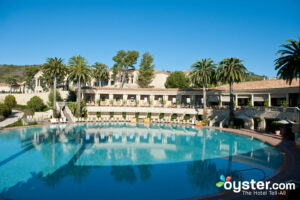 The ultra-luxe Pelican Hill is a sprawling, immaculately kept resort (500 acres!) with two golf courses, a 23,000-square-foot spa, two pools, five restaurants, and 332 bungalows and villas. The rooms are large, with top-notch technology (although the absence of iPod docks is surprising) and beige decor (of the upscale variety, not the bland kind). All rooms feature large marble bathrooms, fireplaces, and terraces, many with ocean views. There's also a top-notch kids' club.
2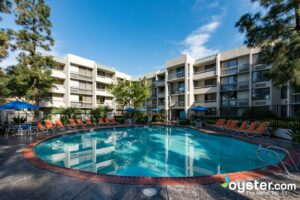 The Howard Johnson Anaheim Hotel and Water Playground is a great pick for families, with its own mini water park, large game room, and convenient location a short walk away from Disneyland. The hotel is modern and rooms are immaculately clean with soundproofed walls that keep freeway noise and late-night pitter patters at bay. Though a little pricier than other nearby hotels, the water park, peaceful garden pool, and free parking are nice perks. All in all, this is one of Anaheim's top options for families with young children.
3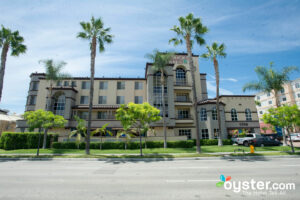 As the name suggests, Anaheim's Peacock Suites is an all-suite property. Rooms sleep four to six and are decorated in bright reds, oranges, and browns with peacock feather motifs. There's plenty on-site for children, including a pool, a play fountain, and a game area, complete with arcade games and foosball. Next to the pool are two whirlpools and an open-air sprinkler-style fountain for kids to play in.
4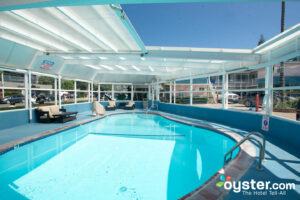 The Laguna Riviera is a low-key, family-run resort right on the beach, which gets a good deal of repeat visitors. Many of the rooms look out over the ocean, and some have full kitchens. There's a pool, a game room, and a lending library on-site and a number of shops and cafes within a short walk from the hotel. The lack of on-site restaurant is a drawback, although a free continental breakfast is served daily.
5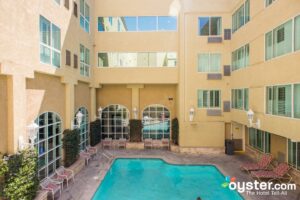 The colorful and contemporary Desert Palms Hotel & Suites is popular with families and business travelers alike. Featuring 196 rooms, including 42 suites with separate rooms for children, this property is located a short walk from Disneyland, the Disney Adventure Park, and the Anaheim Convention Center. Conveniences include free Wi-Fi, parking, and breakfast, and a business center. It's a great value for a mid-range hotel, but its proximity to nearby theme parks means that guests should expect some noise from kids.
6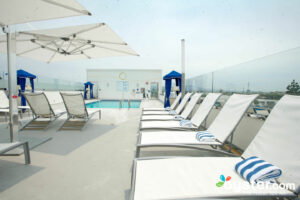 he Carousel Inn and Suites is a mid-range, family-oriented hotel that's particularly popular because of its ideal location right across the street from Disneyland. Rooms are traditionally decorated and have mini-fridges and microwaves. The rooftop pool is a hit because of its front and center views of nightly Disney fireworks. Disney-themed kids suites with bunk beds are also available, as are more subdued, adult-style suites.
7
The 190-room Castle Inn and Suites has a facade that resembles a castle and a Renaissance-themed lobby. The hotel's location is its biggest draw, just steps from Disneyland and near many affordable chain restaurants. Rooms are spacious and clean, but dated, and come with coffeemakers, mini-fridges, and microwaves. There is an outdoor pool, whirlpool, and children's pool on-site. The fourth-floor balcony is an excellent viewing point for the Disneyland fireworks, but there's no on-site gym or restaurant.
8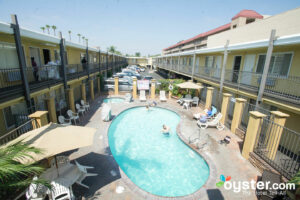 Rooms fill up fast at the 59-room Anaheim Del Sol Inn, which is not surprising considering it's a clean, budget-and-family friendly hotel across the street from the entrance to Disneyland. With its proximity to the park and budget friendly restaurants, rooms designed specifically with kids in mind, heated outdoor pool, free Wi-Fi, free continental breakfast, and cookies in the lobby, it's a very popular choice for families. This hotel is a Disney Good Neighbor, so tickets to Disneyland can be purchased in the lobby for the same price as at the gates, minus the line. However, there's no full restaurant or gym, and room decor is a bit drab.
9 Deceivingly large, with a wide variety of amenities, the Anaheim Plaza Hotel & Suites is located directly across from the entrance to Disneyland and is convenient to a number of restaurants, shops, and attractions in Anaheim. This sprawling budget property is geared towards Disney-bound families and couples, and includes conveniences such as an on-site restaurant with free breakfast, a huge outdoor pool, and on-site car rentals. Overall, the hotel is a good value, but it is older than others in the area and can feel a bit worn-out.