Most Romantic Hotels in Lake Buena Vista, Orlando
Take a look at the most romantic hotels in Lake Buena Vista.
See All Lake Buena Vista Hotels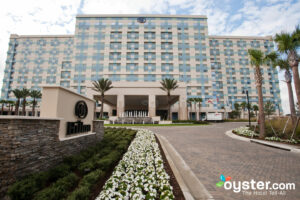 This 1,000-room Hilton is an oasis of adult calm amid frenetic child-centric Disney World -- literally, as it's actually within the gates of Disney. The ample rooms and facilities are modern, sleek, and in great condition, while features and services cater to both business and leisure needs; plus, guests get free access to all facilities at the neighboring Waldorf Astoria.
The Hyatt Regency Grand Cypress is a self-contained mega-resort situated on 1,500 acres of private grounds in the heart of Orlando's bustling theme park landscape. The 815 modern rooms have balconies overlooking the resort's pool area or Lake Buena Vista -- with views of the fireworks at Epcot and the Magic Kingdom included. Though the property is adjacent to Disney, you'll still need a car to reach it, as well as the other major theme parks, which are all within close driving distance. There are numerous activities here (from boating to biking), but the extra fees can be steep. Though the grounds cannot compare, the updated Marriott Orlando World Center Resort has cheaper rates for similar amenities in a comparable location.
This large, four-pearl resort is an upscale option a five- to 10-minute drive from the Disney theme parks. The 400 rooms are spacious and modern, done in on-trend colors, and including enormous flat-screen TVs and mini-fridges. A few of the pricier suites feature balconies with nice views of a nearby lake. As a self-contained town of sorts, the resort has four restaurants, a coffee shop, a huge pool, spa, and a fitness center -- not to mention a free shuttle to Disney World. It's ideal for anyone looking for a high-end alternative to one of the nearby Disney resorts, though there's a resort fee per night and parking isn't free. Those seeking a bit more style and personality should consider the nearby, kid-friendly B Resort & Spa, which has lower rates.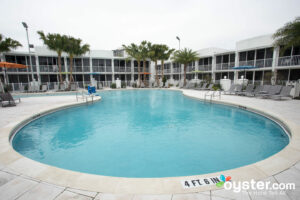 The 394-room B Resort & Spa is an upscale property with wonderful landscaping that's within a five- to 10-minute drive to Disney attractions and restaurants, shops, and lakes. Modern rooms have mini-fridges, 47-inch HD flat-screen TVs, free bottled water, and Aveda toiletries. Suites have kitchenettes with full-size refrigerators. American Q restaurant serves barbecue with a modern twist, and artisanal cocktails at their American Q Bar. The full-service Aveda spa offers massages and various treatments, along with a spa-inspired menu. The outdoor "zero entry" pool has a kids' area and fountains, and there's also a kids' club. The hotel offers free scheduled shuttle service to Disney parks. Be aware that there's a daily resort fee, and spa services require an appointment.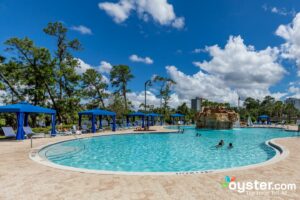 Though less Disney-centric than resorts within the park's gates, the Wyndham caters to families visiting the Disney parks and provides plenty of family-friendly perks; the extensive breakfast buffet is visited by Disney characters three days a week, the large pool area has numerous water features and a playground, and the hotel provides a free shuttle to Disney parks. Rooms are neither luxe nor rundown. However, Standard Rooms are small, with exterior entrances, cramped bathrooms, and no work desks (it's worth upgrading to a Tower Room). Nonetheless, it's a solid mid-range choice for those who do not need to be within the gates of the park –- or may prefer not to be.