Best Kid-Friendly Hotels in Palawan
The uncrowded beaches of Palawan are heaven for visitors of all ages. Their clear aquamarine waters are perfect for paddleboarding, sea kayaking, snorkeling, and diving — maybe even spotting turtles or dugongs. On land, forests and jungles are home to more amazing wildlife, including some species that aren't found anywhere else in the world. If you're planning a family vacation to island chain west of the Filipino mainland, check out these Palawan resorts, where features like play spaces, kids' pools, and group-friendly rooms make them good fits for families.
See All Palawan Island Hotels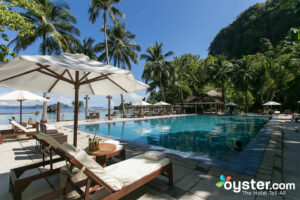 Kids under six stay free at this upscale hotel on a remote island in northern Palawan. Most guests here are outdoor enthusiasts and honeymooners, but the spacious villas, buffet restaurant, and numerous kid-friendly activities also draw families with young children. A cute kids' club offers games, toys, an indoor playground, and daily activities, while a game room has pool, ping-pong and foosball tables. There are plenty of outdoor activities available here, including non-motorized water sports, hiking, and island-hopping tours, but the property also offers a quiet beach and a serene pool for those who just want to relax in the sun. Its 50 spacious and elegant rooms have plenty of local character and solid amenities, such as free Wi-Fi and flat-screen TVs.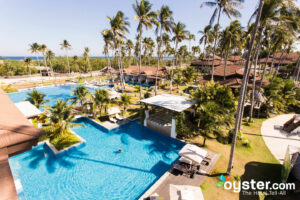 This luxurious, family-friendly hotel is on the island of Palawan, a seven-minute drive from the Puerto Princesa International Airport. All 78 of the handsome rooms have balconies with sun beds, as well as minibars, safes, flat-screen TVs, coffee- and tea-making facilities, and bathrobes. Other attractive features include five bars and restaurants with international and local cuisine (plus room service) and free bikes and non-motorized water sports. For families with younger kids, the resort offers the Little Boss Daycare Center (for a fee), a colorful play space with all sorts of toys and games plus a miniature ballroom. However, while the resort generally gets good feedback, there have been complaints of poor Wi-Fi and no hot water due to the reliance on solar heating.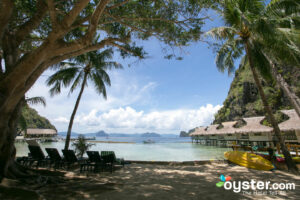 The rugged beauty of Miniloc Island (only accessible by boat from El Nido) makes an all-around breathtaking setting, but don't expect luxury-level decor or pretension -- the attitude here is warm and laid-back. All 50 of the rooms include mini-fridges, coffee/tea makers, air-conditioning, straw tote bags, and safes. Buffets are offered in the Clubhouse, and there's a bar by the beach for drinks and light fare. Kids have their own sea-themed playroom with toys, books, and activities. Water sports include diving, snorkeling, and kayaking, and the marine sanctuary just fronting the beach is teeming with sea creatures such as jack fish, sergeant majors, and damsel fish.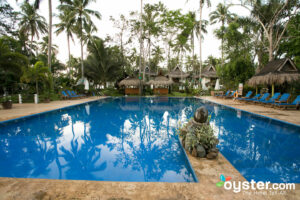 The laid-back Daluyon Beach and Mountain Resort exudes a traditional vibe with its 27 thatched-roof rooms and serene setting on Sabang Beach. The mid-range hotel has spacious rooms and suites with floor-to-ceiling wooden details, and many have beachfront balconies or patios. Beach volleyball and badminton are available, in addition to playground equipment for kids. The waters are sometimes too rough for swimming, so most prefer the two tropically landscaped pools and the kids' pool. Tasty Filipino fare is served in two restaurants and there are two bars. The hotel has a 24/7 generator, but the remote village doesn't have electricity and lacks nightlife.
The only outpost on Dimkaya Island, a slice of paradise that's teeming with wildlife, the upscale Club Paradise Palawan is a nature lover's dream with hiking and world-class diving and snorkeling. All rooms are spacious and modern, and come with air-conditioning, minibars, a kettle for making tea and coffee, iPod dock alarm clocks, and safes. Some come with flat-screen TVs, but some have no TV at all -- guests should check ahead. Fresh caught seafood is served at the beachside restaurant, and the outdoor pool is a lovely place to relax. Rental bikes are available for those who would like to explore the island on wheels, water tours are offered on a paraw sail boat, and a colorful kids' room has toys and games.
The 95-room Sheridan Beach Resort and Spa is an upscale property on Sabang Beach. Contemporary rooms feature wooden details, and all have balconies or patios, many of which overlook the beach or pool. The hotel appeals to families and couples alike, with sports facilities, a beach bar, and a full-service spa. The sprawling pool is a hub of activity, featuring a swim-up bar, hot tubs, and a kiddy pool. The restaurant offers beachfront dining and uses ingredients sourced from the resort's organic farm. However, the area is remote and Wi-Fi is spotty.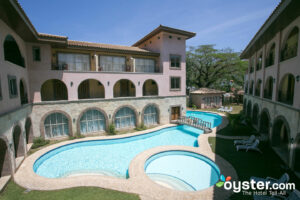 The upper-middle-range Corto del Mar Hotel is a 32-room boutique property located in Coron Town, near the sea but in an area with a lot of shanties that some guests might find less than ideal. The rooms and suites here are modern and well-kept, with lots of lovely eco-chic touches including furniture made from reclaimed lumber and driftwood. Amenities include a restaurant with kids' and vegetarian menus, a small gift shop, a shaded hot tub, and a dive center, though the real standout is the huge saltwater swimming pool, with a built-in shallow kids' nook, weaving through the hotel's central courtyard. There's no gym or kids' club, but babysitting can be arranged.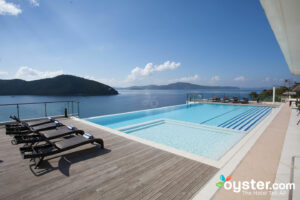 Busuanga Bay Lodge is a a resort-style boutique property located on a forested slope overlooking picturesque Pearl Bay.  All rooms have modern tech features (individually controlled air-conditioning, iPod Docks, 42-inch flat-screen TVs, free Wi-Fi) and balconies, and most have lovely views out over the ocean. Facilities include a small fitness center, a couple of spas, three bars and restaurants with room service, a marina for boats and even seaplanes, and plenty of opportunities for water sports. The beach itself is a bit underwhelming, but it's the widespread views of the sea and rolling hills -- from the infinity pool, restaurants, and rooms -- that take center stage here. The vibe is generally peaceful and elegant, equally attracting vacationing couples and families.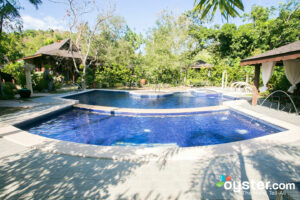 Sophia's Garden is a small, charming boutique in a quiet area a five-minute tricycle ride from Coron town. Its eight rooms have simple but cute decor with lots of wood accents and traditional Spanish-inspired details. All rooms have flat-screen TVs (although cable signal is sometimes spotty), electric kettles, free bottled water, hairdryers, and air-conditioning, but lack mini-fridges, phones and safes. Free Wi-Fi is available in common areas, but is spotty at best. The restaurant serves excellent Filipino cuisine in a beautiful manicured garden, and the pool -- complete with a whirlpool and a kiddy section -- is a lovely spot for a relaxing morning with a book, or a dip after a day out diving in the area's famous shipwrecks.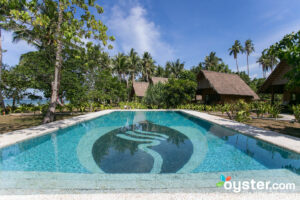 This remote seven-room resort is located on a remote beach in northern mainland Palawan. Family Villas are duplex units with a spacious master bedroom on the top floor, and a living and dining area on the lower level. These units have a particularly smart design, with three twin beds stowed away under the floorboards, allowing for a maximum capacity of five guests. One Family Villa and one standard Cottage are wheelchair-accessible, a rarity in the region. Some may find the property a little too remote, but the free morning yoga classes, small spa, long sandy beach (beware of the sandflies, though), and free non-motorized water sports make it a great pick for travelers seeking peace and relaxation.