Best Luxury Hotels in 1st and 2nd Arrondissements (Louvre and Palais Royal), Paris
Take a look at the best luxury hotels in 1st and 2nd Arrondissements (Louvre and Palais Royal).
See All 1st and 2nd Arrondissements (Louvre and Palais Royal) Hotels
1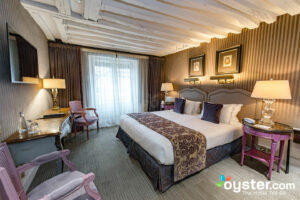 This upscale, 30-room boutique hotel is one of the best choices in Paris, and offers surprisingly competitive rates for the level of luxury. It is named for the founder of the Opera Comique across the street, and the decor blends influences of the 18th century theater with modern trends. Rooms are chic and sport colorful accents, as well as thoughtful amenities such as iPod docks, bathrobes, towel warmers, and flat-screen TVs with free movies. Several metro lines are nearby, and popular sights such as the Louvre are within walking distance. Just note that the (excellent) breakfast buffet is an extra fee, and that the Classic Rooms are quite small.
2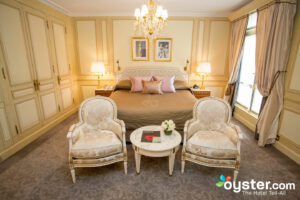 From its luxurious Louis XVI decor to its Michelin-starred restaurant, Le Meurice feels fit for royalty. The regal five-pearl hotel is situated directly across from the Tuileries Garden and is a short walk to several attractions including the Louvre. Rooms are spacious and feature lavish decor with period furniture, modern amenities, and palatial en-suite marble bathrooms with a separate tub and shower. The hotel also features an elegantly eccentric Dali Restaurant (he was a frequent guest of the hotel), a cosy bar, a spa, a small fitness center, and a large banquet venue. Rates are exorbitant, however, and fees for Wi-Fi use in common areas as well as a pricey breakfast only add to the expense. Travelers might also want to consider the W Paris - Opera hotel, another five-pearl property in the heart of Paris with eclectic modern decor.
3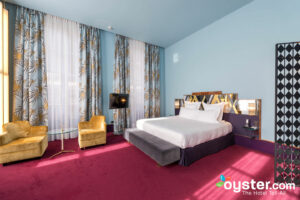 The upscale Hôtel Saint-Marc is a stylish, 26-room boutique property in the Bourse business district within Paris's 1st and 2nd Arrondissements. Its location near banks and offices attracts mostly corporate travelers, but tourists love its Art Deco-inspired interiors and proximity to both the Palais-Royal and the Louvre. Rooms feature the funky color combos and metallic materials characteristic of the 1930s aesthetic, and come with minibars, flat-screen TVs, and Hermes toiletries. Amenities are impressive for a small hotel in the city, including free afternoon refreshments, a solid buffet breakfast (for extra fees), and two lounging areas, as well as a pool and spa. For lower rates, the Hotel Britannique nearby has lower rates and a more traditional vibe, but fewer features.
4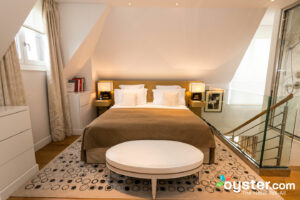 Located directly behind the Louvre, the luxury Grand Hotel du Palais Royal has an excellent location. The property evokes elegant Parisian charm throughout, from its 18th-century facade to its 68 rooms and suites. All accommodations feature modern amenities and tasteful -- if buttoned-up -- decor. The on-site restaurant serves all meals, and the adjacent bar pours drinks throughout the day. The property also has a small spa, fitness center, and a tiny playroom for kids, but the real standout amenity is the gorgeous mosaic-tiled hamman (access is free). All in all, the Grand Hotel is an excellent option for travelers who anticipate spending a good deal of time at the Louvre or other central Paris attractions. Another luxury option in the area to consider could be Le Meurice, which offers aMichelin-starred restaurant.
5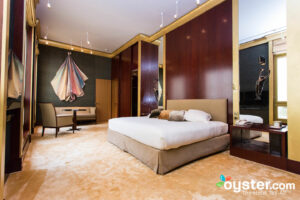 The luxury Park Hyatt Paris - Vendome is a property so regal some could argue it's a bit chilly. But there's no debating its excellent location on Paris's Right Bank, a short walk from the Place Vendome, the Louvre, and the Paris Opera. Its 153 guest rooms are modern and elegant and some have balconies. Features include eight meeting rooms, a 24-hour business center, and free Wi-Fi along with four restaurants, a bar, a fitness center, and a full-service spa. Travelers could also compare rates and amenities with the nearby Mandarin Oriental Paris, a luxury property with a pool and a cake shop.
6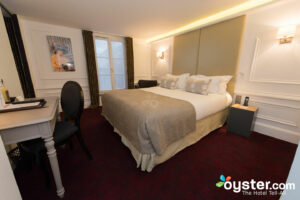 The 29-room Hotel Moliere is an upscale, boutique property exceptionally well-situated in Paris' 1st Arrondissement, within a three-minute walk of the Palais-Royal and a six-minute walk of the Louvre. The common areas are an elegant blend of classic and modern style, and though guest room decor is more neutral, rooms are large and include such amenities as well-stocked minibars and espresso-makers. The hotel has a small fitness area, sauna, and steam room, plus a chic breakfast room, though breakfast is not included in the room rate. While the Moliere is excellent value for the location, travelers might want to also check out the nearby Hotel Brighton, which sits alongside Tuileries Garden and has fun extras like a bar and tea room with designer pastries, though it has no fitness or wellness center, and tends to be slightly pricier.
7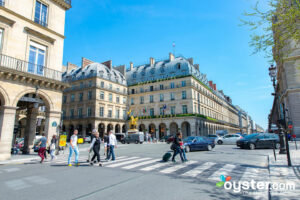 An historic grande dame of a hotel on the Place des Pyramides, the Regina was renovated in 2014 but maintains a classic, elegant ambiance. It opened for the 1900 World's Fair, and more recently has served as the filming location for "The Bourne Identity." Facing the Louvre, Tuileries Gardens, and Eiffel Tower on the opposite side of the Seine, Hotel Regina features 119 rooms and 15 suites that mix period furniture with modern amenities such as flat-screen TVs and free Wi-Fi. Guests might want to also check out the Regina's sister hotel, the Raphael, which is near the Arc de Triomphe, as prices here can be quite high.
8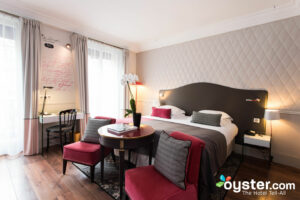 The 69-room Hotel Edouard 7 is an upscale, fashionable property that's a 10-minute walk from the Louvre. This boutique hotel, once the historic home of Edward VII, was renovated in 2013 and feels fresh, young, and feminine, with its seven floors named and decorated with a gemstone theme. The sleek rooms -- some look out onto the magnificent Opera Garnier -- have ivy-covered Juliet balconies and offer free Wi-Fi. There is a sun-lit restaurant and a sexy blue bar on-site. A small fitness center, a rarity for a boutique property in Paris, has a few machines and free weights under a skylight. Two spacious conference rooms are equally stylish, furnished with lucite chairs. For a more traditional hotel in the same area, guests might try the Hotel du Louvre.
9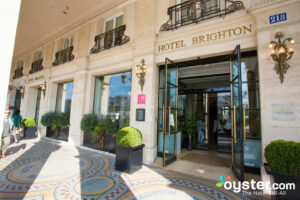 The 61-room Hotel Brighton is a redone 19th-century building right in the heart of Paris's 1st arrondissement, very close to Tuileries, the Louvre, and most of Paris's top tourist attractions. Business travelers and tourists will both find this upscale hotel ideally located and atmospheric; the strong old Paris vibe is enhanced by the hotel's antique furnishings and paintings, but also fun, with bright, modern pops of color to remind guests this is a 21st century establishment. Just note that there may be a wait for the elevator, and the hotel lacks property features some may expect from this category, such as a fitness center and full-service restaurant.
10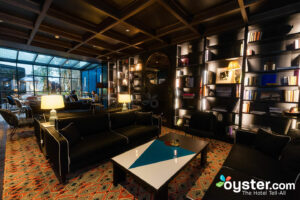 Le Roch Hotel & Spa is an impressive entry into central Paris's luxury boutique hotel scene. It opened in 2016 in the 1st Arrondissement, with a stylish look created by renowned interior designer Sarah Lavoine. Decor is dark and dramatic, with vibrant colors and sexy, dim lighting used throughout. The hotel's 37 guest rooms have high-end furniture and vibrant accents, and are equipped with minibars, espresso machines, retro bluetooth Marshall speakers, and marble bathrooms, some of which have saunas. Highlights include a full-service spa, a romantic candlelit pool and attached hammam, an upscale restaurant, a fitness center, and discerning concierge services, like personal shoppers. Design-savvy travelers looking to spend less can check out the nearby four-pearl Hotel Saint-Marc.
11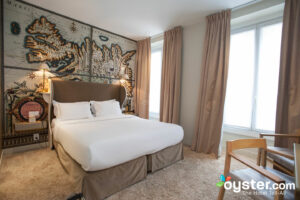 The Hotel du Continent is a three-pearl, design-centric property in the 1st Arrondissement near the metro and the Tuileries Gardens. Its 25 rooms feature flamboyant, continent-themed decor by designer Christian Lacroix, along with modern amenities like flat-screen TVs and iPod docks. Guests are either exhilarated or exhausted by the dramatic interiors, and some rooms are so petite to border on claustrophobic. A continental breakfast is served, for a fee, and there's an honesty bar, but no full restaurant or fitness facilities. For a less flashy boutique hotel in the same neighborhood, travelers may want to consider the Hotel Costes.
12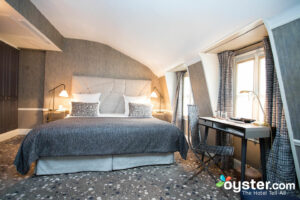 The Hotel Therese is an upper-middle-range boutique hotel with charming, design-conscious decor that combines contemporary, vintage, and upcycled accents. There's a stylish lobby and library lounge and a stone-walled breakfast room, but few other extra property features. Its 40 individually rooms vary in size from tiny entry-level rooms to more spacious upgraded rooms, but all have nice amenities like flat-screen TVs with bluetooth, generously stocked minibars, free Wi-Fi, and bathrobes. Hotel Therese offers breakfast for an extra fee, a free afternoon snack, and room service into the evening. A major draw here, though, is the location in the heart of Paris, just a 10-minute walk from the Louvre. Travelers may want to compare rates with the nearby Hotel Lumen Paris Louvre, which adds a restaurant and bar.
13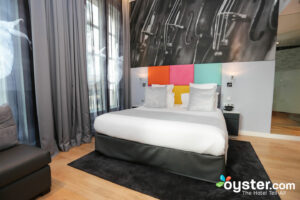 A charming boutique hotel in the chic 2nd Arrondissement, Lyric Hotel Paris is an upscale choice within a short walk of the Louvre, Opera Garnier, and the Galeries Lafayette department store. Unlike many Paris properties, the Lyric offers an indoor pool in addition to a sauna, steam room, and small fitness center. The 47 bright and stylish rooms feature flat-screen TVs and free Wi-Fi, and pay homage to ballet and opera in their colorful decor. The Lyric can be pricey, but given its central location and high quality it's a solid bet when compared to nearby four-pearl properties, like Hotel Lumen Paris Louvre, which has a chic restaurant and bar, but lacks a pool.
14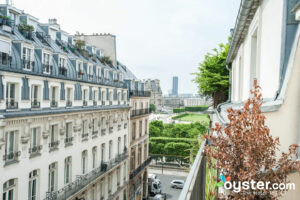 This 28-room, upscale boutique hotel is in a prime 1st Arrondissement spot in central Paris, a block from the Tuileries Gardens and a six-minute walk from the Louvre. This hotel does urban chic with an artful, vintage twist, and each room comes with modern comforts such as minibar free Wi-Fi, and air-conditioning. Suites offer more room to spread out, though Authentic Rooms are unsurprisingly compact. The hotel offers two types of breakfast -- a continental option and a buffet with hot and cold options in the unique cellar -- though neither are included with bookings, and there is an honor bar and cozy library lounge above the lobby. Guests looking for an equally stylish hotel with an on-site bar may want to consider Hotel Lumen Paris Louvre.
15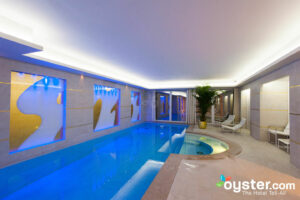 A beautiful hotel in a highly-desired location near the Tuileries Gardens, the 59-room Hotel Burgundy offers an upscale experience. There's a renowned fine-dining restaurant on-site with a seasonally changing menu, as well as a chic bar serving tapas. The full-service spa has a sauna and hammam, and there's also a lovely indoor pool and tiny fitness room. Some guests complain of meager free breakfast offerings, however, as well as heavy use of perfume and incense throughout the property. Rooms and suites feature chic, classic decor and a sundry of amenities -- plus guests can order romance packages with extras like champagne and massages. Luxury comes at a steep price, however, and travelers might want to compare rates with the nearby Castille Paris; also a luxury spa, Castille is less expensive -- but lacks a spa.