Best Value Hotels in 8th Arrondissement (Champs-Elysees), Paris
Take a look at the best value hotels in 8th Arrondissement (Champs-Elysees).
See All 8th Arrondissement (Champs-Elysees) Hotels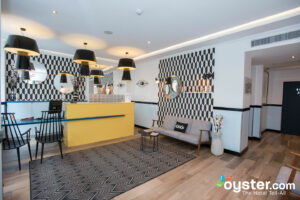 The mid-range Hotel Augustin - Astotel offers heaps of style and a nice location in the 8th Arrondissement, surrounded by postcard-perfect Haussmann buildings, shops, and restaurants. While the area does lack nightlife, it's relatively quiet and close to loads of public transportation. Its 57 colorful rooms have punchy decor, and a few open onto balconies. Others have faux balconies -- tall windows with wrought-iron railings that feel balcony-esque when flung open. Guests rave about rooms' free minibar drinks, restocked daily. Other edibles on hand include a breakfast spread (usually included in rates) and free snacks set out in the dining room. That said, there's no full restaurant or bar on the premises. But most guests find the Augustin's charm and value more than compensate for any missing features. Travelers could also consider other properties in the Astotel group, like the .
An impressive property just off the Champs Elysees, Hotel Ekta is an excellent choice for those shopping for a stylish mid-range option. This 25-room boutique is impressively decorated with '60s inspired decor and funky Paris artwork throughout. Rooms are a bit on the small side, but they offer up thoughtful amenities like Nespresso machines and multi-country electrical outlets. There's no on-site restaurant or gym, but continental breakfast is available every morning (for a fee) and the hotel has a private underground parking garage (rare for a Parisian boutique). Plus, Wi-Fi is free for all guests. Travelers looking for an equally trendy property with a few more amenities might prefer the pricier Hotel Pershing Hall, which has an on-site restaurant, spa, and fitness center but is farther from the Champs Elysees.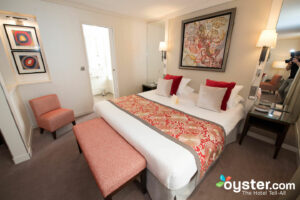 This 36-room Best Western Hotel Sydney Opera is a stylish, contemporary, three-pearl property in the city's eighth arrondissement, a neighborhood with iconic Parisian sites like the Arc de Triomphe and Champs Elysées. In a Napoleon III-era building with a limestone facade, the hotel has a lobby warmed by good lighting and outfitted with an honor bar. And the rooms, with contemporary decor, bold textiles, and minibars, feel a notch above mid-range. But the hotel's lack of a full-restaurant, fitness or business centers could have travelers checking-in elsewhere. For a chain property with a business center, travelers could try the Holiday Inn Paris - Gare De Lyon Bastille, which also includes Nespresso machines and iPod docks in rooms.
The mid-range Hotel Astoria Opera - Astotel Paris sits on the edge of Paris' 8th Arrondissement, within walking distance of restaurants and shops. Within a two-minute walk of the Rome metro station, guests can get to most major tourist attractions in a half hour or less. The hotel's 86 Single, Double, and Triple Rooms are cheery and modern but, in typical Paris fashion, small. They're outfitted with air-conditioning, mini-fridges, flat-screen TVs, and free Wi-Fi. Apartments with two connecting rooms are available too. The hotel has a chic, modern lobby and a bright breakfast room with a partial glass roof, where a daily buffet breakfast is served. Non-alcoholic drinks and light snacks are available for free throughout the day. The nearby New Orient Hotel offers similar property features but more traditional decor -- it's also pet-friendly.
Best Western Premier Kapital Opera offers a solid value for central Paris, located near Gare Saint-Lazare in the 8th Arrondissement. Most top sights aren't within a reasonable walk, but can be reached on the metro in 30 minutes or less. The three-and-a-half-pearl property's 54 modern guest rooms are comfortable and well-equipped, with dark, sophisticated decor. All come with large flat-screen TVs, Nespresso machines, and free minibars. A stylish lounge and bar share space with a breakfast room, where a buffet is served for an extra charge, and there's an interior courtyard with patio seating. Travelers looking to stay closer to destinations like Palais Garnier and the Louvre can consider Best Western Hotel Folkestone Opera.
The Hotel New Orient, set in a Haussmann-style building near the Parc Monceau, is a 30-room family-owned boutique hotel in the quiet part of the 8th arrondissement, north of the Champs-Elysees. It's about a 20-minute walk north of the Opera National de Paris and the Madeleine. The New Orient Hotel has a homey vibe, from the quiet breakfast room to the bright, light-filled rooms. There's free Wi-Fi throughout, and some rooms have balconies overlooking the street. Rates are reasonable for a mid-range hotel in Paris.
An eclectic collection of contemporary art sets the vibrant tone for this 81-room, mid-range spot located near the Saint-Lazare train station in Paris's 8th Arrondissement. Like the paintings and sculptures that decorate the hotel's common areas, the vibe here is cheerful -- in part because the Atlantic is a friendly, family-owned and operated property. Stylish contemporary rooms that are both well equipped and well priced also help keep guests in an upbeat mood. The downside is that apart from its airy breakfast room, attractive lounge and a few business facilities, the hotel has few features. It doesn't have a historic ambiance either, despite its elegant Haussmannian exterior. Travelers looking for a more intimate three-pearl option with more Old World charm might try the Hotel le Clos Medicis on the Left bank instead.
Hotel Champs-Elysees Friedland by HappyCulture is an upper-middle-range property on the famed Rue du Faubourg Saint-Honore near luxury shops, chic bistros, and the Arc de Triomphe. Housed in a visually arresting, 19th century Haussmann building, the boutique property has 40 rooms with posh furnishings and modern amenities. Some rooms have balconies with pretty street views. Breakfast is served in a charming room topped with a chandelier, but the hotel lacks a bar and restaurant making it more sedate than social. Travelers seeking a hotel in the same neighborhood but with a bar should try the Hotel Rochester Champs Elysees.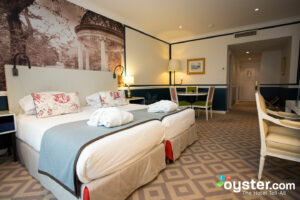 The upscale Frasier Suites Le Claridge Champs-Elysees offers 110 apartments that are huge by Paris standards and include full kitchens, to say nothing of the prime location right on Paris' iconic Champs-Elysees. Shops, cafes, the metro, and Laduree macarons are all essentially right outside the hotel's front door. Though this is an apartment-style property, many hotel comforts are offered, with bonuses like free Wi-Fi, a 24-hour fitness center, and free laundry room. A breakfast buffet is also served, but there is not restaurant or bar on site. Guests looking for a hotel near the Champs-Elysee with a restaurant and bar may want to consider the InterContinental Paris Avenue Marceau, though rates will be higher and rooms are smaller.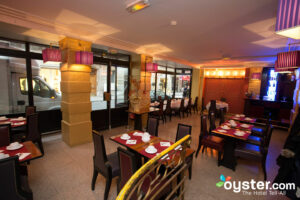 The 70-room, upper-middle-range Hotel de Castiglione is an affordable Art Deco property in the 8th Arrondissement, with the Champs-Elysees and Louvre Museum within walking distance. The property is home to a modern bar and restaurant, plus concierge services, airport transfers, and 24-hour front desk service. Classic rooms and suites have minibars, flat-screen TVs, and terraces with distant Eiffel Tower views but lingering cigarette smells and worn decor detracts from the hotel's otherwise charming atmosphere. Wi-Fi is free, but the signal can be spotty. As an alternative, there's the stylish Atelier Montparnasse, a non-smoking property in the 14th Arrondissement.