Most Romantic Hotels in 9th Arrondissement (Opera Garnier), Paris
Take a look at the most romantic hotels in 9th Arrondissement (Opera Garnier).
See All 9th Arrondissement (Opera Garnier) Hotels
1
A former brothel across from the Moulin Rouge, Maison Souquet evokes the debaucherous history of Belle Epoque Paris. Stepping inside transports you to turn-of-the-century Montmartre, where ladies of the night waited for high society men to greet them in their boudoirs. Each area of Maison Souquet makes reference to its pleasure house history, and while the setting is always PG-rated, it certainly won't suit all tastes. Private butlers attend to each of the hotel's 20 guest rooms, which feature sensuous, over-the-top decor and luxe amenities. The hotel's surrounding neighborhood, Pigalle, can be a little seedy at night; travelers looking for a posh hood may prefer Hotel Da Vinci & Spa, located in St-Germain-des-Pres.
2
Les 3 Chambres is a gorgeous, upper-middle-range bed-and-breakfast in Paris's 9th Arrondissement. The miniature three-room property, housed in a 19th century building, has designer decor and a curated mix of details that oozes charm. Rooms are decked out with ultra-luxe furnishings, Nespresso machines, and iPod docks. High-end Aesop toiletries are stocked in the sleek bathrooms, but narrow stall showers are a down point. An excellent breakfast spread is served daily, and guests say the host is helpful and welcoming, although strict rules such as no food in rooms may be a deterrent for some. Another similar property to consider could be the Hotel Sacha by HappyCulture, which has similar decor and a slightly lower rate, but neither property is ideal for families with small children or business travelers requiring more flexibility and amenities.
3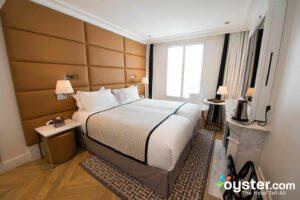 The boutique Hotel R de Paris offers an upscale Right Bank location between the Opera, Pigalle, and Montmartre districts. The 41 chic rooms feature plush beds, free Wi-Fi, and flat-screen TVs, but some rooms are small (though not by Parisian standards). The hotel serves a generous breakfast buffet (for a fee), and has a steam room and sauna. The R de Paris is a good choice for travelers who want a stylish but not overly lavish and expensive hotel in a central location. Guests may also want to consider nearby Secret de Paris, which has stylish, artsy rooms at a similar price point.
4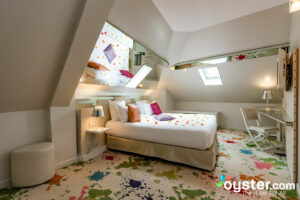 The 29-room Hôtel Design Secret de Paris is an upscale boutique with Paris-themed interiors, located off the tourist trail -- but on the outskirts of the Pigalle nightlife hub. Rooms are geared towards romancing couples, with adjustable mood lighting and tubs for two, but some might be a bit too cozy (read: small) even for the loved-up. Rates are what you'd expect for Paris, and you get plenty of extras for your euros (sauna, steam room, fitness center), but for somewhere a little less gimmicky, try the similarly-priced Le Grey Hotel on the same road.
5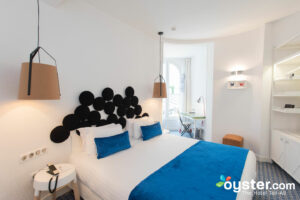 Part of the French Astotel chain, Hotel 34B is a mid-range hotel right in the 9th Arrondissement of Paris. Its 128 guest rooms have fun, quirky details including illuminated lamp silhouettes embedded in the headboards and desktops with AstroTurf sandwiched under a glass surface. But some rooms are small, and there have been complaints of street noise. Guests booking directly through the hotel get perks including a free buffet breakfast, and all guests get freebies like hot drinks and snacks in the afternoons and free minibar drinks. Still, as with many boutique hotels on-site amenities are slim -- there's no full restaurant or gym. Travelers shopping around may want to compare rates and amenities at the nearby Hotel Du Triangle d'Or, a boutique, music-themed property.
6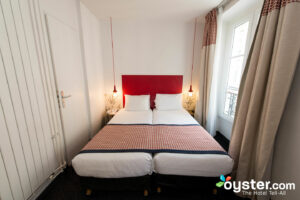 Taking design cues from 1950s pop art, the Hotel George - Astotel is a modern, mid-range property in a lively area of Paris' 9th Arrondissement, between the Palais-Garnier Opera House and Pigalle. Its 46 rooms can be small, although they're stylishly colorful, and efficiently designed. (Some can sleep up to three or four.) All have air-conditioning and include minibars -- with free water, juice, and soft drinks -- flat-screen TVs, and free Wi-Fi. The hotel also offers an open bar and breakfast service in a dining room that includes a children's section. Travelers could also consider the nearby Hotel Helussi, which has Nespresso machines in the rooms, but rates are higher.
7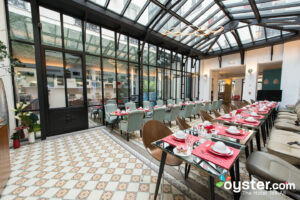 The 44-room Hotel Joyce - Astotel is a solid mid-range boutique hotel situated in South Pigalle, a nine-minute walk from Moulin Rouge and a three-minute walk from the metro. Rooms are clean, compact, and modern with bright pops of color and thoughtful amenities like iPhone docks, electric kettles, free Wi-Fi, and minibars stocked with free soft drinks. The hotel's quirky breakfast room offers a daily buffet, but the hotel has few other property features. A nice bonus: The hotel offers free non-alcoholic drinks and light snacks in the afternoon and evening. Another option could be the nearby Hotel Lorette Opera - Astotel Paris, which has similar amenities but more classic decor.
8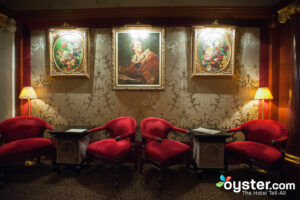 The 20-room Maison Athenee is an upscale, romantic sanctuary with a sultry edge. The location is central, within walking distance of the Louvre Museum. The hotel has an elegant dining and cocktail salon with red velvet chairs and a smoking room. Lavishly designed rooms have dramatic draperies, flat-screen TVs, minibars, Paris street views, and some offer terraces. Some guests, however, don't fancy the dimly lit common areas. An alternative option may be the Hotel Joyce - Astotel that has brighter rooms and a skylight in the restaurant.
9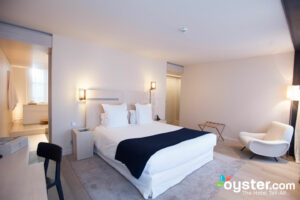 The 33-room Hotel De Nell is a luxury property in the 9th Arrondissement, about a 15-minute walk to the Palais Garnier Opera House. Common areas are chic and modern, with Japanese-inspired decor, a lobby bar and lounge, a standout restaurant and bar, and two massage treatment rooms -- but there's no fitness center, sauna, or pool. Minimalist rooms are spacious for Paris and include open-plan bathrooms with rainfall showerheads or rectangular marble tubs. Amenities include minibars, Bluetooth speakers, 38-inch LCD TVs, and free Wi-Fi. Guests rave about the personalized service, which also includes 24-hour room service. Travelers might want to also consider Castille Paris, which is close to the luxury shopping street Rue Saint Honore.
10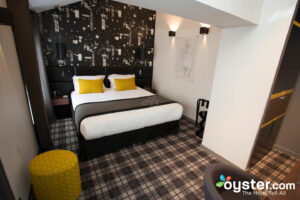 Le Grey Hotel is a stylish, upscale 33-room boutique hotel set on a quiet street in Paris' 9th arrondissement. The (in)famous Moulin Rouge is just over five minutes away on foot, while nearby metro stations connect to the rest of the French capital. There's a choice of breakfast services, but neither is included in the rate. Rooms are smart and very modern, with some featuring small outside areas. Those seeking a fitness center and wellness facilities should compare rates with the nearby Hotel R de Paris, while those with a bit more room in the budget might prefer the Maison Athenee, which is within easier walking distance of popular sights such as the Louvre.
11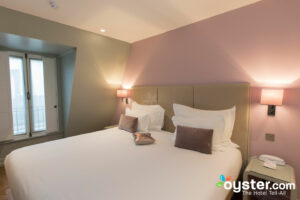 The 29 rooms at Monsieur Cadet Hotel & Spa are nicely located in Paris's Theater District near Place de L'Opera, metro lines, and many shops, cafes, and restaurants. The three-pearl hotel is attached to Le Tigre Spa, a Turkish-style hammam with free admission for guests (services cost extra). Built in 1900 and renovated in 2016, the hotel blends the curving lines and minimal furnishings of Bauhaus aesthetics with contemporary features such as flat-screen TVs, minibars, and comfy beds. A full breakfast is offered in-room or in the lounge for an additional fee, though there's no restaurant. There's also a piano bar and terrace that's ideal for people watching. The nearby Hotel 34B - Astotel is kid-friendly and offers free breakfast for guests who book directly with the hotel.
12
This 84-room mid-range hotel is popular with business travelers, couples, and families. In a traditional Haussmann-style Parisian building, the property was renovated in 2012, but still retains plenty of character. Rooms are fairly small but are bright, with lots of natural light, modern bathrooms, and small flat-screen TVs. There's plenty to see and do in this area of Paris, and the hotel has great links to public transport too. It doesn't have loads of facilities but offers a good buffet breakfast -- in a stunning room -- and also has a stylish lounge area and a pretty courtyard. Room rates are slightly higher than those at the nearby Le Chat Noir Design Hotel, but the Lorette Opera is more stylish.
13
Les Matins de Paris & Spa is a stylish, three-pearl boutique hotel that offers something other central Paris properties in its range generally don't: a small basement spa with an indoor pool and a hammam. The boutique hotel isn't quite in the beating heart of Paris, but it's close to some tourist sights like Moulin Rouge and Sacré-Cœur, and to the metro. Its 33 colorful guest rooms have contemporary decor, and come with AC, flat-screen TVs, minibars, and some have lovely little private balconies, but they lack kettles. Bathrooms are sleek, and contain walk-in rainfall showers, heated towel racks, and Fragonard bath products. The breakfast room has a small wine bar with a daily happy hour, but breakfast isn't included. Travelers looking for an upscale stay in the area can consider Hôtel Design Secret de Paris.
14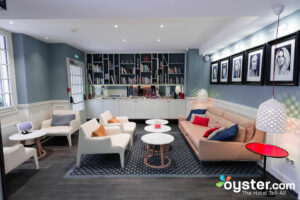 The Hotel des 3 Poussins is a mid-range hotel located in the 9th arrondissement, a five-minute walk from the Rue des Martyrs and the Grands Magasins of Opera. While slightly outside of the main tourist area, the hotel is close to a plethora of eateries and is a two-minute walk from the Saint-Georges metro stop. Decor is modern, creative, and delightful, with doodle murals and a chalkboard drawing wall. Forty rooms are fairly small, but they're stylish and feature free Wi-Fi and coffee-and tea-making facilities. There are few on-site features, other than a breakfast buffet and room service for an added cost. The nearby Hotel Lorette Opera - Astotel Paris is a comparable property with design-conscious details but a slightly different aesthetic.
15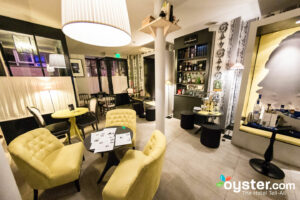 Full of romantic and whimsical details, Les Plumes is an upscale boutique hotel with a theme of great writer romances. Many of the 35 rooms have playful details and 19th-century accents. Suites are named after specific scribes, such as Victor Hugo, and have claw-foot bathtubs. All rooms include minibars, safes, and flat-screen TVs. The common areas are equally atmospheric, with hallway doors resembling bookshelves; a little courtyard provides a small urban oasis. As with many small Parisian properties, features are fairly limited aside from breakfast service (for a fee) and free Wi-Fi. But the location is excellent, a 15-minute walk to the Palais Garnier Opera House and luxe shopping. Travelers should also check out the nearby Meyerhold Hotel & Spa, which has a few more amenities and a modern design for similar rates.