Most Romantic Hotels in Pennsylvania
Whether you're looking for an educational vacation to Philadelphia, or for a mountain getaway in the Poconos, Pennsylvania has a destination for every traveling couple. If you're heading to Pennsylvania with a significant other, you'll want to pick a hotel that is better suited to couples wanting to relax than to families with children in tow. So take a look at the most romantic hotels in Pennsylvania and get inspired!
See All Pennsylvania Hotels
1
Hotel Monaco's unique design featuring bright decor and stylishly mismatched furniture sets the hotel apart. Attractive rooms with high-end amenities, wonderful freebies, a beautiful rooftop bar, and a great restaurant all help round out the experience. Plus, the hotel's location across the street from the Independence National Historic Park is convenient for business and leisure travelers alike.
2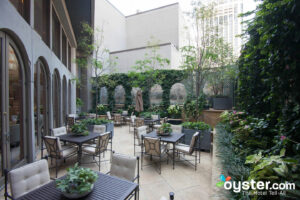 This 116-room luxury property has a prime location in the downtown area of Center City overlooking Rittenhouse Square. Its spacious rooms and suites have traditional furniture and modern amenities like iPod docks, though not all rooms have coffeemakers. The indoor pool and gorgeous spa are highlights, and the latter features a salon and sauna. The renowned fine dining at Lacroix, and afternoon tea at the Mary Cassatt Tea Room, are popular among guests. Although valet parking is pricey and breakfast isn't free, the hotel is among Philadelphia's most luxurious options.
3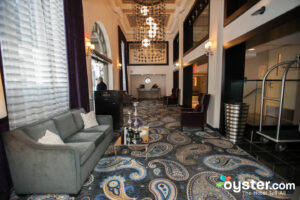 The 138-room Latham is a chic boutique hotel with a prime location near Rittenhouse Square Park, near some of the city's best restaurants, bars, and shopping. The lobby has bold retro-chic style, and rooms have chic blue and gold decor and modern technology features, though some are on the small side. Features are comparable to those offered by other upscale boutiques: There is a modern fitness center with floor-to-ceiling windows overlooking the street, and a casual Italian restaurant serving all three meals.
4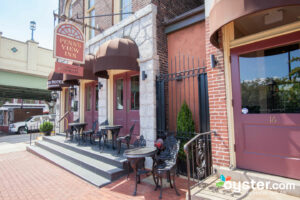 Nestled in the heart of Philadelphia's historic Old City, the Penn's View Hotel is a small, inviting mid-range boutique hotel that's located close to a number of historical sites and popular attractions. The hotel has 51 traditional rooms of varying sizes and styles and a popular on-site restaurant serving Italian favorites and a wide array of wines. Wi-Fi and breakfast are free for all guests and there's a small fitness center on-site. Due to the hotel's close proximity to a freeway, some rooms can be noisy, and while some rooms have fireplaces and balconies, the bathrooms can be small.
5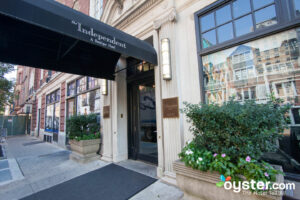 The Independent is a small and stylish mid-range boutique hotel with a great location and warm, homey decor. There are 24 spacious, traditional guest rooms and a cozy on-site Italian restaurant. This hotel is within walking distance of many popular destinations, including historical sites and the Convention Center, and the surrounding neighborhood is charming. The hotel hosts a free weekday wine reception and continental breakfast is delivered to guest rooms free of charge. Due to the central location, some rooms can be noisy, and while the property is smaller and does not feature as many features as some of the larger hotels nearby, guests have access to a nearby pool and fitness center.
6
Listed on the National Registry of Historic Places, The Inn at Pocono Manor is a five-square-mile resort in the Pocono Mountains. The vast grounds include a golf course, riding stables, and trails for biking or cross-country skiing. Particularly festive in the winter, the resort's indoor facilities include tennis courts, a spa, and a pool. The rooms have an updated elegance but are lacking in basics like coffeemakers and can suffer from a combination of thin walls and busy weekend events. Overall, the beautifully maintained mid-range Manor and its fun activities win over couples and family groups alike.
7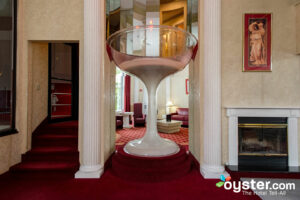 The most modern of the three mid-range couples-only resorts in the Poconos region owned by Cove Haven, the Pocono Palace has all-suite fantasy rooms and heart-shaped whirlpool baths beloved by couples looking for a tawdry getaway. Though the saggy round beds and chintzy decor aren't for everyone, it's hard not to marvel at the Roman Tower Suites with private plunge pools and whirlpools shaped into giant Champagne glasses. Still, the resort's housekeeping isn't quite up to task, a concern when rooms with mirrored ceilings are involved. All guest units can be booked with all-inclusive rates covering food and drink. (Discerning diners need not apply.)