Best Value Hotels in Portugal
Take a look at the best value hotels in Portugal.
See All Portugal Hotels
1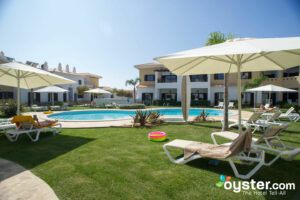 Sagres Time Apartamentos is a mid-range property offering 40 one- and two-bedroom apartments. It's located in a quiet residential area of Sagres that is rather unexciting, but it's within a five- to 15-minute walk from the beach, restaurants, bars, and shops. Apartments are spacious and modern, if plain, and kitchens are fully equipped with everything needed for cooking and dining. All living areas and bedrooms have air-conditioning and flat-screen TVs, and housekeeping visits daily. There aren't many features here, but the outdoor pool is a popular spot. Travelers looking for a place with more amenities could check out the lively Memmo Baleeira Hotel, which has a restaurant, bar, free breakfast, and a fitness center and spa, though rates will be a bit higher.
2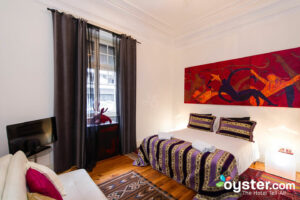 The Whatever Art Bed & Breakfast is a small and charming budget property that stands apart with its creative decor and warm hospitality, both courtesy of the artist owner. The five individually decorated guest rooms range significantly in size, and have flat-screen TVs and free Wi-Fi. However, there are only two bathrooms that are shared amongst the five rooms. A free homemade breakfast is served daily, and there's a small outdoor terrace frequented by peacocks. It's not exactly centrally located, but public transport options are readily available and the beautiful, 19th-century Campo Pequeno Bullring (now used for events and shops) is one minute away. For a bigger hotel featuring guest rooms with en-suite bathrooms, travelers may want to consider the nearby Alif Hotel Campo Pequeno, though it doesn't have the individual charm of this bed-and-breakfast.
3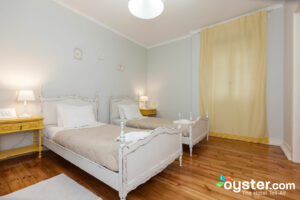 The Lisboa Central Hostel has a convenient location near public transportation, dining, and shopping along posh Avenida da Liberdade. The two-pearl property is geared toward backpackers and a younger crowd who don't mind sharing dorms and bathrooms. However, its private rooms are nice enough for anyone on a budget. The hostel has seven units with bright and stylish decor, but they all lack AC. Guests get a lot for what they pay for here, with a plentiful lineup of features. Freebies include breakfast and rotating daily extras -- with everything from milkshakes to Portuguese soup on offer -- plus group activities, guided tours, and Wi-Fi throughout. Travelers looking to be closer to the nightlife in Bairro Alto should check out the Lookout Lisbon Hostel.
4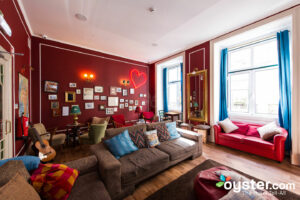 The Home Lisbon Hostel has 24 rooms that live up to the hostel's name. Conveniently located in the popular Baixa-Chiado district, the two-pearl hostel is less than a 10-minute walk to Praca do Comercio and Alfama, major tourist destinations in town. Bright dormitory-style rooms are furnished with well-sized bunkbeds, and clean communal bathrooms are spacious, if far from some rooms. Dinners cooked and served nightly by the owner's mother are renowned and add to the hostel's familial vibe. An on-site bar/lounge, outdoor patio, and living room also provide a homey atmosphere. Nearby hostels like Lisbon Destination Hostel inside Rossio Station offer more modern and private rooms at similar prices, but there's a lot more charm at Home Lisbon.
5
The 70-unit Serviced Apartments Boavista Palace is a three-pearl apartment-style property in the Boavista district. The Carolina Michaelis Metro station is just three minutes away on foot, and there's a bus station nearby. Guests can walk to Casa da Musica in 10 minutes, but the trek to Ribeira Square takes 30 minutes by public transportation or 20 minutes by car. There are a number of restaurants and cafes closer at hand. Apartments are clean and modern, with full kitchens and air-conditioning. There's not much in the way of features here, but there a fitness center and parking are available. Travelers who'd like an option with more features could check out the HF Fenix Porto, which has similar rates but includes extras like a sushi bar. The tradeoff? No kitchens in rooms.
6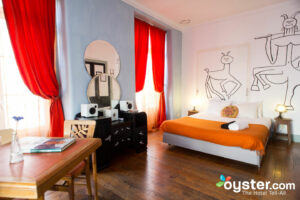 Housed in an 18th-century building in the center of Lisbon, this two-pearl guesthouse has, as the name implies, an art theme, with the room decor inspired by famous artists, including Pablo Picasso, Henri Matisse, and Andy Warhol. It's well priced and has a kitchen stocked with free breakfast items that guests prepare themselves, as well as drinks and snacks available on an honor system. The seven rooms share three clean, brightly colored bathrooms. Travelers who are uncomfortable with a shared bathroom can try Casa Belmonte, which has similar rates, but it's located one-and-a-half miles to the north.
7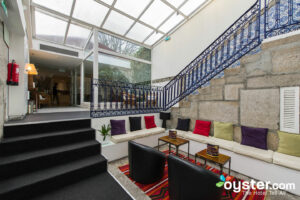 Gallery Hostel is a stylish hostel in the Miguel Bombarda quarter near dining and nightlife -- it's a 10-minute walk to Clerigos Tower. The two-pearl property, with 15 rooms in two buildings, offers an ample free breakfast buffet, a good and inexpensive dinner service with wine, bimonthly art exhibitions, free walking tours, and a cinema room with big-screen DVD movies. Both dorms and private rooms are colorful and have character, and all come with free Wi-Fi, air-conditioning, and private bathrooms; some have iPod docks. While rates are a bit more expensive than the average hostel, the Gallery is excellent value when compared with many hotels. Travelers might want to also check out the Tattva Design Hostel, which is closer to Ribeira Square and many Porto sights.
8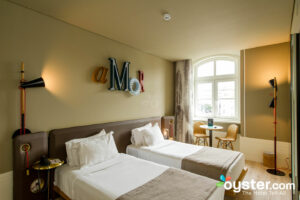 The charming, three-pearl My Story Hotel Rossio is conveniently located in downtown Lisbon's Rossio Square, close to attractions, entertainment, shopping, and dining options. From the lobby to the rooms, the interiors are trendy and tastefully mix modern, industrial, and elegant styles. Its 46 chic rooms are small, but offer amenities like minibars, mirror TVs, and free Wi-Fi, plus some have great views of Rossio Square. There's not much in the way of facilities besides a fashionable restaurant with indoor and outdoor seating that serves traditional Portuguese fare -- but the hotel's location is hard to beat and the service is generally reported as wonderful. The nearby Rossio Garden Hotel is an alternative option with a rooftop terrace and similar prices.
9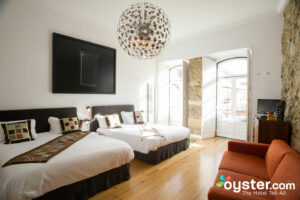 The eight-room, Casa do Bairro B&B is a two-and-a-half-pearl bed and breakfast situated on the south side of Lisbon's historic center a few blocks from the water. The polished, bright rooms look like warm, colorful bedrooms in a friend's house; bathrooms are nice and modern. A large breakfast and free Wi-Fi are included in the rate. There's a relaxing sun terrace with greenery where wine, drinks, and snacks are available throughout the day and evening. This is an intimate property that provides a true glimpse of Portuguese culture.
10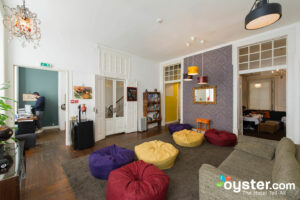 Travellers House is a two-pearl hostel in central Lisbon, a three-minute walk from the Baixa-Chiado Metro station and a five-minute walk from Praca do Comercio. Budget-minded travelers are drawn to its affordable rates, free hot-and-cold breakfast, communal kitchen, nightly social events, and hotel-guided activities. The 20 rooms are basic, but pleasant, and some share a bathroom. Dorms, private rooms, and studio apartments are available, and while all come with free Wi-Fi, heating, and air-conditioning, most lack TVs. For those who'd rather bed down in the wild Bairro Alto neighborhood, consider the funkier Independente Hostel & Suites, which has vintage, boho style and great city views, though may be more expensive.
11
The two-pearl Yes! Lisbon has a prime location in the city's historic center, near the River Tagus and close to attractions, trams, and busses. The friendly staff, clean facilities, and organized activities -- including free walking tours and cheap nightly dinners with an open bar -- make this hostel a good value for budget-minded single travelers or groups. Dorm rooms have bunk beds with privacy curtains, lockers, and individual lamps, though the rooms could be brighter, and those facing the street can get some outside noise. Rates include daily breakfast, and Wi-Fi, and the hostel organizes free walking tours. By comparison, Travellers House hostel has more room options, but Yes! Lisbon has larger bathrooms.
12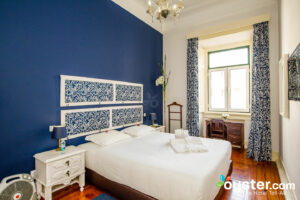 The Typical Lisbon Guest House is a small bed-and-breakfast in a 1930s building near Campo Pequeno, about 20 minutes outside of the historic center. This lower-middle-range property has 11 well-maintained rooms decorated with charming vintage decor and equipped with flat-screen TVs and free Wi-Fi. However, all guests must share bathrooms. Period details highlight the building's history: wrought-iron balconies, hand-carved wooden doors, and stained wooden floors. Breakfast is free and well-received, and guests can dine on a terrace offering views of the nearby residential neighborhood. A shared kitchen is provided, and restaurants and public transportation are within short walking distance. Travelers could also consider the Whatever Art Bed & Breakfast, an artsy guest house close to Campo Pequeno bullring.
13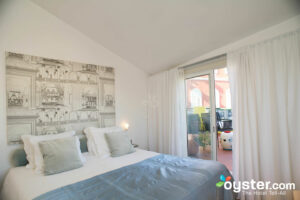 ZUZABED & Breakfast B&B offers a homey experience within a five-minute walk from Rossio Square. The budget property's 12 rooms are smallish, but lovely, with modern bathrooms and free Wi-Fi. Two of the rooms share a pretty terrace with views of St. George's Castle. There's a free tasty breakfast included, and free muesli bars provided in rooms. However, guests with limited mobility should note that there are no elevators and plenty of stairs. ZUZABED also has beautiful full apartments and villas available in Bairro Alto, Chiado, Principe Real, and Algarve with fully equipped kitchens.
14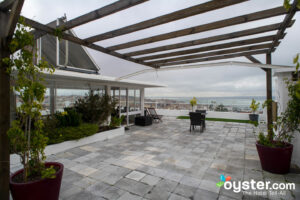 The House is an eight-room boutique B&B offering a home-like experience in a residential part of Lisbon. Rooms are modern and chic, but their amenities vary and only some have TVs. Two have bathrooms across the hall and one has a bathroom without a full door separating it from the sleeping area. A tasty breakfast with eggs made to order is included in room rates. There's also a big outdoor terrace with river and city views, and in inclement weather the views can still be taken in from the living room. Guests wanting to stay nearer to the action of the city may want to check out the Lisbon Short Stay Apartments Baixa, a vibrant hotel with funky decor and a convenient location near shops and restaurants.
15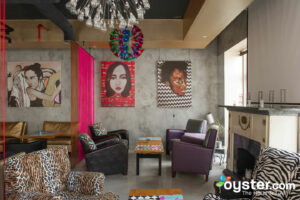 Guests looking for something outside the norm will likely be pleased with Lisbon Short Stay Apartments Baixa. There's no run-of-the-mill decor at this 55-room hotel; instead, there are bold portraits covering doors, mirrored ceilings decorating hallways, and an eclectic mishmash of furnishings in common spaces. A buffet breakfast with a variety of homemade foods is offered for a fee, and there's a bar on-site with live music. Rooms are modern and have kitchenettes and free Wi-Fi, but they lack alarm clocks and can get noisy. Guests looking to stay in a quieter location may want to compare rates with The House, a modern boutique B&B in a residential area outside the city center.