Best Beach Hotels in Marina Vallarta, Puerto Vallarta
Take a look at the best beach hotels in Marina Vallarta.
See All Marina Vallarta Hotels
1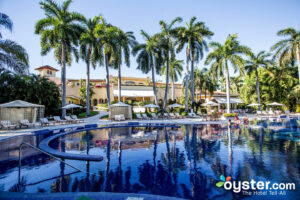 This gated, 80-room adult-only all-inclusive hotel is in the posh Marina Vallarta community, surrounded by a golf course. It's one of the area's top options and stands out for its personalized service (staffers often know guests by name) and its truly peaceful, uncrowded vibe, which can be hard to find at an all-inclusive property. Huge, posh rooms have tasteful Mexican style, and some have private hot tubs or plunge pools. Property features include a large freeform pool with swim-up bar, a second pool at the hotel's private (off-site) beach club, two restaurants (gourmet Mexican cuisine on site, and Asian fusion at the beach club), a nice spa and gym, and golf privileges at Marina Vallarta Golf Club. Just note that the beach is a two-minute shuttle ride away, and downtown Puerto Vallarta is around a 25-minute drive. Those seeking a family-friendly alternative might want to consider sister resort Velas Vallarta.
2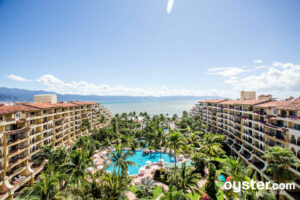 The upscale, 345-room Velas Vallarta is one of the most popular all-inclusive resorts in not only Marina Vallarta, but the region, thanks in part to its huge (if slightly dated and worn) rooms with kitchenettes, many of which can accommodate large families and most of which have ocean views. The gardens and grounds are charming (there's even a roaming family of peacocks), the pools (with a lazy river) and recreational options are excellent, and the restaurants have good quality food, especially for an all-inclusive. Those who prefer a location closer to town might prefer the smaller Fiesta Americana, which also has a nicer beach -- but its rooms aren't as big and there aren't as many pools.
3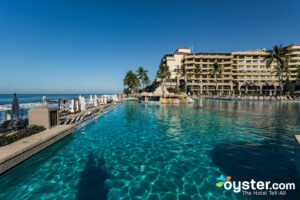 Much like the other sprawling resorts that line the beach in the swanky Marina Vallarta golf community, the CasaMagna Marriott features top-notch restaurants, pools, and meeting rooms, as well as 433 modern guest rooms and suites, all with private balconies and most with ocean views. Housed in two towers, this upscale hotel is especially memorable for its sumptuous Ohtli Spa and adjacent fitness center with indoor lap pool. It's also home to the city's only government-approved turtle sanctuary. The freeform pool has ocean views and a swim-up bar, and there's a separate large kiddy pool, as well as a kids' club. Those seeking a better beach may prefer Fiesta Americana to the south, though it's all-inclusive (CasaMagna's all-inclusive package is optional).
4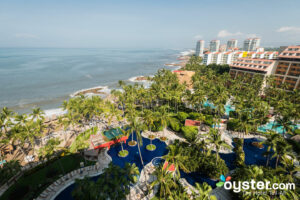 Club Regina is a lively, colorful 222-room resort in Marina Vallarta managed by Raintree Vacation Club, a time-share operator. While it's less than a 10-minute drive from the airport, the trade-off is that it's farther away from the lovely downtown. The resort's standout feature is the expansive pool, which includes a swim-up bar, a large hot tub, and plenty of seating. Another highlight: Many rooms include a jetted hot tub on a private balcony that overlooks the ocean. The rest of the resort is pretty standard fare for an upper-middle-range property – with the exception of the small, rocky beach, which is a bit disappointing. For a comparable nearby property with an all-inclusive option, consider Vamar Vallarta.
5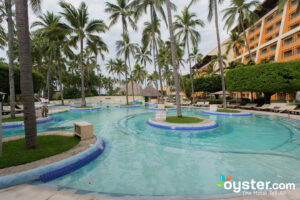 This 280-room Westin is an older upscale beachfront resort within walking distance of the marina. It draws plenty of families, thanks to its two beautiful freeform pools (one with a swim-up bar) and kids' club. Other notable features include the spa (complete with a hydrotherapy pool) and spacious fitness center with a sauna and steam room. Most guests opt for the European plan but all-inclusive rates are also available, and food is decent. Spacious rooms have neutral modern decor, separate tubs and showers in the bathrooms (with peek-a-boo windows to the rooms), and balconies with at least partial ocean views. Just note that some have been more recently renovated than others. The beach here is on the small side and there are some pebbles in the sand. Extra fees for in-room Wi-Fi, in-room coffee, and the kids' club may leave some guests feeling nickel-and-dimed, but self-parking at least is free.
6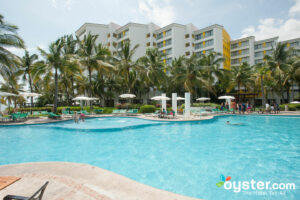 The 212-room Mayan Palace is one of the nicer four-pearl options in Puerto Vallarta. Rooms are large and pleasant, the grounds are beautifully landscaped, the beach is quiet, the pools are enormous, and there are several great bars and restaurants on-site (including an adults only lounge and bar overlooking the water). Guests can walk to the nearby marina for shopping and restaurants, and the airport and downtown are quick car rides away. That said, prices are high and the overall vibe is a bit staid. This is one of the few properties in Puerto Vallarta with both sunrise and sunset views from the beach.
7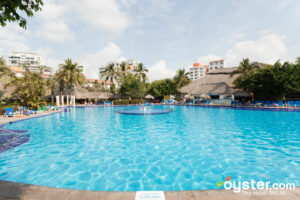 This upper-middle-range, family-friendly resort is one of the most affordable all-inclusive options in the Marina Vallarta area. The 318 rooms have balconies, and many have views out onto the ocean. However, it's the amenities that really shine here, and there are all sorts of daily activities available along with a pool, tennis courts, an archery range, and a mini-golf course, plus unexpected extras including a rock-climbing wall and a children's spa. Though the Melia is an all-inclusive, guests may be surprised to find extra fees for Wi-Fi and room service. The beach is a bit narrow and not the highlight. Those looking for a location closer to downtown should compare rates with Villa del Palmar and Buenaventura Grand Hotel & Great Moments.