Best Value Hotels in Puerto Vallarta
Oyster knows what travelers look for in hotels. When we review properties in person around the world, we evaluate how every feature stacks up against the competition, from the rooms to the pools to the restaurants. So if you're planning a getaway and need a place to start, you've come to the right place. Take a look at our expert top picks for value in Puerto Vallarta and get inspired!
See All Puerto Vallarta Hotels
1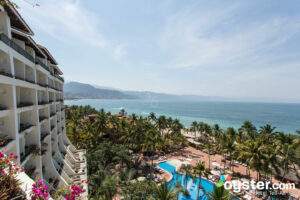 Rates at Fiesta Americana are extremely fair -- though the resort does nickel-and-dime guests by charging extra fees for the fitness center, in-room coffee, and Wi-Fi. A big plus here is that every room has at least a partial ocean view (full-view rooms cost a bit more) -- so you really can't book a bad room. A good selection of restaurants, a decent pool with swim-up bar, and a big stretch of private beach are all positives.
2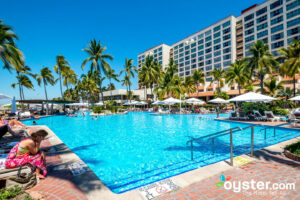 With 475 guest rooms distributed across 15 stories on a beachfront near downtown, the Sheraton Buganvilias is a big, busy operation -- yet it's invitingly tranquil in places as well. There is ample lounge seating dotting the lush grounds, and a nice spa offers a relaxing reprieve. With an attractive free-form pool, multiple restaurants, expansive meeting space, and easy access to the charms of Vallarta, this is a great spot for those who like the action close at hand, but also feel the need to escape the hustle. Just don't expect to escape the hustle with a serene beachfront -- the beach here is rocky, public, and teeming with vendors. Rates, at least, are very fair for what you get.
3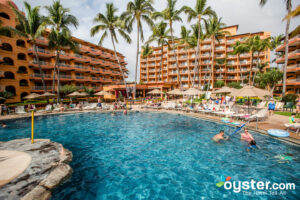 This is a typical upper-middle-range beach resort with multiple pools, a few dining options, tennis courts, a spa and fitness center. And even though some of the rooms are outdated, and guests say the food could be better, the location -- right by a bus stop that takes you downtown in minutes and close to the airport -- is prime. All rooms have kitchenettes or full kitchens, which help guests save money on food, and great freebies such as one-hour use of waters ports gear and free parking certainly add to the value.
4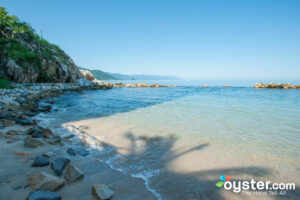 The 202-room Costa Sur Resort and Spa is a multi-story property that offers guests a lot of bang for their peso: a private beach, spacious suites with kitchens and ocean views, optional all-inclusive meal packages, and a fun kids' club. Located 10 minutes outside of Puerto Vallarta's main strip, this hotel is distanced from noise and pollution but still well placed for exploring with a car. Rooms could use a refresh, but there is a peaceful adults-only pool, a separate big pool for families, fitness center, and water sports all on-site.
5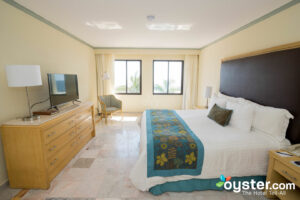 Compared to the many massive hotels at the north end of Nuevo Vallarta, the Samba Vallarta's 183-room, four-story Spanish colonial-style building feels pleasantly small-scale -- and the pools and beach tend to be less crowded than elsewhere. The clean rooms have basic, contemporary beach decor (light woods, turquoise bed skirts and runners), and the general ambience of the property is family-friendly and relaxed. For those who want to go the all-inclusive route but don't want a megaresort experience, this affordable mid-range property is a fine choice.
6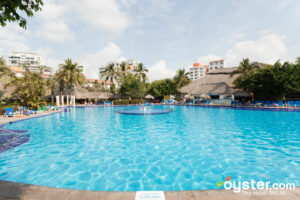 A true all-inclusive in the prestigious Marina Vallarta area, this place does kids well. With special family rooms, and tons of activities to keep the kids busy -- adults will have time to take part in their own fun, and there is lots to be had. A huge pool, a climbing wall, karaoke, volleyball, and nightly shows are just the beginning. Rooms are spacious and well decorated, and all have furnished private balconies. But beach lovers may be disappointed by the stretch of sand/sea this hotel lives on.
7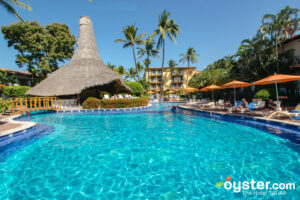 By most megaresort standards this all-inclusive is small, with just 155 rooms, and is short on amenities and facilities. But it's a comfy, budget-friendly place near downtown Puerto Vallarta and two blocks from the beach. The resort feels authentic, with terracotta tiling, and Mexican-style decor surrounded by lush landscaping and palm trees. For the price it's an excellent option -- the rooms are clean and comfortable, the on-site dining options are plentiful, and the hotel-run beach club offers free non-motorized water sports for guests.
8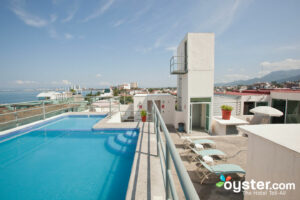 This 45-room budget-friendly boutique hotel comes sharply dressed with some attitude and style. There's a decent rooftop restaurant with outdoor seating and city views, a nice-size rooftop pool looking out toward the ocean, and a basic fitness center. Rooms are small and their views could certainly be more inspiring -- but it's what lies outside the hotel doors that counts. The beach, the Malecon, and the area's most popular dining, nightlife, and shopping are all within a short walk.
9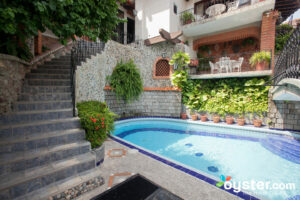 This ruggedly charming boutique hotel offers sweeping views of Puerto Vallarta and Banderas Bay, and the enticements of Old Town Puerto Vallarta are close at hand. Rugged is meant literally here: With two multistoried buildings climbing a steep hillside, labyrinthine stairways, and no elevators, it's a bit of work getting around -- especially if you add in the hike up from the beach. Ultimately, the place seduces with space. The 28 suites are generously scaled, with large decks, and the wonderful views place the city in the foreground against a background of sea and sky.
10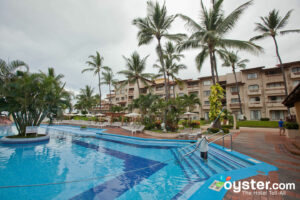 Located in Puerto Vallarta's crowded Hotel Zone, this beachfront property is a typical all-inclusive with one stand-out feature -- its Tennis Club with indoor and outdoor courts. Despite being marketed as a luxury hotel, it is a mid-range property offering standard resort amenities, including a free-form pool that some guests may prefer to the small, rocky beach. It is a also a time-share property, so sales pitches are prevalent throughout the hotel. Rooms feature free Wi-Fi, flat-screen TVs, and contemporary decor, but the furnishings look a bit cheap.