Best Boutique Hotels in Quebec City
Take a look at the best boutique hotels in Quebec City.
See All Quebec City Hotels
1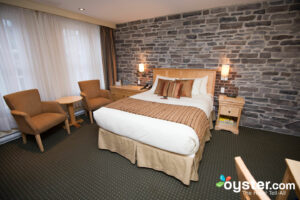 This eco-friendly, three-pearl property puts vacationers within strolling distance of must-see sites -- including Notre-Dame Cathedral, the castle-like Chateau Frontenac, and the Quartier du Petit Champlain -- so location is one of its main draws. Ambiance is another because L'Hotel du Vieux-Québec strikes an admirable balance between old and new. Housed in a classic brick building, its 45 rooms combine original stone walls with contemporary furnishings and modern conveniences like flat-screen TVs, mini-fridges and free Wi-Fi. Travelers who book directly via the hotel's website enjoy extra perks (most notably a free breakfast and high-season walking tour). A well-reviewed bistro is attached to the premises, and you'll find a guest lounge, a small fitness room, and event spaces on-site. If a pool is on your must-have list, try the upper-middle-range Chateau Laurier instead.
2
This 95-room boutique hotel is housed in a historic building facing the St. Lawrence River in the Old City. Decor varies across the sophisticated, spacious rooms, but all have upscale touches such as Nespresso machines, evening turndown service, and luxurious bathrooms featuring heated floors and flat-screen TVs. The restaurant, Panache, serves seasonal, local cuisine in a former maritime warehouse (think: thick wood beams, stone walls), and the more casual Bar Artefact serves cocktails and gourmet fare in a bright, contemporary lounge. Amenities include a modern, 24-hour fitness center, a screening room, spa treatment rooms, and a free business center. The hotel is situated on an archaeological site, and historical artifacts are displayed throughout the property.
3
The historic, 60-room Hotel 71 used to be the head office of the National Bank of Canada and is now an upper-middle-range boutique property with a beautiful Neo-classic exterior in the heart of Old Quebec. Super-stylish, minimalist rooms feature hardwood floors, large windows, Nespresso coffeemakers, and mini-fridges as well as handsome tile bathrooms with rainfall showerheads. Some rooms have terraces, kitchenettes, and exceptional river views. Italian dishes are served at the popular Restaurant Il Matto, and continental breakfast is free. Guests can borrow bikes and get expert tourist advice from the Clefs d'Or concierge. Guests looking to stay in the trendy Saint-Roch District may want to consider Hotel Pur, which has lower rates and ultra-modern interiors.
4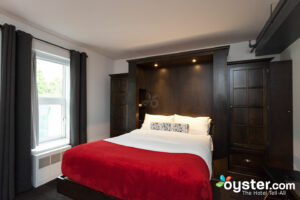 Hotel des Coutellier is a mid-range boutique hotel with lots of style and a fantastic Old City location. The ambiance is chic and artsy with pops of red, white, black, and silver throughout. Spacious rooms have modern furnishings, plush linens, Keurig coffeemakers, and work desks. One perk here is breakfast baskets with juice, pastries, yogurt, and fruit are delivered to rooms each morning. The modern lobby with its atmospheric exposed brick walls and cozy fireplace is another lovely space to relax. With a helpful staff and convenient location, Hotel des Coutellier is a good pick in Quebec City.
5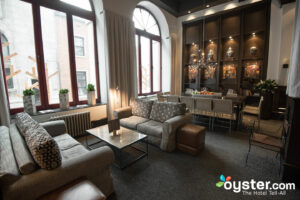 The pet-friendly, Hotel Le Germain-Dominion is an upper-middle-range property in a historic setting with contemporary charms that's within a five-minute walk of the Quebec Cruise Terminal. Sixty contemporary rooms have minibars, flat-screen TVs, Nespresso coffeemakers, and wonderful tile bathrooms. The free continental breakfast receives wonderful reviews, and both the modern fitness and business centers are open 24 hours a day. Free Wi-Fi runs throughout, but there is a daily fee for outdoor parking. Additionally, all pets have restrictions and a fee, and there is no on-site restaurant.
6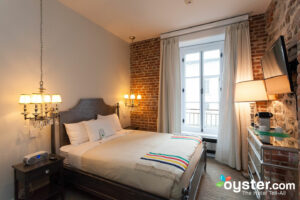 Auberge Place D'Armes is an upper-middle-range boutique property that occupies two charming 17th- and 19th-century buildings on an endearing pedestrian-only street in the heart of Old Quebec. The hotel's 21, individually decorated guest rooms are a refreshing change from chain-hotel stays, and often feature traditional craftsman furnishings and exposed stone or brick walls. Standard amenities include Nespresso machines and room service. There's a well-regarded, full-service French restaurant, and guests are given discounts. Other property features are limited (there's no wellness facilities). Be aware that the hotel isn't directly accessible by car, and there's no elevator. Guests looking for a larger property with charm but a little more lounge space might consider the nearby Hotel Clarendon.
7
Le Saint-Pierre Auberge is a charming boutique hotel with 39 guest rooms and suites, situated in a historic 19th-century building in the heart of Old Quebec. The three-and-a-half-pearl hotel is an easy walk to the cruise terminal, shops, restaurants, and area attractions. Highlights include Clefs d'Or concierge service, porter service to the docks, and a free made-to-order breakfast that guests rave about. Rooms are small but stylish, with wood floors, exposed brick, stone walls, and modern accents, plus amenities like Keurig coffeemakers, mini-fridges, and bathrobes. There aren't many on-site features, but guests have access to the full-service restaurant, business center, and small gym at the adjoining sister hotel, Hotel 71 -- a good choice for travelers looking for a more straightforward, modern stay in the area.
8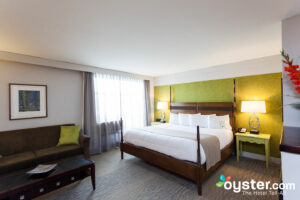 The cozy, upper-middle-range Le Champlain Hotel is located in the heart of the Old City, offering easy walking access to all major attractions. Its 50 rooms are spacious and cute, with a soothing color palette, spotless bathrooms with quirky koi fish painted in the sink, and great amenities including excellent beds, free high-speed Wi-Fi, mini-fridges, and DVD players. Some rooms have exposed brick or stone walls and electric fireplaces that make the atmosphere particularly charming. While the hotel lacks a full restaurant and bar, a good breakfast buffet is served every morning in a lovely room for a fee, and there is an electric wine dispenser in the lobby where guests can taste a variety of local and international wines for a fee. On-site parking is a great perk. The nearby Hotel Clarendon is a good alternative for travelers on a tighter budget.
9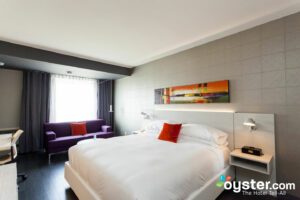 The Hotel Sepia offers couples and families a good alternative to staying downtown with value-added features. Completely renovated in 2016, there's much to like about the three-and-a-half-pearl boutique property, including a fine-dining restaurant, concierge services, and free shuttle service into Old Quebec in summer. But it's a 15- to 25-minute drive into the walled city, and there's little to do or see in the immediate area. Its 81 guest rooms are modern and streamline, and amenities are a huge perk, with Nespresso coffeemakers, iPod docks, minibars, and sleek bathrooms with basin sinks and rainfall showerheads. Travelers looking for a stay with a heated outdoor pool can check out the nearby Best Western Premier Hotel l'Aristocrate.
10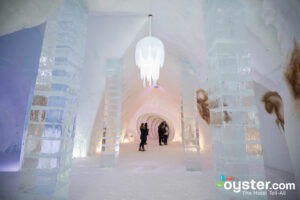 The Hotel de Glace is an upper-middle-range property made entirely of ice and snow -- one of only two such properties in the world. Situated 15 minutes north of Quebec City, the property changes annually, with unique snow carvings and ice sculptures, and is typically open from January through March. There were 44 rooms and themed suites available during our 2015 visit, including some with decorative gas fireplaces -- the property remains between 23 and 27 degrees Fahrenheit at all times, and overnight guests are given thermal sleeping bags for extra warmth. Guests may only retire to their rooms starting at 9 p.m. and must be out by 9 a.m. the next day, when free breakfast is served. Public tours are offered all day throughout the property, including guest rooms and the Ice Workshop.