Best Kid-Friendly Hotels in Quebec City
Take a look at the best kid-friendly hotels in Quebec City.
See All Quebec City Hotels
1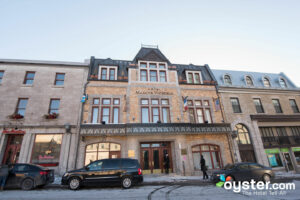 The 156-room Hotel Manoir Victoria is an elegant, upscale property in Old Quebec that dates back to 1830. The hotel's style is contemporary, with a polished lobby and two sleek on-site restaurants. Rooms have either modern gray decor with sharp bathrooms or are slightly dated with homey interiors. All have flat-screen TVs, coffeemakers, and free Wi-Fi, and suites offer fireplaces and/or wet bars. For leisure, there's an indoor pool, small spa, and modern gym on-site. There are handy amenities for business travelers too, including eight meeting rooms, an executive lounge, and a business center. The lobby is only accessible by stairs, though, and guests with mobility issues may want to consider Fairmont le Chateau Frontenac.
2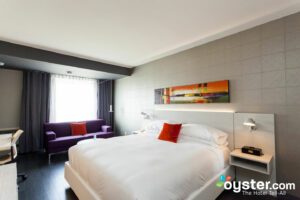 The Hotel Sepia offers couples and families a good alternative to staying downtown with value-added features. Completely renovated in 2016, there's much to like about the three-and-a-half-pearl boutique property, including a fine-dining restaurant, concierge services, and free shuttle service into Old Quebec in summer. But it's a 15- to 25-minute drive into the walled city, and there's little to do or see in the immediate area. Its 81 guest rooms are modern and streamline, and amenities are a huge perk, with Nespresso coffeemakers, iPod docks, minibars, and sleek bathrooms with basin sinks and rainfall showerheads. Travelers looking for a stay with a heated outdoor pool can check out the nearby Best Western Premier Hotel l'Aristocrate.
3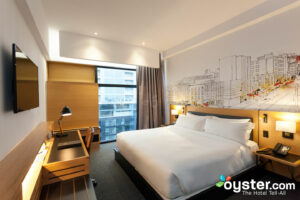 Located in historic Saint-Roch, Hotel PUR is a solid upper-middle-range option for those who'd rather save some cash than be in the heart of the action. The property underwent a full renovation in 2017 and features 242 contemporary rooms with free Wi-Fi, Nespresso machines, and large flat-screen TVs, plus floor-to-ceiling windows offering city views and modern bathrooms with either deep Japanese-style tubs or walk-in showers. The restaurant is stylish and features seasonal outdoor seating, but its Quebecois food gets mixed reviews. The bright fitness center is well-equipped and offers views of the hotel's heated indoor pool, housed in a light-filled top-floor room with loungers. Travelers wanting to stay closer to attractions may want to compare rates at the more traditional Auberge Place D'Armes, which offers just 18 charming rooms.
4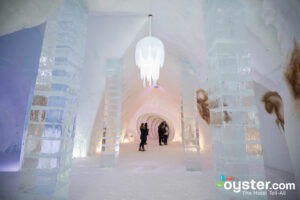 The Hotel de Glace is an upper-middle-range property made entirely of ice and snow -- one of only two such properties in the world. Situated 15 minutes north of Quebec City, the property changes annually, with unique snow carvings and ice sculptures, and is typically open from January through March. There were 44 rooms and themed suites available during our 2015 visit, including some with decorative gas fireplaces -- the property remains between 23 and 27 degrees Fahrenheit at all times, and overnight guests are given thermal sleeping bags for extra warmth. Guests may only retire to their rooms starting at 9 p.m. and must be out by 9 a.m. the next day, when free breakfast is served. Public tours are offered all day throughout the property, including guest rooms and the Ice Workshop.
5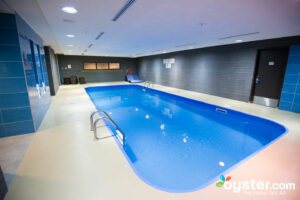 The Hotel Chateau Laurier is an upper-middle-range property walking distance from Old Quebec. It's a sprawling hotel, and can be difficult to navigate -- the 282 rooms come in a range of styles, and while some are modern, others feel dated. Some are also on the small side and lack views -- but many have coffeemakers, and the suites are huge. Facilities include a 24-hour gym, an indoor saltwater pool, hot tubs, and a popular restaurant with room service. Breakfast costs extra and gets mixed reviews. There's also an on-site convenience store, extensive meeting spaces, and valet and self-parking (free for electric vehicles), plus free Wi-Fi. The smaller Hotel Clarendon has similar rates, and more consistent room design and views, though there's no pool, gym, or spa.
6
The Hilton Quebec is a high-rise building that is connected to the convention center by an indoor walkway. This fairly typical conference hotel has all the amenities you might expect, including an excellent gym with plentiful cardio machines, an outdoor pool -- that is heated all year long -- and a restaurant with great views. The Old City is located just across the street, placing major sites within an easy walk. Renovated rooms have flat-screen TVs and floor-to-ceiling windows. While Wi-Fi isn't free in the rooms, there is a modern lobby with space to lounge where Wi-Fi is available for no charge.
7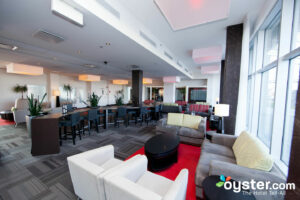 The Four Points Sheraton Levis Convention Center is a comfortable, stylish place for a business retreat, featuring spacious, modern rooms with great light. Bathrooms are contemporary, and some have appealing soaking tubs and separate walk-in showers. The year-round outdoor heated pool is a nice touch -- though it may not be particularly appealing during Quebec winters. The distance from Quebec City is a bit of a detractor for this hotel, but a shuttle bus to the Old City is available from June through September, and a ferry that connects directly to the Old City is nearby. For a cost effective and stylish way to see the Old City, Four Points is a solid pick.
8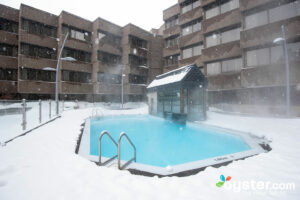 The upper-middle-range Delta Quebec is a solid choice for business and leisure travelers alike. Fresh from a renovation completed in 2014, it's a modern hotel adjacent to the Quebec City Convention Centre and within walking distance to many of the historic city's top attractions. Highlights include underground parking, lots of meeting space, a large fitness center with sauna, and a heated outdoor pool open year-round. Its 377 rooms are clean and include coffeemakers and smart desks that are wired for connections to various electronic devices. But, there are no safes and mini-fridges come with a surcharge. Rates are competitive, but you might want to comparison shop with the upper-middle-range Hilton Quebec that's also connected to the convention center.
9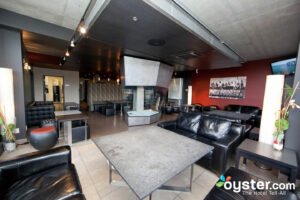 The 111-room Times Hotel & Suites draws business travelers with its location near the Quebec City International Airport. The lobby is decorated with dark hues and has a modern enclosed glass fireplace and comfy black leather chairs. Contemporary rooms feature kitchenettes and free Wi-Fi, and stylish bathrooms have shower/tub combos. Suites come complete with fireplaces and large Jacuzzi tubs. Expect all the amenities of a typical airport hotel here, such as a small fitness center and indoor pool, although both are no better than average for a mid-range property.
10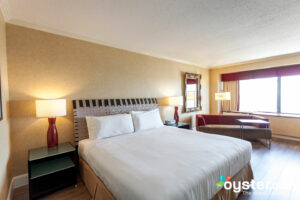 Hotel Le Concorde Quebec is a beacon stretching up above the Quebec City skyline. At the top of the tall tower is the hotel's most famous feature, the rooftop, rotating restaurant L'Astral. From both the restaurant and the somewhat small rooms there are great views of the city and the Saint Lawrence River. Perks here include a seasonal outdoor heated pool and fitness area with ping-pong table. With a total of 406 rooms, guests might expect more features, but the pool, rooftop restaurant, and views sum up the list. Pesky fees for Wi-Fi and valet parking might deter some guests, but the central location is convenient for exploring the Old City.
11
The Hotel Ambassadeur Quebec is located in Beauport, north of Old Quebec City. This mid-range hotel has a unique setup, with some rooms featuring balconies that overlook an indoor pool set in a large atrium. The pool area has a variety of plants, a Jacuzzi, and a kids' area. Rooms are large and fall into two major categories: renovated and un-renovated. The un-renovated rooms still feature old bedspreads and bland decor. The renovated rooms are a big upgrade, with higher quality bedding, appealing colors, and upscale bathrooms. Suites are even better; some with a fireplace, soaking tub, and huge flat-screen TV. There is a restaurant in the hotel that allows diners to bring their own wine, and both Wi-Fi and parking are free. The cost-saving location outside of Quebec City may appeal to budget travelers.