Best Value Hotels in Quebec City
Take a look at the best value hotels in Quebec City.
See All Quebec City Hotels
1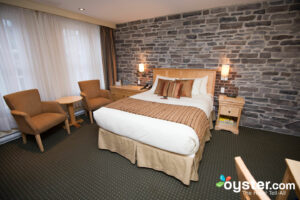 This eco-friendly, three-pearl property puts vacationers within strolling distance of must-see sites -- including Notre-Dame Cathedral, the castle-like Chateau Frontenac, and the Quartier du Petit Champlain -- so location is one of its main draws. Ambiance is another because L'Hotel du Vieux-Québec strikes an admirable balance between old and new. Housed in a classic brick building, its 45 rooms combine original stone walls with contemporary furnishings and modern conveniences like flat-screen TVs, mini-fridges and free Wi-Fi. Travelers who book directly via the hotel's website enjoy extra perks (most notably a free breakfast and high-season walking tour). A well-reviewed bistro is attached to the premises, and you'll find a guest lounge, a small fitness room, and event spaces on-site. If a pool is on your must-have list, try the upper-middle-range Chateau Laurier instead.
2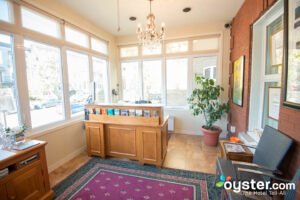 Auberge Aux Deux Lions is a charming, affordable redbrick house with 14 cozy guest rooms spread over four floors in the Montcalm district of downtown Quebec City, close to the historic center. This budget hotel has a bed-and-breakfast feel to it (though breakfast is not included in room rates). Some of the budget rooms have private bathrooms located just outside the rooms, and Superior Rooms and Suites have extra amenities like living rooms, kitchenettes, balconies, and access to the hotel garden. Overall, Auberge Aux Deux Lions offers a very good value when compared to similar hotels in the area, but for something a bit more chic (with a higher price tag), Hotel des Coutellier is a good choice.
3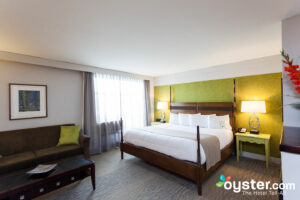 The cozy, upper-middle-range Le Champlain Hotel is located in the heart of the Old City, offering easy walking access to all major attractions. Its 50 rooms are spacious and cute, with a soothing color palette, spotless bathrooms with quirky koi fish painted in the sink, and great amenities including excellent beds, free high-speed Wi-Fi, mini-fridges, and DVD players. Some rooms have exposed brick or stone walls and electric fireplaces that make the atmosphere particularly charming. While the hotel lacks a full restaurant and bar, a good breakfast buffet is served every morning in a lovely room for a fee, and there is an electric wine dispenser in the lobby where guests can taste a variety of local and international wines for a fee. On-site parking is a great perk. The nearby Hotel Clarendon is a good alternative for travelers on a tighter budget.
4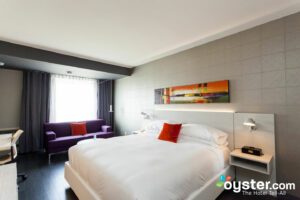 The Hotel Sepia offers couples and families a good alternative to staying downtown with value-added features. Completely renovated in 2016, there's much to like about the three-and-a-half-pearl boutique property, including a fine-dining restaurant, concierge services, and free shuttle service into Old Quebec in summer. But it's a 15- to 25-minute drive into the walled city, and there's little to do or see in the immediate area. Its 81 guest rooms are modern and streamline, and amenities are a huge perk, with Nespresso coffeemakers, iPod docks, minibars, and sleek bathrooms with basin sinks and rainfall showerheads. Travelers looking for a stay with a heated outdoor pool can check out the nearby Best Western Premier Hotel l'Aristocrate.
5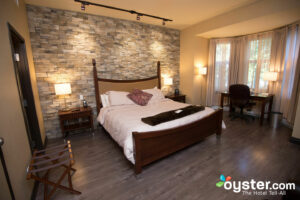 Hotel Chateau Bellevue is a mid-range property in the heart of historic Old Quebec. Set in a charming period building, this 48-room property offers homey, traditional style with guest rooms that range from slightly outdated to cozy and contemporary, some with exposed-brick walls. Rooms lack some usual perks like in-room coffee service or mini-fridges, but upper-category rooms have cool extras like whirlpool tubs or multi-jet showers. The hotel also has a small fitness center, massage treatment room, wine dispenser in the lobby, and daily continental breakfast, though it may not be included in the room rate. For a few more perks and a little more character, the Auberge Place D'Armes offers individually decorated guest rooms and an on-site French restaurant, but tends to be pricier.
6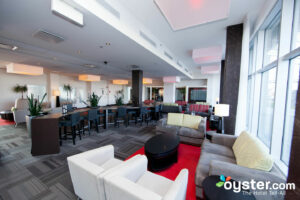 The Four Points Sheraton Levis Convention Center is a comfortable, stylish place for a business retreat, featuring spacious, modern rooms with great light. Bathrooms are contemporary, and some have appealing soaking tubs and separate walk-in showers. The year-round outdoor heated pool is a nice touch -- though it may not be particularly appealing during Quebec winters. The distance from Quebec City is a bit of a detractor for this hotel, but a shuttle bus to the Old City is available from June through September, and a ferry that connects directly to the Old City is nearby. For a cost effective and stylish way to see the Old City, Four Points is a solid pick.
7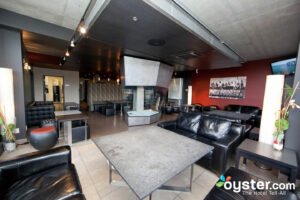 The 111-room Times Hotel & Suites draws business travelers with its location near the Quebec City International Airport. The lobby is decorated with dark hues and has a modern enclosed glass fireplace and comfy black leather chairs. Contemporary rooms feature kitchenettes and free Wi-Fi, and stylish bathrooms have shower/tub combos. Suites come complete with fireplaces and large Jacuzzi tubs. Expect all the amenities of a typical airport hotel here, such as a small fitness center and indoor pool, although both are no better than average for a mid-range property.
8
The Hotel Ambassadeur Quebec is located in Beauport, north of Old Quebec City. This mid-range hotel has a unique setup, with some rooms featuring balconies that overlook an indoor pool set in a large atrium. The pool area has a variety of plants, a Jacuzzi, and a kids' area. Rooms are large and fall into two major categories: renovated and un-renovated. The un-renovated rooms still feature old bedspreads and bland decor. The renovated rooms are a big upgrade, with higher quality bedding, appealing colors, and upscale bathrooms. Suites are even better; some with a fireplace, soaking tub, and huge flat-screen TV. There is a restaurant in the hotel that allows diners to bring their own wine, and both Wi-Fi and parking are free. The cost-saving location outside of Quebec City may appeal to budget travelers.