Best Luxury Hotels in Nuevo Vallarta, Nayarit
Take a look at the best luxury hotels in Nuevo Vallarta.
See All Nuevo Vallarta Hotels
1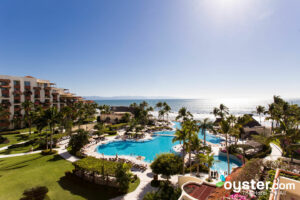 The luxurious, 265-room Grand Velas Riviera Nayarit sets the bar for what all-inclusive resorts in Nuevo Vallarta should be striving to achieve. Every room here is a suite, offering extra living space, a balcony, ocean views, and luxurious touches such as Nespresso machines. The impressive features include an infinity pool with three levels overlooking the beach, a decadent spa, a kids' club, and five restaurants with excellent food (especially for an all-inclusive). There's little wrong with it, except for the occasional crowds around the pool during high season. If the prices are out of reach, consider less expensive sister property Velas Vallarta.
2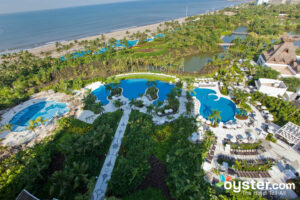 Grand Luxxe is one of the many Mayan properties, a group of time-shares in the area. Of all of them, Grand Luxxe is the most posh (thus the name). From the inspiring design throughout the resort to the state-of-the-art golf course and fitness center to the huge rooms and suites with gigantic private terraces, this place is top-notch design-wise. For guests looking to relax at a beachside resort, this is a great pick. But it's a bit far from Puerto Vallarta, so don't expect to find anything outside the property. Also know that this is not an all-inclusive, since it's a time-share, and the on-site restaurants can be pricey.
3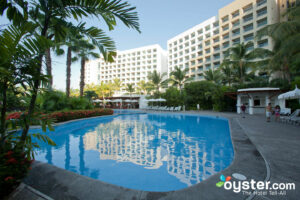 The Grand Bliss is a step up from the nearby Grand Mayan in Nuevo Vallarta, in terms of room and suite size, elegance, and exclusivity. A minor flaw at this chic, high-end time-share with hotel options is that it currently depends on the Grand Mayan and the other adjacent properties -- the Mayan Palace and the Grand Luxxe -- for most of its facilities. The restaurants, fitness center, and spa are located at the sister resorts, but there is an appealing pool, snack bar, and lobby bar on-site. Highlights here also include gorgeous gardens, an inviting beach, and soothing decor made up of natural materials.
4
Many hotels advertise themselves as luxury all-inclusives, but Marival Residences & World Spa is one of the few hotels that actually delivers on the promise. Marival is romantic enough for couples, but still kid-friendly enough for families. The 162 apartment-style units feature upscale amenities and decor, some even have their own private pool, and its five restaurants wow with incredible all-inclusive cuisine. A large freeform pool and beach club are the main attractions here, but the luxe Melange spa is another impressive feature. The Family Emotion concierge is a perk for those traveling with little ones. The major downside is that the hotel isn't technically on the beach -- it's a five-minute walk to the beach club. As a more affordable alternative, the nearby Dreams Villamagna, is an upscale all-inclusive that's directly on the beach.
5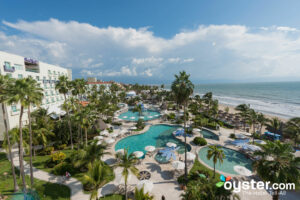 One of the most striking elements of the Hard Rock Hotel Vallarta (formerly the Palace Resort Vallarta) is its soaring lobby, with two huge installations made with LP covers and instruments. However, the rest of the resort is no less attractive, with two free-form pools, a spa featuring ocean views, and several restaurants offering a range of cuisines. The hopping bars, nightly entertainment and contemporary rooms with high-tech amenities, funky rock-inspired decor, and double-jetted tubs attract young couples and groups, while the lively pools (including a shallow one for kids), varied dining options, and pretty beach draw families. There's free Wi-Fi, purified water on tap, and a wide array of amenities, but rooms are a tad smaller than those found in other resorts in the area.
6
The luxurious Villa La Estancia Beach Resort & Spa Riviera Nayarit is a beachfront condo resort with a quiet atmosphere. La Estancia's main attraction is its massive freeform pool, where guests gather throughout the day to swim, sunbathe, and sip cocktails at the swim-up bar. Also on-site are a beautiful beach, two restaurants, a well-equipped gym, and a lovely spa. Its 245 condo units are spacious and traditionally decorated, and most have full kitchens, separate living spaces, and large private balconies. This is not a traditional all-inclusive, but all-inclusive rates are available. Travelers looking for similar property with a more contemporary feel might prefer Marival Residences & World Spa, an upscale all-inclusive property nearby.
7
Villa Del Palmar Flamingos is an upscale beachfront condo resort with a family-friendly atmosphere. The resort's main attraction is its massive freeform pool, where guests gather throughout the day to swim, sunbathe, and take part in aquatic activities. It also has a beautiful beach, four on-site restaurants, a well-equipped gym, and a beautiful spa. The 275 condo units are spacious, and most have full kitchens, separate living spaces, and large private balconies -- but the Mexican-inspired earth-tone decor is slightly dated. Travelers looking for similar property with a more contemporary feel might prefer Marival Residences & World Spa, an upscale and all-inclusive property, though it's not on the beach.
8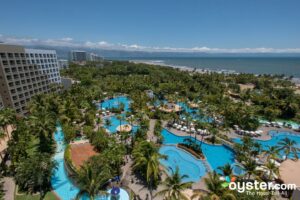 Part of the massive Vidanta resort complex in Nuevo Vallarta, The Grand Mayan Nuevo Vallarta Resort is an upscale mega-resort in three huge towers overlooking the ocean. All 789 rooms feature air-conditioning, balconies, and marble bathrooms with whirlpool tubs, while suites also include kitchens, living rooms, and private pools. There are eights restaurants and four bars. A beautiful pool complex features swim-up bars, kids' areas, and adult-only areas. There's also a fun lazy river, two wave pools, and a kids' water park. The huge beach offers plenty of chairs and palapas. Other amenities include, a spa, a fitness center, and an 18-hole golf course. There's no all-inclusive rates, and there are fees for parking and Wi-Fi. Travelers looking to be closer to central Puerto Vallarta might consider the Marriott Puerto Vallarta Resort & Spa.
9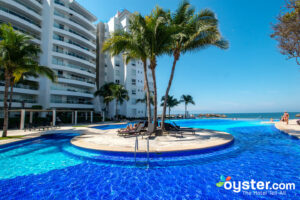 Across Mexico and the Caribbean Dreams has established itself as one of the best all-inclusive brands in the business, and Dreams Villamagna Nuevo Vallarta doesn't disappoint. Everything guests have come to expect from Dreams — beautiful rooms, excellent food, top-notch pools, and family-friendly activities — can be found at the brand's Nuevo Vallarta outpost. The upscale beachfront property is ideal for families and couples alike. Kids spend their days at the popular Explorer's Club, while couples take advantage of the beautiful spa and oceanfront adult pool. The hotel's six restaurants (no reservations required) serve excellent all-inclusive cuisine. Plus, guests can enjoy top-shelf liquor at five different bars across the property, including the stunning rooftop lounge and sushi bar.
10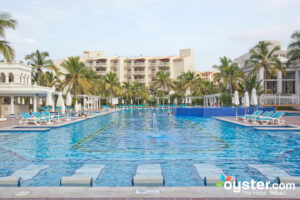 The Spanish hotel company Riu offers three classes of all-inclusive (there's one of each in Nuevo Vallarta), and the 445-room Palace Pacifico is the top dog. This is mostly evident in the common areas, which elegantly blend pre-war European opulence with luxury oceanfront resort (the lobby alone exudes more of a palace-like formality than a sandy-feet and beach-shorts sort of vibe). The grounds are immaculate as well, sprawling with lush, towering palms and perfectly manicured garden walkways dotted with high-end lounge seating -- and the expansive pool, with swim-up bar, and in-pool lounges and bistro tables, isn't too shabby either. The rooms, though, are a different story. Decor, while nice, is nothing special -- even dated in some places -- and in-room amenities are no different than those at the more budget-friendly sister Riu properties nearby.
11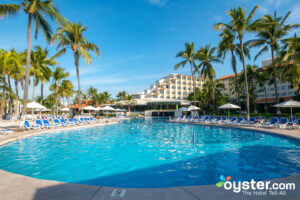 By Nuevo Vallarta standards, the 274-room Occidental Nuevo Vallarta is small, but it offers all of the perks and amenities of a larger resort. This upscale all-inclusive has two pools, five restaurants, a spa, fitness center, and a kids' club, plus a regular schedule of fun activities to keep guests entertained. The beach provides calm water and clean sand, plus there are free kayaks and boogie boards to borrow. Rooms feature contemporary decor, but most are tight on space and all lack balconies. The Royal Level offers larger rooms and an exclusive lounge, restaurant, and pool access. Plus, Royal Level guests receive free Wi-Fi -- a perk that's sorely missing for all other guests. For a larger hotel with more restaurants and a swim-up bar, it's worth comparing rates at Hotel Riu Palace Pacifico.