Best Value Hotels in Salvador, State of Bahia
Take a look at the best value hotels in Salvador.
See All Salvador Hotels
1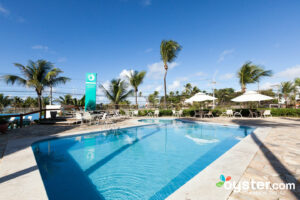 The upper-middle-range Mar Brasil is modern (having been updated in 2010), clean, and comfortable, directly across from the beach and 15 minutes south by car from the airport. It is one of Salvador's best value hotels but not terribly convenient for travelers wanting to explore the historic downtown area, which is about 30 minutes away by car. Still, as former home to poet Vinicius de Moraes, the place has culture and character. The 66 rooms are immaculate and breezy, and there's also a meeting area for business functions and two swimming pools to appease families and traveling couples wanting a safe and relaxing retreat.
2
Ocean views are the highlight at the 174-room Mercure Salvador Rio Vermelho -- a three-pearl hotel in Salvador's tourist-friendly Rio Vermelho neighborhood. Ocean-facing features include an outdoor pool, international restaurant, and fitness center. Though the hotel is designed to make the most of its seafront setting, guests expecting to step out onto soft sands or go swimming will be disappointed as the Mercure fronts a rocky outcrop and is a 10-minute walk from sandy part of Buracao Beach. Plain rooms are typical of a mid-range hotel, and feature amenities like air-conditioning and free Wi-Fi. As part of the Mercure brand, this is a reliable option with no nasty surprises; through families may prefer the Gran Hotel Stella Maris Resort which has features geared toward children.
3
The 66-room Hit Hotel is a budget option located across the street from popular Porto da Barra Beach. There are a number of restaurants, bars, and shops in the area, and the Da Barra Lighthouse is a 10-minute walk away. Rooms are simple and bright, with air-conditioning, flat-screen TVs, and mini-fridges, and some look out to lovely sea views. Some of the bathrooms could use a refresh, but they're mostly clean and functional. A breakfast buffet is included in room rates, but that's about it for features. Most guests are here to spend their days at the beach or exploring the neighborhood. Travelers who'd prefer a property with a few more features could check out the nearby Grande Hotel Da Barra, which adds a restaurant, bar, and pool.
4
With the 224-room Hotel Vila Galé Salvador located directly by the water, guests lounging by the pool or getting a massage will regularly hear sounds of the Atlantic crashing on the rocks below. The Vila Galé is one of Salvador's best options for couples and business guests alike, with the property 15 minutes south by car from the city's historic district. Although the beach below the hotel is not safe for swimming or walking, there are several bars and restaurants nearby. Taxi rides to most city and beach attractions are quick and affordable.
5
The 121-unit Grande Hotel Da Barra is a three-pearl option with an excellent location right on beautiful Porto da Barra Beach. Rooms are modern and simple, and come with air-conditioning, flat-screen TVs, mini-fridges, and free Wi-Fi. Some have outstanding views of the sea. The on-site restaurant and bar serves international and local fare for all meals, and there's another bar by the outdoor pool. A beauty salon offers hair services, and massage treatments are available. Business guests make use of the events spaces and business center with computers. There's also a small fitness center. Another affordable beachfront option is the Mercure Salvador Rio Vermelho, although its beach is rocky and not swimmable, but it has a lovely infinity pool by the beach with a swim-up bar.
6
Part of the Sol Express hotel chain, Gran Hotel Stella Maris Resort is a large facility with 334 rooms. Although it has a small business center, it is best suited for visiting families whose first priority is to relax on the beach. Located directly on Stella Maris, one of Salvador's most scenic (and safest to walk) beaches, the hotel is a bit more than 10 minutes from the airport but about 30 from Salvador's historic center. Besides walking on the beach, getting anywhere requires a drive or taxi ride. Popular among the locals, the hotel can become rather noisy during high season, but with a large pool and game room, it's ideal for families and children.
7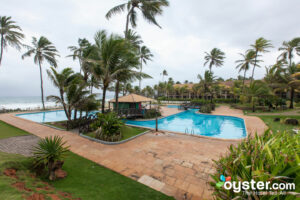 Catussaba Resort Hotel is a traditional three-pearl property fronting Itapua Beach, a 30-minute drive from Salvador's historic district. The highlight here is the tropical beachfront garden, where there are four interlinking pools and four tennis courts. Other notable features include two restaurants, a lounge bar, and a fitness center. The 256 rooms are simple and clean, with amenities like air-conditioning, flat-screen TVs, and balconies, but Wi-Fi is spotty. While this mid-range hotel is good value, there are some real issues, like the tired and soulless decor -- a renovation is long overdue -- and safety concerns on the beach. Alternatively, tourists should compare rates at Gran Hotel Stella Maris Resort, which is located on one of the region's safest and most peaceful beaches.