Best Boutique Hotels in Union Square, San Francisco
Take a look at the best boutique hotels in Union Square.
See All Union Square Hotels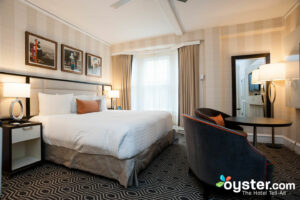 A superb Union Square location is the main draw of this upper-middle-range, European-style boutique hotel. Renovated top to bottom in 2017, this hotel has a polished look and lively contemporary artwork. Amenities such as a wine and cheese hour, cookies in the evening, and gathering areas on each floor (some with fireplaces) create a warm and welcoming atmosphere. Its 30 rooms are bright and modern, if on the small side, but they're well equipped with tablets, robes, and pillow-top mattresses. Freebies like breakfast and overnight shoeshines add to the hotel's value, and a water bottle-filling station is a nice touch. All in all, The Inn is an appealing choice, but it is more buttoned up compared to other boutique hotels in the area. For something flashier in the same neighborhood, consider the Hotel Triton.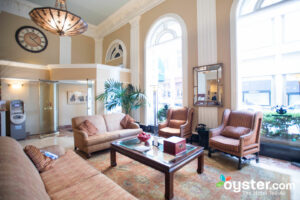 The mid-range, 137-room Chancellor Hotel right off Union Square doesn't have loads of amenities, but for those seeking a great, central location and a bit of boutique charm, it might fit the bill. Rooms are small but clean; decor is modern, but the age of the building does show in places (such as the machine stucco walls). There are a cozy restaurant and bar on-site, and guests are offered free use of a gym and pool a block away. Free drinks and snacks are always on offer in the lobby. All in all, it's an excellent pick given the reasonable price, though it may be worth comparing rates with the nearby Hotel Triton.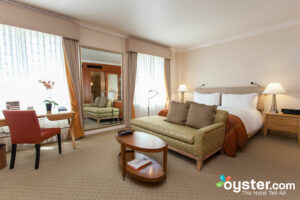 This is one of the San Francisco's most special hotels. One block from busy Union Square, the 110-room boutique hotel is an enclave of quiet luxury and pampering service. The posh rooms come with Nespresso machines, flat-screen LED TVs, limestone bathrooms, and knitted cotton Ploh robes. The Taj Campton Place restaurant is not just a hotel restaurant -- it is its own institution with a distinguished reputation and two Michelin stars. Travelers may also consider San Francisco's grande old dames -- like the nearby or the on Nob Hill.
This 177-room, upper-middle range boutique hotel near Union Square in a historic 1911 building blends has colorful, stylish decor influenced by Art Deco and Art Nouveau styles. Due to the historic nature of the building, some rooms can be on the small side, and street-facing rooms can experience traffic noise. But the hotel has lots of thoughtful extras (a free wine hour, free coffee and tea, free Wi-Fi), and in-room meal service comes from the excellent Gaspar Brasserie next door. All in all, it's a solid value for the area, though it may be worth comparing rates with the nearby (and also charming) Hotel Rex.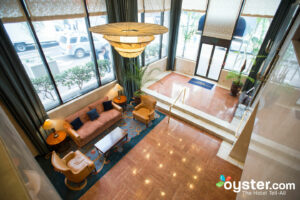 The 94-room Donatello Hotel is an upper-middle-range, all-suite property conveniently located a block away from San Francisco's Union Square. Spacious suites offer wet bars with microwaves, coffeemakers, mini-fridges, and sinks, plus sleeper sofas means that families with kids are frequent visitors. There's also an on-site Italian restaurant. The club lounge is open to all guests and offers a lovely outdoor terrace as well as free hot beverages like coffee and tea. Other amenities include a large fitness center, whirlpool, sauna, and massage services. Guests should note, however, that noise in street-facing rooms can be a problem and that parking is expensive. The Handlery Union Square Hotel nearby has a pool but rooms lack the microwaves and sleeper sofas found here.
The 91-room Hotel Abri is a stylish haven near Union Square, with concierge services, an Italian restaurant and bar, a boardroom, a 24-hour business center, and a sundries store. Modern rooms have flat-screen TVs and mini-fridges; suites have living rooms and DVD players. It's a great upper-middle-range value for the central location, but it's worth comparing rates with the more upscale Hotel Nikko (which has an indoor pool) and the iconic Sir Francis Drake, which are sometimes not much more expensive.
The 153-room, mid-range Hotel G San Francisco is a modern haven in the heart of Union Square, with 24-hour front desk service, on-site dining and cocktails, an ultramodern fitness center, and an elegant meeting room. Industrial chic rooms, some with city views, have flat-screen TVs, sleek furniture, and Nespresso coffeemakers. The exposed cement flooring -- so much a part of the look here -- and bustling streets below can, however, make the rooms noisy -- it's the tradeoff for a prime location.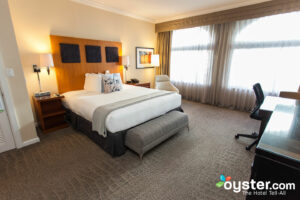 A sexy 202-room property that doubles as a hip art gallery, the Hotel Zelos San Francisco (formerly Hotel Palomar) has spacious, comfortable rooms, free coffee and tea in the mornings, free Wi-Fi, and an upscale restaurant on the 5th floor. Other downtown boutiques may cost less, but the Zelos is a cut above for a hip, romantic getaway.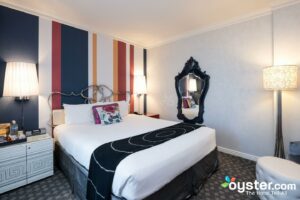 This stylish boutique hotel is one of the best upscale options near Union Square. It's not the cheapest option in this pearl category (the nearby Clift and Hotel Nikko often have lower rates), but many guests will prefer it for its fun, eclectic decor and thoughtful freebies. The rooms are on the small side but have comfortable beds, quirky-yet-elegant style, and modern technology. The lobby and "living room" are great places to hang out, especially for the free wine receptions and morning coffee.
Four-pearl Hotel Zeppelin stands out from the chain masses with funky yet carefully curated '60s-themed decor and a boutique vibe. An upscale, casual-cool atmosphere is on display everywhere, from the cozy lobby bar with exposed-brick accents to the popular restaurant Rambles to the downstairs game room and lounge. There's also a small gym, free bike rentals, and room service. The 196 rooms and suites are chic, though they run small, with funky bathrooms wallpapered in psychedelic lettering plus amenities like Nespresso machines, mini-fridges, and free bottled water. The location is ideal, near Union Square's high-end shops and public transit. The area is pricey, though, and Hotel Zeppelin is no exception, charging a nightly resort fee, plus extra for breakfast and parking. For a more classic upscale vibe, consider Sir Francis Drake.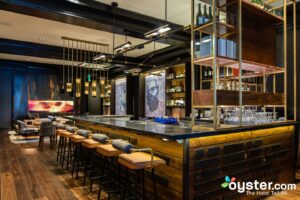 This 94-room Union Square boutique, themed after 1920s and '30s literary salons, is a bit quirky, with fairly hands-off service and few amenities. But the tiny quarters are nicely furnished with up-to-date amenities, there's a daily wine hour in the reading-room-style lobby bar, and an on-site bistro offers up well-priced Californian fare.
This mid-range boutique hotel, located just across the street from the Chinatown gates, has plenty of personality and freebies (a free wine hour and free freshly baked afternoon cookies, to name a few). The lobby is bright and funky and rooms have quirky, charming decor, but they're on the small side, some can get serious street noise, and there are window air conditioners rather than central air. All in all, it's a fun, excellent choice for the price, though it's worth comparing rates with the Hotel Rex, which also has a free wine hour, a pet-friendly policy, and boutique charm.
More vintage than executive in most aspects, this mid-range hotel is a good value for San Francisco's Union Square neighborhood. It occupies an historic 1912 building with lots of character, and as of 2015 was in the process of being updated. With amenities like On Demand TV, minibars, and meeting space, the 107-room property feels more like a boutique than a large hotel. There's a somewhat trendy restaurant serving new American cuisine, and free wine is served every evening. Rooms are modern and have minibars, but are generally on the smaller side.
The 99-room Herbert Hotel is a modernly designed historic building on the Powell Street cable car line near Union Square. Rooms are hip and contemporary, with brick walls, flat-screen TVs, and mini-fridges, but lack air-conditioning. Economy Rooms share bathrooms. Wi-Fi is free throughout the hotel, and there's luggage storage on-site, and while the simple hotel doesn't have any on-site dining options, there are plenty of places to go out in the surrounding area. As a value option, rates are low for downtown San Francisco.
The 131-room Hotel Union Square is a modern, streamlined hotel in a historic building in the heart of San Francisco's Union Square. Popular with guests seeking a central location, this property has cozy, sometimes small rooms with coffeemakers and flat-screen TVs. There is a cable car line directly in front of the hotel and perks include an afternoon happy hour with free wine and free morning coffee. Wi-Fi is free, but some guests have complained about weak soundproofing and dark, interior-facing rooms.