Best Value Hotels in Union Square, San Francisco
Take a look at the best value hotels in Union Square.
See All Union Square Hotels
1
This budget, 25-room bed-and-breakfast is situated in a prime spot between Union Square and Nob Hill, with many of San Francisco's attractions within easy walking distance and public transportation. The cozy, family-owned hotel is best suited to adult travelers, couples, and families with older children -- particularly those who appreciate meeting other guests over breakfast, which includes fresh baked goods. Rooms are individually decorated and full of antiques, and a friendly house cat functions as the hotel's mascot. Guests wanting more amenities along with a homey vibe could consider the Nob Hill Hotel, which has a gym and restaurant.
2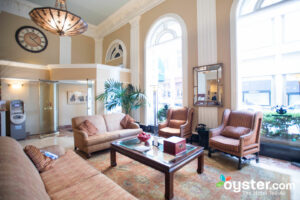 The mid-range, 137-room Chancellor Hotel right off Union Square doesn't have loads of amenities, but for those seeking a great, central location and a bit of boutique charm, it might fit the bill. Rooms are small but clean; decor is modern, but the age of the building does show in places (such as the machine stucco walls). There are a cozy restaurant and bar on-site, and guests are offered free use of a gym and pool a block away. Free drinks and snacks are always on offer in the lobby. All in all, it's an excellent pick given the reasonable price, though it may be worth comparing rates with the nearby Hotel Triton.
3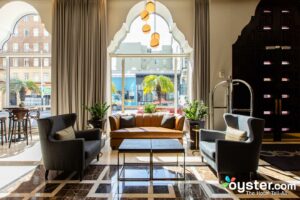 This Union Square boutique -- a member of Marriott's Autograph Collection since 2013 -- has 171 up-to-date, well-appointed rooms that deliver the right luxuries -- pillow-top mattresses, flat-screen TVs, and free Wi-Fi -- in a stylish package. A fitness center, business center, great service, and an on-site restaurant make this hotel one of the best options in its area and price range.
4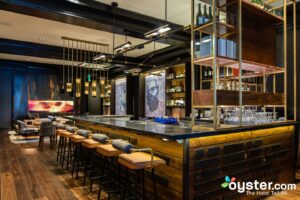 This 94-room Union Square boutique, themed after 1920s and '30s literary salons, is a bit quirky, with fairly hands-off service and few amenities. But the tiny quarters are nicely furnished with up-to-date amenities, there's a daily wine hour in the reading-room-style lobby bar, and an on-site bistro offers up well-priced Californian fare.
5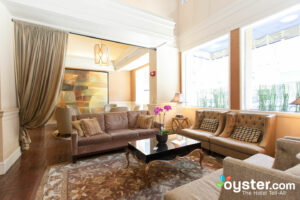 Situated just a two-minute walk from Union Square and in easy walking distance to a plethora of shops, eateries, and public transport options, the lower-middle-range Hotel Cartwright is an ideal spot for budget-minded travelers ready to explore the city. The 114-room hotel occupies a 1915 building and maintains historic charm in the lobby and reception areas with wood and vintage accents and molded architectural details. Small rooms feature en-suite bathrooms, flat-screen TVs, and coffeemakers, but have tired decor, no air-conditioning, and can get street noise. But guests appreciate the hotel's free Wi-Fi and pet-friendly policies. Travelers looking for a vintage-style property may want to compare rates with the nearby Hotel Rex.
6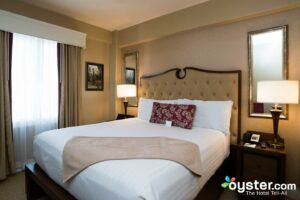 King George Hotel is a historic three-pearl property with a great central location right next to Union Square and close to attractions, restaurants, shops, and public transport. Its 153 elegant rooms come with flat-screen TVs, work desks, tablets, and coffeemakers, though not all have air-conditioning and some get bothersome street noise. Other downsides include dated interiors and no proper restaurant, but there is a breakfast buffet available (for a fee), as well as a bar, 24-hour room service, and meeting rooms for rent. Travelers might also want to consider Hotel Union Stay which has a more modern style and a free wine hour.
7
The 99-room Herbert Hotel is a modernly designed historic building on the Powell Street cable car line near Union Square. Rooms are hip and contemporary, with brick walls, flat-screen TVs, and mini-fridges, but lack air-conditioning. Economy Rooms share bathrooms. Wi-Fi is free throughout the hotel, and there's luggage storage on-site, and while the simple hotel doesn't have any on-site dining options, there are plenty of places to go out in the surrounding area. As a value option, rates are low for downtown San Francisco.
8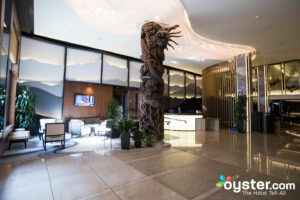 This budget hotel in the Union Square area, on the edge of the sketchy Tenderloin neighborhood, has a lounge and restaurant, and slightly more personality than nearby chain hotels. Rooms are small and look a bit dated, and those above the nightclub are not for light sleepers. It's worth it to compare prices with nearby three-pearl properties, such as the Handlery Union Square, which at a similar or slightly higher point, has a heated pool.
9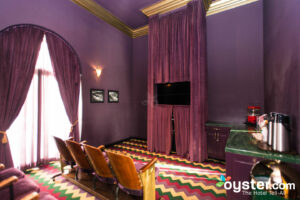 The 65-room Hotel Bijou is a budget-friendly property with colorful and fun decor in San Francisco's Tenderloin area, near Union Square. The hotel has old-time movie seats in a small theater, a casual buffet breakfast room, and two meeting rooms. Classic, no-frills rooms have flat-screen TVs and writing desks, and some have street views, which can make them noisy. Rooms lack safes, mini-fridges, and coffeemakers. For moderately priced rooms with more perks, check rates at the nearby Hotel Abri.
10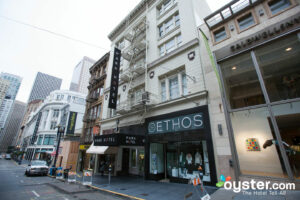 A budget property in an upscale area, the Park Hotel is clean and well located near Union Square. It's an option for guests looking for the basics — a bed and shower — and who don't mind shared bathrooms, in a prime location, though it might be too spartan for some. It's worth comparing rates with The Mosser, another two-pearl property with slightly more style just south of Market Street.