Best Cottages in Sanibel Island, FL
Located on the Gulf of Mexico in Southwest Florida, Sanibel Island entices with its beautiful, uncrowded beaches, renowned for their white sand, seashells, and sunsets. About 30 miles of bike trails allow visitors to easily explore the island's beaches and serene natural surroundings. Here are Sanibel's best cottage stays.
See All Sanibel Island Hotels
The gulf-side Beachview Cottages sits in the middle of Sanibel Island, a short drive from the stores on Tarpon Bay Road. The property has been around for decades, and, despite a renovation, feels unabashedly '80s in terms of decor. Datedness aside, Beachview has tons of barefoot appeal thanks to its relaxed grounds, which consist of tidy packed-sand paths lined with palm trees leading to 22 airy bungalows -- all of which have small kitchenettes, flat-screen TVs, and screened-in lanais. Some of the bungalows have direct views of the water, though the majority of them are set back from the beach. None are more than a few hundred feet from the water.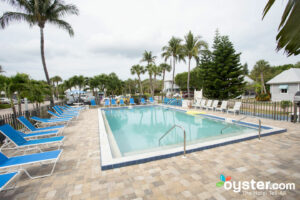 The 33-room Shalimar Cottages and Motel is a family-friendly budget property located on 300 feet of shell-filled sands on the Gulf of Mexico. (These are the closest accommodations to the beach in the area.) The one- and two-bedroom cottages, motel rooms, and apartments have kitchens and screened patios, some with beautiful beach views. Rooms have thin walls, however, and daily housekeeping is not included, but the property is clean and well-maintained. The grounds include a lovely outdoor pool surrounded by lounge chairs and shaded tables, a picnic area with waterfront barbecues, and shuffleboard and basketball courts. Laundry facilities and kayak and bike rentals are available -- it is a five-minute bike ride to Bailey Tract, shops, and eateries.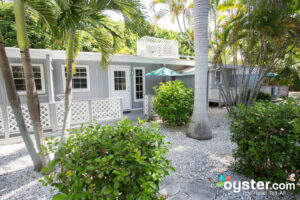 The quiet and cozy Seahorse Cottages is a budget boutique hotel with four cottages -- and, typically, limited availability. The property is nestled in a quiet area of Old Town Sanibel, a quaint village in the east end of the island, just a couple hundred feet from Lighthouse Beach and its historic lighthouse. The four cottages include a studio, two one-bedrooms, and a two-bedroom option; their eclectic and somewhat outdated decor -- antique oak furniture, seashell lamps, floral patterns -- fits with the easygoing feel of the location. Each cottage has a furnished private deck, living room, full kitchen, flat-screen TV, and free Wi-Fi. The hotel offers a beautifully landscaped pool and barbecue facilities, as well as free bicycles, beach chairs, and wagons for guests' use. There's also a seashell cleaning station, as Sanibel is known for having beautiful seashells.
With rustic grounds and brightly colored clapboard cabanas wedged between the bay and gulf, Castaways Cottages of Sanibel exudes island-casual ambience. The 34 simple, stand-alone cottages feature kitchenettes, wicker and whitewashed furniture, shell-motif mirrors, and the occasional slight, such as a malfunctioning air-conditioning unit or loose-hinged door. The property has a small outdoor pool and a working marina that gives access to gulf and bay, and can accommodate boats up to 21 feet. Beach chairs, kayaks, canoes, and bikes can be rented for a daily fee.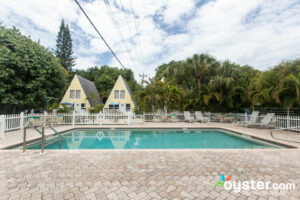 Anchor Inn & Cottages is a cheery property with lush grounds, tidy inn rooms, and adorable A-frame cottages -- far and away the most charming room category. Cottages offer two bedrooms (one lofted), separate living areas with sofa beds, and full kitchens with ovens, as well as wood-beamed ceilings and private front porches. Anchor Inn's location, in Old Town Sanibel along tree-lined Periwinkle Way, is pretty and restful, though it may disappoint beach lovers who want to be closer to the sand. The bike path paralleling the road in front of the inn connects to over 30 miles of trails that wind through the island. (The inn offers bike rentals for a fee.)
Waterside Inn on the Beach is a colorful, laid-back property, comprising multi-unit buildings and cottages right by the beach. The structures are laid out around a central heated swimming pool, and there are gas barbecues, a shuffleboard court, and bikes rentals. The hotel's 27 units range from hotel rooms to condos and independent cottages with full kitchens. Pets are welcome for a fee, but boats and trailers are not. There's very little traffic in Waterside's quiet residential neighborhood, and beach crowds are few.
The 32-room Seaside Inn is a modest beachfront property that appeals to families and couples. Here, one- and two-story clapboard-sided buildings surround a small pool in a U-shaped configuration that opens up onto the beach. This hotel's beachfront location is unmitigated -- there's little between the rooms and the sand besides the pool and a few tufts of grassy dune. The property is set slightly back from East Gulf Drive and enjoys a peaceful setting isolated from neighboring properties by palms and bushes. Seaside Inn has three different unit configurations: rooms, suites, and cottages, the latter of which are housed in one-story buildings to one side of the pool. Suites and cottages both have kitchenettes. All units have minimal decor and outdoor space.