Best Luxury Hotels in Seminyak, Bali
When you're ready to retreat from Seminyak's cafe-packed streets or DJ-driven pool parties and nightclubs, these nine elegant, Zen-filled resorts — with their green gardens, luxurious suites, and peaceful, private villas — will transport you to another Bali altogether. Take a look at our list of the top luxury hotels in Seminyak, Bali.
See All Seminyak Hotels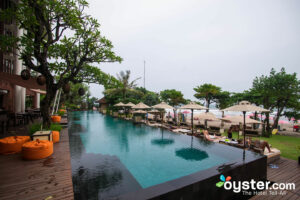 The 60-room Anantara Seminyak Resort & Spa, Bali, is a luxury boutique resort located right on picturesque Seminyak Beach. The all-suites accommodations have a clean-lined, Zen-inspired aesthetic and walk-in rainfall showers. The hotel has two pools -- one infinity-edge, overlooking the beach and the ocean; the other, surrounded by a lush, serene courtyard. Two acclaimed Thai-Indonesian restaurants include a rooftop that's one of Seminyak's coolest nightlife spots. Anantara Spa is one of the island's most decadent spas, offering a full range of beauty and wellness treatments.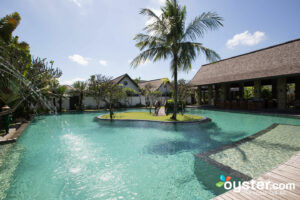 The 52-room Samaya Bali is an all-villa, beachfront luxury property offering amazing ocean views throughout, with restaurants and attractions a five-minute walk away. Modern Villas have humungous bathrooms with jetted tubs and rainfall showerheads, private outdoor pools, free minibars, and 24-hour butler service, but some have minimum stay requirements. Hotel highlights include beach access and two outdoor pools, and there are two on-site restaurants and an included a la carte breakfast. Other features include a contemporary spa and a fitness center with free yoga classes along with free Wi-Fi and a free area shuttle. This is one of the top options in the area; The Layar is comparably luxurious but not on the beach.
Sixteen private villas have beautiful private gardens and pools, as well as open-air living rooms with kitchenettes and dining areas. Massive, luxurious bathrooms are outfitted with soaking tubs and walk-in rainfall showers. Other lavish extras include a host of freebies like breakfast, afternoon tea, and daily fruit baskets, plus there's a spa on-site. The gorgeous, lush grounds include a stunning outdoor pool and a restaurant, and though the beach is a bit far, the hotel offers free area shuttles (as well as airport transfers). Travelers seeking something closer to the beach might want to consider the Oberoi Bali or Anantara Seminyak Resort & Spa, both of which are beachfront.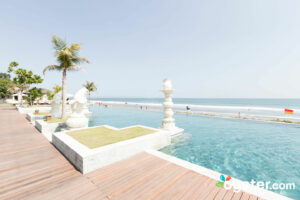 The Seminyak is a relatively small luxury resort with direct access to a sandy beach and within easy walking distance of restaurants, shops, and nightlife. The hotel's 105 stylish rooms and private villas have local accents like wood carvings and polished hardwood floors plus amenities such as free Wi-Fi, flat-screen TVs, deep soaking tubs, and iPod docks. Villas have private pools, and open living and dining areas overlooking the garden. The hotel has two restaurants, a spa, a fitness center, and daily activities for all ages. But the highlight here is the oceanfront infinity pool, complete with stunning sea views and a lounge area with bar service
Though located in the heart of the tourist area in Seminyak, this wellness-oriented luxury hotel and spa offers tranquility and respite. Rooms and private villas, as well as common areas throughout the hotel, have a simple and calm style that utilizes natural colors and elements to create an organic, healthy vibe. The Deluxe Rooms are not large, but the rates include daily spa treatments, while the spacious villas offer private pools or jetted plunge pools. The spa offers an array of treatments, while the on-site restaurant serves fresh, organic fare. There's also a wellness room for yoga as well as a beautiful outdoor mineral pool.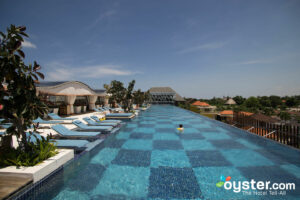 The luxury, 155-room TS Suites Leisure Seminyak Bali is a trendy and lively property near the beach and nightlife, with a huge array of on-site features. For starters, it offers a 24-hour rooftop pool and bar, 12 restaurants, a modern fitness center, and a nightclub. The trendy guest rooms have deep soaking tubs and include free minibar items; rooftop villas are also available. The party atmosphere can be disrupting in rooms, which tend to lack soundproofing. The Anantara Seminyak Resort & Spa, Bali offers a quieter -- albeit pricier -- beachfront vacation.
The 15-room Amana Villas is an eco-friendly luxury hotel in a busy, central neighborhood of the Balinese beach destination of Seminyak. All rooms are sleek and modern villas, constructed in a clean-lined Zen-inspired style from locally sourced or recycled materials, and have private infinity pools, iPads and iPods, and soaking tubs. Some have fully-equipped kitchens, waterfall features, and outdoor soaking tubs; it's worth noting that staircases between villa levels are outdoors. All villas come with full butler service, as well as the iConcierge iPhone app that allows guests to reach the butler with just a button, and an excellent free breakfast is delivered to the villa daily.
The Kayana Bali is a luxury boutique hotel with 24 stand-alone villas, each with a private pool and an outdoor lounge. Located right in the heart of vibrant Seminyak and a short walk from the beach, the property draws couples and honeymooners with an upscale spa, a serene infinity pool, and a stylish restaurant serving traditional Balinese and international cuisine. Rates are steep for the area, but the hotel offers a number of great freebies including breakfast, Wi-Fi, airport transfer services, shuttles to local restaurants and shops, and afternoon tea with Balinese cakes.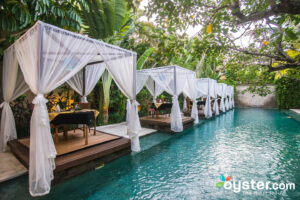 The Elysian is a luxury boutique hotel offering a romantic, peaceful stay a short distance from Seminyak Beach and world-famous Ku De Ta beach club. Its 26 One- and Two-Bedroom Villas are stylish and luxe, with private pools, contemporary decor with artsy local accents, and upscale amenities such as deep soaking tubs and Apple TVs pre-loaded with movies.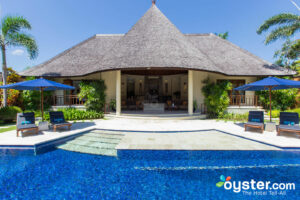 The 18 spacious villas have beautiful gardens, private pools, large living rooms, full kitchens, dining areas, and modern bathrooms with showers and soaking tubs that are partially open-air. Free made-to-order breakfast is provided daily, as are daily fresh fruit arrangements and afternoon tea. Though the property lacks a restaurant, bar, or fitness center, it offers a host of conveniences including spa services and free airport transfers.