Best Value Hotels in Seoul
Take a look at the best value hotels in Seoul.
See All Seoul Hotels
1
The three-pearl Grand Hotel Myeongdong is well-located in a popular shopping and business district, just a three-minute walk from a metro stop. The 50 rooms are modern with neutral tones, flat-screen TVs, coffeemakers, and mini-fridges. The hotel doesn't have too many features beyond a western breakfast (for a fee), a rooftop garden, free wine hours on Fridays, and a free laundry room. A good alternative is Fraser Place Namdaemun Seoul which has a gym and lovely spa area with hot tubs, a sauna, and showers.
2
This 78-room, three-pearl hotel is located smack in the middle of Seoul's famous shopping district -- Myeongdong. This is a fresh and trendy hotel with a youthful, minimalistic style. Rooms are austere, but playful -- with a woodsy theme and a chic and spartan style incluing features like hardwood platform beds. Modern conveniences like flat-screen TVs and free Wi-Fi are also included. With a Terrace Lounge overlooking the bustling streets below, a small fitness area, and a children's playroom, the hotel is ideal for families and tourists wanting to be within easy access of shopping and the metro.
3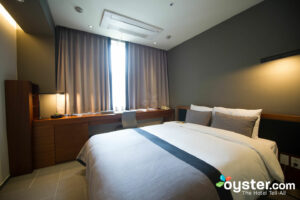 ShinShin is a mid-range business hotel located in the heart of Seoul, close to subway and train connections. Its 75 guest rooms are a bit small, but they're equipped with convenient amenities like mini-fridges, docking stations, electric kettles (but no tea or coffee), and free Wi-Fi. On-site features, however, are few: breakfast (charged extra) is served in the dining room, where there's also a self-service bar, while a small business center offers computer and printer access. Other extras include free tea, coffee, and homemade cookies in the lobby, and free Wi-Fi throughout the hotel. Travelers may want to compare with the nearby Prince Hotel Seoul, a similar property that offers good value for money.
4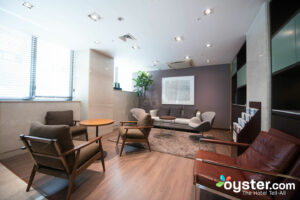 Prince Hotel Seoul is a 100-room, three-pearl property with a central location that's ideal for tourists wishing to explore Seoul's Myeongdong shopping district. Rooms are simple and somewhat spartan, but are clean, contemporary, and equipped with safes and electric kettles. There are even traditional ondol rooms, with floor seating and sleeping mats on the floors. The restaurant offers tasty food, including a solid breakfast buffet. However, the hotel doesn't have much for families and is a bit bland overall. For something with more pizazz, check out the Metro.
5
The Ever8 Serviced Residence is an upper-middle-range option with 180 fresh and modern apartment-style rooms. The Seodaemun district location is convenient, and the hotel is close to two metro stations and two bus stations. Many restaurants and shops are within easy walking distance, as well as major universities. Rooms are modern and minimalistic, and kitchenettes are fully equipped with everything needed for simple cooking and dining. Some rooms have stunning views of the city. There's a 24/7 coffee shop as well as an American buffet breakfast (for a fee). The fitness center is bright and has a good selection of equipment, and there's a convenience store and nail salon. As an alternative, travelers could check out the ShinShin Hotel, which has lower rates, but lacks a cafe or gym.