Best Beach Hotels in Sri Lanka
Take a look at the best beach hotels in Sri Lanka.
See All Sri Lanka Hotels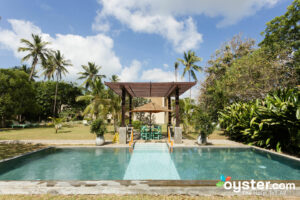 The gorgeous, upscale Buckingham Place boutique resort is a peaceful, secluded retreat with Rekawa Beach access and within a wildlife sanctuary. Its 16 massive contemporary rooms and suites have huge bathrooms and balconies, terraces, or private gardens offering fabulous Rekawa Lagoon views. Though the five-acre grounds provide many spots to kick back, including two pools, gardens, and a Mezzanine Lounge, there's no gym, and both the massage room and garden pool are tiny. The Oceanfront restaurant is pricey, but has great food, and an all-day breakfast is included in rates. The free minibars in rooms and free canoe and bike rentals are also standout perks. The sleepy village surroundings are isolated and airports are over three hours away. Closer to Tangalle, Nuga Eden Villa Tangalle is much cheaper and has a bigger pool, but is far less luxurious.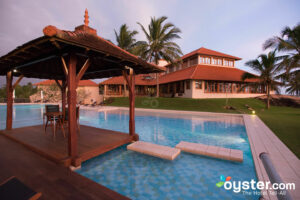 Saman Villas is arguably the most romantic and luxurious resort in southwestern Sri Lanka. The 27 rooms, set on a grassy cliff separated by two beaches, have elegant furnishings, big outdoor bathrooms, and sea views; many come with private pools. The main infinity pool is not to be missed, though, and only gets prettier with nightly sunsets. Private dining can be arranged on secluded spots around the grounds, and the open-air restaurant serves high-quality cuisine with changing menus. Despite somewhat high prices for food and drink, treatments at the spa seem reasonable by comparison. The property also has a fitness center, library, and free Wi-Fi.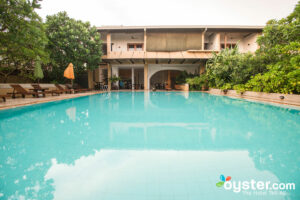 This five-pearl luxury boutique has 12 huge suites with polished concrete floors, imported Indo-Asian antique furniture, private plunge pools, top-shelf snacks and drinks, ocean or garden views, and outdoor lounge space. On-site, guests have access to open-air public spaces including a large lobby, breezy restaurant, small poolside bar, gym, and gigantic spa treatment room. There's also a large stretch of wild beach out back and a few traditional puppets hanging in the halls. It's the best, and priciest, hotel in the Hikkaduwa area. Saman Villas up the coast is a comparable property worth considering.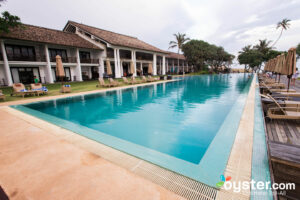 Ideal for those not worried about watching their wallets or who are willing to spend a bit more to have the expected upscale hotel comforts of the Western world, The Fortress is a solid pick. Located in a quiet, yet convenient spot 30 minutes south of Galle, this 53-room boutique looks much larger from the street. Designed to resemble the famous Dutch Fort, here you'll find modern decor mixed with architectural styles from the Dutch and Portuguese colonial eras along with two pools, a narrow and un-swimmable beach, tasty meal options, a ton of activities, family-friend features, a gorgeous spa, and huge rooms with all the fixings.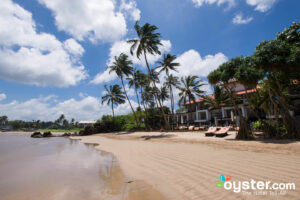 Ideal for couples or small groups of friends, CoCo Bay Unawatuna is a fresh and stylish spot along a quiet bay on the Indian Ocean, next to a fishing village. It's a five-minute drive to the main Unawatuna Beach area, and the Galle Fort takes about 15 minutes to reach by car. This small and upscale, 16-room boutique hotel offers crisp and bright rooms with hardwood floors, minibars, large jetted tubs, and options for private plunge pools or big decks. Oh, there's also those ocean views. Top features include a narrow pool, sundeck, a small pop art- and jazz-themed bar, and a casual restaurant serving international fare. For something with even more local character, it's worth considering the Thambapanni Retreat. Rates there are lower, but it's not on the beach.
This seven-room, upper-middle-range boutique hotel offers an elegant, relaxing setting where guests can get away from it all. Though difficult to reach given the dirt roads and distance from populated areas, the private feel and natural setting are stunning and peaceful. A gorgeous strip of undeveloped beach is at guests' disposal, shared only with nesting sea turtles during certain times. There's also a beautiful, large pool with a wading pool, set on a terrace shaded by palms and overlooking the sea. The service is impeccable, including meals whenever and wherever requested. Air-conditioned rooms are large and elegantly decorated, providing minibars, coffeemakers, and robes, but no TVs. Nature lovers should compare rates with Cinnamon Wild Yala, which has lovely rooms and amenities in the wilderness of the jungle.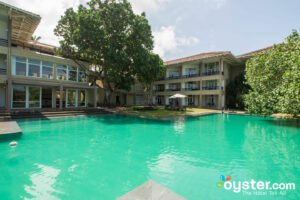 Heritance Ahungalla is an upscale 152-room beachfront resort with a huge building and a casual vibe. The colonial-style design and decor is reflected in the polished wood and stone floors, the locally woven fabrics, and the handmade art on the walls; it's the details that make the difference here. Guests can expect spacious rooms with stylish, contemporary nods to the colonial era, two large ocean-facing pools, tennis courts, a spa, five bars, and renowned cuisine at the three restaurants. The minor wear and datedness issues are a downside, but the resort is slowly refurbishing. The resort is popular with both couples and families, and there's a seasonal kids' club here, unlike at the also upscale Vivanta by Taj up the coast.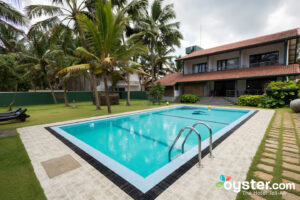 Sea Rock Villa is a contemporary boutique just outside Bentota. Its five rooms are clean, spacious, and simple with minibars, small flat-screen TVs, free coffee and tea facilities, and balconies that overlook the wild ocean waves. While the property is small, there's still enough room for a restaurant with two dining areas, a pool, private beach area, large lawn with badminton/volleyball court, and small library. A passenger van and tuk-tuks are available for transport, making it a convenient spot for those wanting a truly quiet and somewhat recluse beach vacation with when-you-want-it access to the outside world.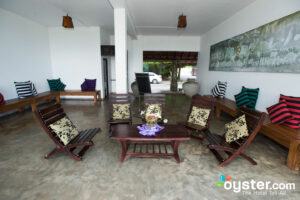 Sri Gemunu is a budget-friendly, family-owned spot flanked by the main road and a wild stretch of beach where it's not uncommon to spot locals fishing off the large rocks. All 20 of this boutique's barebones rooms are immaculately clean, come with sea views and terrace space; they are slightly dated. On-site you'll find mostly open-air space for lounging, including tables, chairs, and loungers set up to view the ocean; a simple restaurant and bar; and a relaxed, local vibe. Off-site, at the sister property, there's a pool and Ayurvedic spa center, though no transport is available.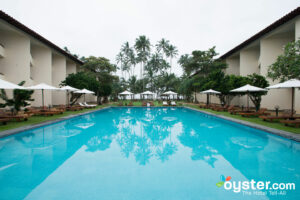 This simple, mid-range option in southwestern Sri Lanka is an excellent value. Open since 1983, the 88-room Hotel Mermaid tends to attract long-term vacationers (coming for 10 days or more) -- mostly couples from Europe, some of whom stay for three weeks. Standard Rooms (the majority) have teak furnishings, CD players, and balconies, and there are two pools, a spa, and fitness center. Guests will find plenty of lounge chairs in which to sit back and read a book, the preferred daytime activity. One restaurant serves varied buffet spreads and three bars pour the basics; all-inclusive packages are optional and there's also live entertainment a few nights a week. For more luxury and romance, check out pricier sister property Saman Villas down the road.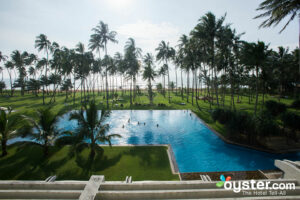 This contemporary, 140-room hotel offers competitive prices on the southwest coast of Sri Lanka. Designed by renowned local architect Geoffrey Bawa, the upscale Blue Water feels bigger than it actually is, with airy communal areas that reflect his trademark style of tropical modernism. Guests tend to spend daytime hours relaxing in sun loungers scattered around the outdoor lawn in front of the pool. Beyond a fence, there's a wide public beach that stays active with fishermen, though the strong current means it's not always safe for swimming. Modern rooms have private balconies and some bathrooms have separate jetted tubs. The property has four dining options, two bars, two tennis courts, a spa, and a sleek fitness room with yoga classes on request. Wi-Fi is free throughout.
Frangipani Tree is a small beachside boutique with nine suites that have a rustic, yet up-to-date, casual-chic vibe. Minimalist-style rooms are large with big outdoor bathrooms, polished concrete tile floors, and (tedious) door latches. Public space is slim, but includes a narrow pool, small dining area with a limited menu, tennis courts, grassy grounds, a small, unequipped beach area, and an unused TV and library lounge. Frangipani Tree is a place to unplug, so if you're looking for more than just a passive, disconnected type of holiday, you may want to venture further into the towns.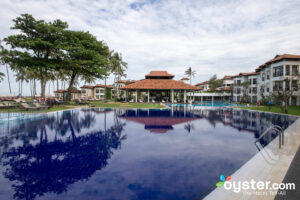 This 154-room, mid-range hotel on the west coast of Sri Lanka is situated along an uncrowded stretch of beige sand 30 minutes from the airport. Currents can be strong at the beach, so many European guests prefer to spend time at the two freshwater pools: a lengthy family-friendly one, and a quiet one next to the open-air spa. Meanwhile, sporty types can partake in tennis, racquetball, badminton, kayaking, and exercise at the indoor fitness center. The colorful, contemporary rooms are spacious and standalone villas are available. Though there are few dining options, the expansive buffet changes daily and there's an elegant a la carte restaurant (guests will have to take a taxi or drive to other spots). An animation team entertains throughout the day and night in the form of aqua aerobics, live music, theatre and karaoke. Keep an eye out for traditional local weddings in the event space.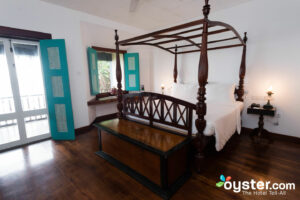 Designed by a famous Sri Lankan architect, the 85-room upscale Jetwing Lighthouse has a Dutch colonial feel; it's filled with Indo-Asian arty decor, spacious contemporary colonial rooms, and grassy courtyards, and maintains a keep-to-yourself atmosphere. With two wings (built 12 years apart), two pools (including one with a kids' pool), a rustic spa, handful of food and exercise options, and plenty of outdoor areas overlooking the wild and rocky coastline, this large boutique is ideal for those who want a private holiday with lots of space and options. However, for a quainter and quieter vibe, check out Era Beach by Jetwing, 20 minutes down the road.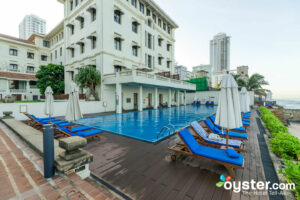 This four-and-a-half-pearl,158-room historic property is located on the waterfront in Colombo, next to popular Galle Face urban park and within easy driving distance of area attractions. It was built in 1864 and its colonial history is apparent throughout, thanks to Oriental rugs, hand-carved wooden accents, and even a small museum. Rooms are well-appointed, if a bit underwhelming, and outfitted with minibars, small flat-screen TVs, and free Wi-Fi, though some guests complain they're small. Extensive facilities include a saltwater pool with ocean views, spa, and 24-hour gym, as well as three restaurants, three bars, and a pub. It's worth comparing rates with the nearby Cinnamon Grand Colombo, which has more striking rooms and a happening scene.