Best Luxury Hotels in Sri Lanka
Take a look at the best luxury hotels in Sri Lanka.
See All Sri Lanka Hotels
1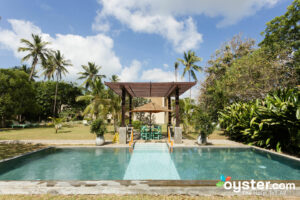 The gorgeous, upscale Buckingham Place boutique resort is a peaceful, secluded retreat with Rekawa Beach access and within a wildlife sanctuary. Its 16 massive contemporary rooms and suites have huge bathrooms and balconies, terraces, or private gardens offering fabulous Rekawa Lagoon views. Though the five-acre grounds provide many spots to kick back, including two pools, gardens, and a Mezzanine Lounge, there's no gym, and both the massage room and garden pool are tiny. The Oceanfront restaurant is pricey, but has great food, and an all-day breakfast is included in rates. The free minibars in rooms and free canoe and bike rentals are also standout perks. The sleepy village surroundings are isolated and airports are over three hours away. Closer to Tangalle, Nuga Eden Villa Tangalle is much cheaper and has a bigger pool, but is far less luxurious.
2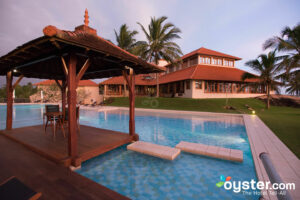 Saman Villas is arguably the most romantic and luxurious resort in southwestern Sri Lanka. The 27 rooms, set on a grassy cliff separated by two beaches, have elegant furnishings, big outdoor bathrooms, and sea views; many come with private pools. The main infinity pool is not to be missed, though, and only gets prettier with nightly sunsets. Private dining can be arranged on secluded spots around the grounds, and the open-air restaurant serves high-quality cuisine with changing menus. Despite somewhat high prices for food and drink, treatments at the spa seem reasonable by comparison. The property also has a fitness center, library, and free Wi-Fi.
3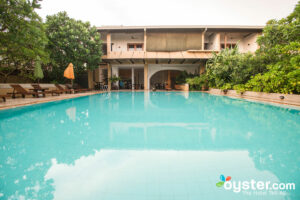 This five-pearl luxury boutique has 12 huge suites with polished concrete floors, imported Indo-Asian antique furniture, private plunge pools, top-shelf snacks and drinks, ocean or garden views, and outdoor lounge space. On-site, guests have access to open-air public spaces including a large lobby, breezy restaurant, small poolside bar, gym, and gigantic spa treatment room. There's also a large stretch of wild beach out back and a few traditional puppets hanging in the halls. It's the best, and priciest, hotel in the Hikkaduwa area. Saman Villas up the coast is a comparable property worth considering.
4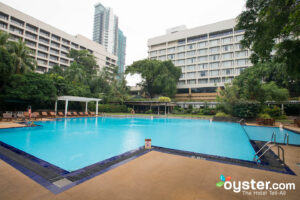 The 501-room, upscale Cinnamon Grand is a Colombo institution; it is a popular place for weddings and conferences, and has an air of importance and activity. All room types have quality amenities such as free coffee and turndown service, but some carpeting and bedding could use a style upgrade. There are two outdoor pools, a whopping 14 dining options, a large fitness center, and an adjacent Thai-based spa from Angsana (in other words, this is a big property and guests should expect to walk often). Late check-out requests are rarely granted, and beware that taxis through the hotel have higher fares than those on the street. Guest parking and Wi-Fi are free.
5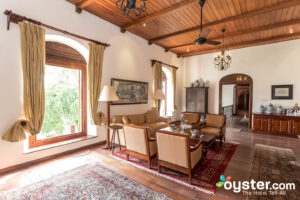 Set amid lush greenery, the 12-room Tamarind Hill by Asia Leisure is an upscale boutique, 10 minutes by tuk-tuk from Galle Dutch Fort. Colonial elegance here reflects 1764-built origins, and antique furnishings grace intimate spaces, indoors and out. Teak woods and tapestry rugs continue in vast rooms and suites with poster beds, bathrobes, and flat-screen TVs, plus private gardens in most. A tranquil outdoor pool, fine-dining eatery, and Ayurvedic spa round out the facilities, and the property's secluded feel is enhanced by its riverside location. The Fortress has more for kids, but it's pricier.
6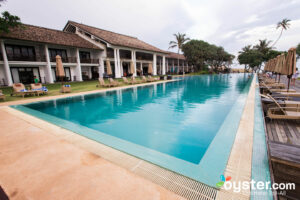 Ideal for those not worried about watching their wallets or who are willing to spend a bit more to have the expected upscale hotel comforts of the Western world, The Fortress is a solid pick. Located in a quiet, yet convenient spot 30 minutes south of Galle, this 53-room boutique looks much larger from the street. Designed to resemble the famous Dutch Fort, here you'll find modern decor mixed with architectural styles from the Dutch and Portuguese colonial eras along with two pools, a narrow and un-swimmable beach, tasty meal options, a ton of activities, family-friend features, a gorgeous spa, and huge rooms with all the fixings.
7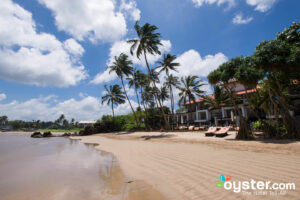 Ideal for couples or small groups of friends, CoCo Bay Unawatuna is a fresh and stylish spot along a quiet bay on the Indian Ocean, next to a fishing village. It's a five-minute drive to the main Unawatuna Beach area, and the Galle Fort takes about 15 minutes to reach by car. This small and upscale, 16-room boutique hotel offers crisp and bright rooms with hardwood floors, minibars, large jetted tubs, and options for private plunge pools or big decks. Oh, there's also those ocean views. Top features include a narrow pool, sundeck, a small pop art- and jazz-themed bar, and a casual restaurant serving international fare. For something with even more local character, it's worth considering the Thambapanni Retreat. Rates there are lower, but it's not on the beach.
8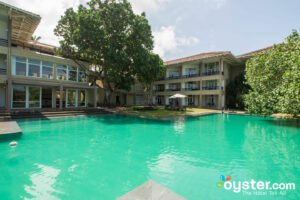 Heritance Ahungalla is an upscale 152-room beachfront resort with a huge building and a casual vibe. The colonial-style design and decor is reflected in the polished wood and stone floors, the locally woven fabrics, and the handmade art on the walls; it's the details that make the difference here. Guests can expect spacious rooms with stylish, contemporary nods to the colonial era, two large ocean-facing pools, tennis courts, a spa, five bars, and renowned cuisine at the three restaurants. The minor wear and datedness issues are a downside, but the resort is slowly refurbishing. The resort is popular with both couples and families, and there's a seasonal kids' club here, unlike at the also upscale Vivanta by Taj up the coast.
9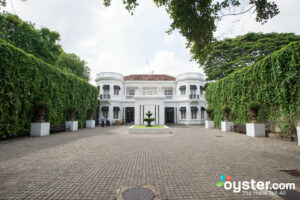 Formerly serving as the personal residence of two Sri Lankan prime ministers, the Paradise Road Tintagel Colombo comes with some serious prestige under its belt. The property features 10 upscale rooms with personal decor, a tiny but modern pool, a small gym, a tiny spa area, elegant dining and bar options, a leather-bound library, and top-notch art in every nook. This boutique (which has hosted the Prince of Wales) is an ideal spot for large groups or families visiting the area, and its proximity to the political and business center of Colombo makes it a good option for business travelers, too.
10
The upscale Cantaloupe Levels is a calm, boutique oasis with a chic design and panoramic views of the ocean. There's little in the immediate surrounds, but the beach is a 10-minute walk away and the attractions of Galle are roughly a 20-minute drive. The vibe is peaceful and intimate, particularly with just 9 rooms and suites. The stylish rooms have flat-screen TVs, tea- and coffee-making facilities, minibars, and huge bathrooms with jetted tubs, plus most overlook the ocean. Local and Asian cuisine at the restaurant are delicious, while a sleek pool and spa offering massage treatments round out the facilities. Travelers looking to be right along the beach should consider , which also has free yoga classes, a gym, and bar with daily happy hour.
11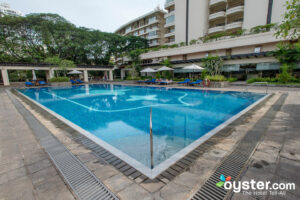 An upscale 300-room property located in Colombo's well-to-do Colpetty business district, the Taj Samudra Colombo is an ideal pick for business travelers. Stuck somewhere between faded glory and contemporary style, there's outdates decor and fixtures in one area and sleek, contemporary furniture in another -- this goes for everything from rooms to restaurants. There's a host of fitness options and dining options on site, plus an outdoor pool with hot tub, tons of event space, and gorgeous 11-acre gardens. If you're looking for quality over quantity, then you may want to check out one of the city's many boutique options, like Colombo Courtyard.
12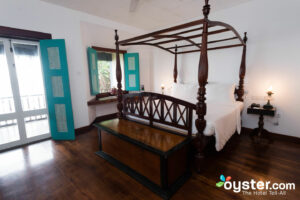 Designed by a famous Sri Lankan architect, the 85-room upscale Jetwing Lighthouse has a Dutch colonial feel; it's filled with Indo-Asian arty decor, spacious contemporary colonial rooms, and grassy courtyards, and maintains a keep-to-yourself atmosphere. With two wings (built 12 years apart), two pools (including one with a kids' pool), a rustic spa, handful of food and exercise options, and plenty of outdoor areas overlooking the wild and rocky coastline, this large boutique is ideal for those who want a private holiday with lots of space and options. However, for a quainter and quieter vibe, check out Era Beach by Jetwing, 20 minutes down the road.
13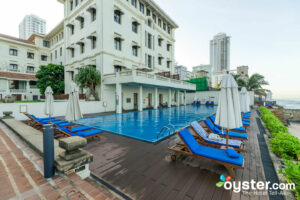 This four-and-a-half-pearl,158-room historic property is located on the waterfront in Colombo, next to popular Galle Face urban park and within easy driving distance of area attractions. It was built in 1864 and its colonial history is apparent throughout, thanks to Oriental rugs, hand-carved wooden accents, and even a small museum. Rooms are well-appointed, if a bit underwhelming, and outfitted with minibars, small flat-screen TVs, and free Wi-Fi, though some guests complain they're small. Extensive facilities include a saltwater pool with ocean views, spa, and 24-hour gym, as well as three restaurants, three bars, and a pub. It's worth comparing rates with the nearby Cinnamon Grand Colombo, which has more striking rooms and a happening scene.
14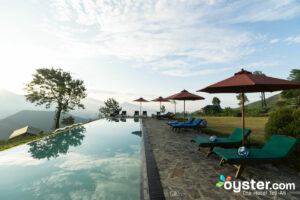 The 19-room Madulkelle Tea and Eco Lodge is an upscale hotel located in a remote setting, an hour-and-a-half away from Kandy. Though the outside of the hotel is unassuming, it has tasteful interiors and spectacular views of the Knuckle Mountains from almost anywhere on the grounds. All rooms except one are in platform canvas tents on the hillside with gorgeous vistas from the furnished terraces, though they create lots of noise when windy. Facilities include an open-air spa, infinity pool, restaurant with local fare, and hotel-organized excursions off the property. The Elephant Stables is a similarly luxurious hotel and closer to Kandy, but its urban location means it's also more expensive.
15
This spacious 160-room hotel in southwest Sri Lanka (near historic Galle) has a rare cliffside location with dramatic views of the Indian Ocean from several vantage points. Vivanta is Taj's upscale (versus luxury) brand, and modern rooms all have private balconies. Four dining options serve quality cuisine (a Taj trait) and a trendy bar has sunset views and upbeat music. Daytime activities are pretty restricted to the outdoor pool, spa, fitness center, and huge beach, but water sports and excursions can be arranged through guest services. For a more intimate stay and guaranteed ocean views from rooms, consider the slightly more luxurious (and expensive) Saman Villas.