Best Luxury Hotels in Playa de las Americas, Tenerife
Take a look at the best luxury hotels in Playa de las Americas.
See All Playa de las Americas Hotels
1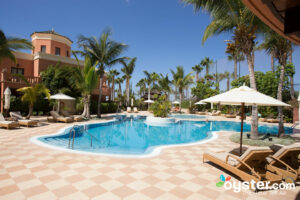 One of the most luxurious hotels in the Canary Islands, Hotel Las Madrigueras Golf Resort & Spa is a 57-room adult-only golf hotel on the border of Golf Las Americas. Manicured grounds and tropical foliage surround its Spanish-Colonial-inspired buildings, and a hushed atmosphere permeates inside and out. Spacious rooms and suites are regal and refined, with traditional decor such as hardwood floors and rich area rugs, plus conveniences like minibars, pillow menus, flat-screen TVs with satellite channels, and free Wi-Fi. Las Madrigueras' two restaurants offer outdoor seating, but note that terrace reservations go quickly. The hotel's heated pool, quiet spa and fitness center, and lush courtyard are peaceful, but the entire daytime atmosphere feels somewhat desolate, as most guests are out on the course. At night, a billiards room and piano bar provide some liveliness.
2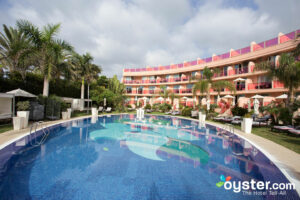 Hotel Sir Anthony is a boutique resort that's part of a larger complex shared with two rowdier -- and less chichi -- resorts. The 70 rooms and suites are unabashedly elegant, with high-end amenities (minibars even have full-sized bottles of top-shelf liquor), sleek bathrooms, and sea-facing balconies. Its location next to the beach in the heart of Playa de las Americas is among its most attractive selling points, although the lovely outdoor pool surrounded by grass and palm trees is not too shabby either. A great restaurant serving locally sourced fare and a spa with ample treatments are also available, but no fitness center directly on-site. Travelers who like the location but want to save some cash may prefer the more affordable Cleopatra Palace or Mediterranean Palace, both of which are part of the same larger resort complex.
3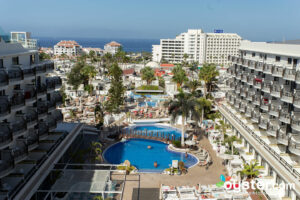 Tigotan Lovers & Friends is an upscale adult-only hotel with stellar facilities and 416 lovely rooms and suites, some of which were upgraded in 2016. All rooms have balconies and those that look out over the pool have particularly stellar views (particularly from the top floor), but the industrial views from the back of the building leave plenty to be desired. The main hub of activity at this property is at the main pool on the ground floor, which offers over 400 lounge chairs, a pool bar with an entertainment stage, and three hot tubs, the largest of which seats 16 people. There are two more infinity pools on the rooftop (and nude sunbathing) along with the hotel's own branch of Ibiza's iconic Cafe del Mar. Half-board and "exclusive" dining packages are available. Unfortunately, it's a 10-minute walk to the nearest beach, so travelers wanting to be right on the shore may want to consider the sea-facing Europe Villa Cortes instead.
4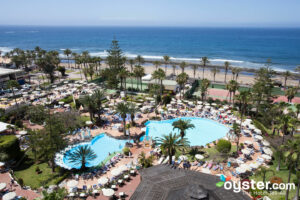 The upscale, beachfront H10 Las Palmeras was one of the first hotels in the area, but thanks to a 2015 renovation, it's also one of the freshest, with a bright, retro-modern look that is a major deviation from what is commonly found at Playa de las Americas hotels. But there's substance as well as style. In addition to trendy decor, the 519 rooms have mini-fridges, air-conditioning, flat-screen LED TVs, and balconies or terraces -- many with ocean views. Plus, Las Palmeras has so many features (three pools, five eateries, three bars, an exhaustive entertainment program...), you'd think it was in the middle of nowhere, not in the smack-dab center of town on a prime beachfront piece of land. Travelers looking for less of a big-resort experience could check out Aparthotel El Duque, a scaled-down all-inclusive that's a short walk from Costa Adeje's best beach.
5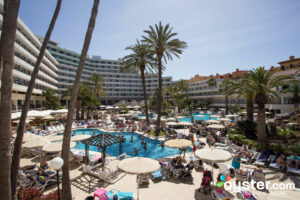 H10 Conquistador's monstrous concrete exterior commands the coastline, but the 485-room upscale resort makes up for its unsightly bulk with a surprisingly fresh and contemporary interior design, warmhearted service, and a considerable set of features. Three pools, a gorgeous spa, seemingly endless buffet, and three distinct a la carte restaurants are standouts among the substantial offerings, not to mention direct beach access. Rooms are a squeeze, but come with mini-fridges, flat-screen TVs, and balconies, many overlooking the ocean. In all, the property has across-the-board appeal for all sorts of guests -- families, couples, even the rare business traveler -- but those looking for a quieter vibe (and the same killer location) could check out Parque Santiago IV.
6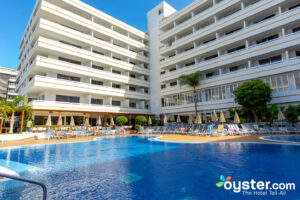 The 191-room Sunprime Coral Suites and Spa is an upscale, adult-only hotel with vibrant and modern decor. Contemporary and colorful guests rooms are outfitted with free Wi-Fi, flat-screen TVs, and well-equipped kitchenettes, as well as furnished balconies. Note that some previous guests have complained of noise, particularly in road-facing and lower-level rooms. The hotel's central location puts guests within an eight-minute walk of the famed Playa de la Americas, as well as near restaurants and bars. An array of on-site features include a large outdoor pool, expansive spa, gym, and well-reviewed restaurant with all-inclusive options. Visitors traveling with children under the age of 16 might enjoy the four-pearl, beachfront H10 Costa Adeje Palace.