Best Kid-Friendly Hotels in Trinidad and Tobago
Do you have a little nature lover in your brood? A budding swashbuckler? Consider a family excursion to the Caribbean islands of Trinidad and Tobago. Naturalists and excitement-seekers can not only delight in beautiful beaches, but they can also visit sea turtle nurseries and hummingbird sanctuaries and snorkel, kayak, wind-surf — even zipline through rainforests. Here are the kid-friendly hotels to come home to at the end of an adventure-packed day (or a lazy beach one).
See All Trinidad and Tobago Hotels
1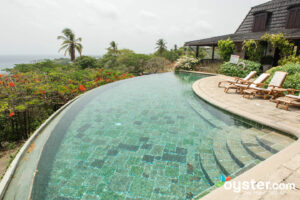 The Villas at Stonehaven is situated on a quiet stretch of road that runs along the Caribbean Sea northeast of Crown Point. There's a bird sanctuary next door and a beach about 15-minutes downhill on foot that can be reached by car in just five minutes. The massive, stand-alone villas feature a two-story, open-concept floor plan with all of the amenities of a high-end home: gourmet kitchens, multiple flat-screen TVs, en-suite bathrooms, and air-conditioning, plus bottled water and free Wi-Fi. In addition, all villas offer a large outdoor terrace with a private infinity pool and a hot tub with stunning water views. As the property is built into a hillside, villas near the top offer markedly better views than those below.
2
An upper-middle-range beachfront property, the Grand Magdalena (like many resorts on Tobago) offers rooms at reasonable rates; the price covers a buffet breakfast, bicycle rentals, shuttles to a nearby beach, and numerous other freebies. Family-friendly features include a free kids' club and a large pool, while other amenities are the fitness center, spa, and numerous restaurant and bar options. Rooms are simple, and some furniture shows wear and tear, but all feature free Wi-Fi, flat-screen TVs, and best of all, ocean views.
3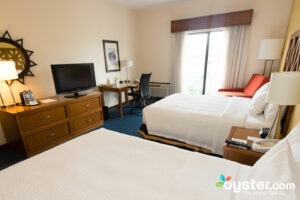 Adjacent to Port of Spain's famous MovieTowne complex, the three-pearl Courtyard by Marriott Port of Spain offers both a great location and a solid list of in-room and communal amenities. There's a pretty but compact outdoor pool and a modern restaurant, though breakfast costs extra. Each of the hotel's 119 rooms is clean, with a modern and slightly bland look, plus free Wi-Fi, a flat-screen TV, and a mini-fridge -- some also have private balconies.
4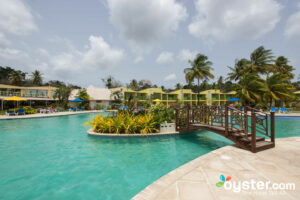 Situated in western Tobago, the three-pearl Turtle Beach by Rex Resorts overlooks Great Courland Bay -- home to nesting leatherback turtles in season. This resort has all of the trappings of a beachfront getaway at first glance, but it has seen better days. Much of the the hotel is dated and rundown, but it does have a dedicated kids' club and children's' pool, and all of its rooms are designed to accommodate families, so the atmosphere is kid-friendly without feeling "kid-centric." For those looking for a non-resort alternative, check rates at the nearby Bacolet Beach Club, where things are far more modern.
5
On paper, the Grafton Beach Resort ticks many of the essential boxes for a two-and-a-half pearl waterfront getaway, including a lively beach bar, open-air restaurant, and a clean pool. But an aging decor, mediocre food, and an often crowded public beach leave a lot to be desired. Each of the 78 rooms are spacious and dated, with mini-fridges, air-conditioning, and private balconies or terraces, some with ocean views. Travelers willing to part with a little more cash will be happier at Blue Haven Hotel, and intimate spot with ocean views and handsome rooms that's about 20 minutes away.