Best Kid-Friendly Hotels in Tuscany
Oyster knows what travelers look for in hotels. When we review properties in person around the world, we evaluate how every feature stacks up against the competition, from the rooms to the pools to the restaurants. So if you're planning a family-friendly getaway and need a place to start, you've come to the right place. Take a look at our expert top picks for kid-friendly hotels in Tuscany and get inspired!
See All Albinia Hotels
1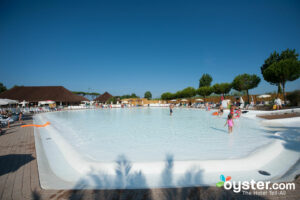 Park Albatros is a huge family-friendly, value, camping village located in San Vincenzo, a popular summer vacation destination on the southern coast of Tuscany. Surrounded by the Val Di Cornia nature reserve, the property is structured like a small town: There's a supermarket, a post office, a bank, and a pharmacy. There's also a water park consisting of lagoon-style pools, along with shops, and four places to eat. Guests can opt to stay in mobile homes or bungalows, which have kitchens, private bathrooms, and front porches; in campers; or in tents pitched on one of the park's 885 sites.
2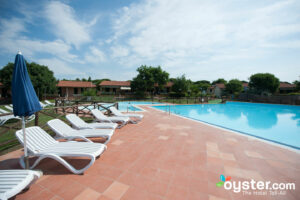 This 230-house mid-range holiday village may have a slightly inflated four-star rating as the two- and three-room houses have fairly basic furniture and a simple style. While Villaggio Mare Si has a wide selection of family-friendly activities, hardly any fall into the luxury category. Equipped with a kids' club which plans daily activities, children have their own dedicated pool, an arcade and game room, and an open-air playground to keep them entertained. Adults can take advantage of the tennis courts or compete in soccer games, relax in the TV room, or peruse the sports shop. The hotel also has a big pool with surrounding lounge chairs.
3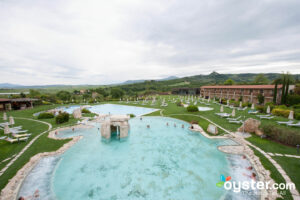 Part of a small luxury hotel chain originating in the Italian Alps, the Adler Thermae Spa and Relax Resort is a relaxing retreat nestled in a small thermal village in the Siena countryside. This all-inclusive resort has both indoor and outdoor thermal pools, as well as a freshwater pool with a "Wild River" current channel, and a thermal pool for children. There are all sorts of amenities for a relaxing or active escape, with miles of hiking and biking trails, along with bike rentals, and a kid's club with supervised activities for children.
4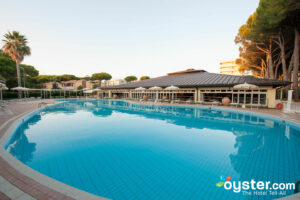 With direct access to the beach, four pools, a spa, a fitness center, two restaurants, and a great beach bar, this modern, beachfront hotel provides a relaxing getaway. The four-pearl, family-friendly Marinetta is located in Marina di Bibbona, a popular summer destination, and is surrounded by other hotels and private summer residences. The hotel has four outdoor pools, including a children's pool with a fountain in the middle, as well as a kids' activity area and kids' club in the summer.
5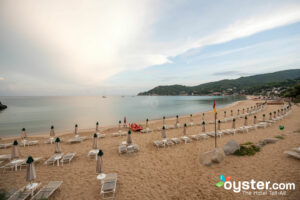 With a private beach, scenic infinity pool, golf course, and nine tennis courts, Hotel Hermitage is one of the larger resorts on Elba Island and offers a solid value. Built in the 60s and located on Biodola Bay, about a 10-minute drive from Portoferraio port, the hotel has 130 rooms, suites, and family rooms distributed among a series of buildings hidden among pines and Mediterranean scrub. Four restaurants -- including one for kids -- offers a nice variety, but rooms are a bit drab and can be noisy.
6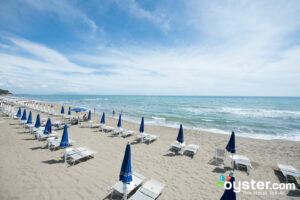 Built in the 60s, the 166-room Riva del Sole Resort and Spa is a self-contained property near the Tyrrhenian Sea divided into two sections: a luxury hotel that rents rooms and less expensive apartments. The extensive amenities, open to all guests, include a fitness center, a convenience store, a spa, three swimming pools, mini golf, and tennis courts.
7
Billed as a high-end camping village, this property has some fun amenities -- a striking pool, Turkish bath, and tennis courts -- but the basics may be a bit uneven. Bungalows of various sizes are spread over a large wooded area about 500 meters from the beach. Guests have noted that, even though the property is large, the encampments can be quite close together and the site can get crowded. There are play areas for children, as well as day and nighttime animation.
8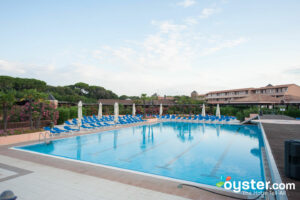 Garden Club Toscana is a resort in San Vincenzo, a popular tourist destination on the southern coast of Tuscany. This expansive mid-range property sits next to a beautiful beach, which is a short walk away through an underpass. The property is surrounded by beautiful gardens, wooded areas, and open patios. It offers a range of facilities, including a luxurious spa, two pools, tennis courts, a fitness center, and a huge theater. The 430 guest rooms are situated in residential, Mediterranean-style buildings. They are a bit on the small side, and lack mini-fridges, safes, and Wi-Fi, but most of them have balconies. The resort is family-friendly, with many activities for kids, including two kids' clubs and a game room.
9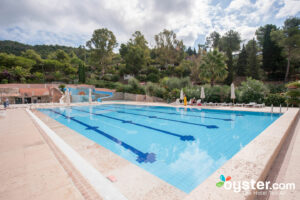 Rosselba Le Palme is a mid-range camping village not far from Portoferraio on the northern part of Elba Island, the biggest and most touristy of the Tuscan isles. The resort can host up to 1500 people and does get noisy. There's a wide array of lodging options, from basic apartments with kitchens to luxury "glamping" tents. Prices are a bit higher than what's usually charged at a camping village, but you get a lot more: scenic location and beach on the Gulf of Portoferraio, lap pool, on-site water park, free Wi-Fi, and a pizzeria.
10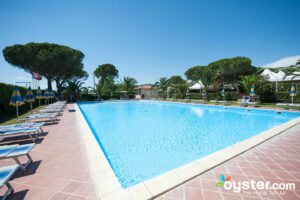 Villaggio Capalbio is a budget-friendly vacation village located three kilometers from the beach outside the medieval town of Capalbio in gorgeous Tuscany. There are many amenities on-site including a restaurant, small bar, big outdoor swimming pool, tennis courts, and play areas for children. Rooms consist of independent cottages set in a well-manicured field amongst stone pines; larger bungalows include a kitchenette. A free shuttle service connects guests to the nearby beach.
11
The budget-friendly Argentario Camping Village has apartment-style bungalows and cottages next to its campgrounds. All rooms have kitchenettes, but are otherwise basic, with minimal decor and furniture. Features include a large swimming pool, private access to the beach, and two restaurants. A shaded playground, a children's pool, and kid-friendly entertainment during high season make it a good option for families.