Best Boutique Hotels in Valencia, Valencia Province
Take a look at the best boutique hotels in Valencia.
See All Valencia Hotels
1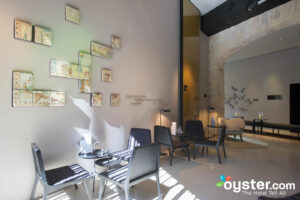 Known for being one of the few hotel-monuments in Spain, the 26-room Caro is a unique luxury boutique located in the heart of the city center. The hotel seamlessly blends stunning historic elements such as mosaic tiles from the Roman period, parts of the city's Moorish walls, and Gothic wooden beams with chic minimalist decor, both in rooms and common spaces. Alma de Temple Restaurant is known among locals and visitors alike for its excellent Mediterranean cuisine, and the bar has an intimate patio complete with a small plunge pool. The Caro offers in-room massage services and free Wi-Fi throughout, but lacks a full spa and a fitness center. Hospes Palau de la Mar Hotel has both of those amenities and similar prices, but Caro Hotel has more character and charm.
2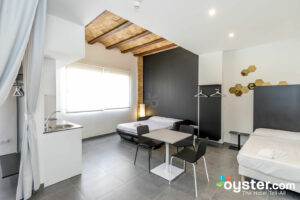 Opened in late 2015, SoHotel is a contemporary three-pearl property that occupies a heritage building in the Boho-friendly Ruzafa neighborhood. Like many apartment-style hotels, it is short on features, and its 22 sparsely decorated, black-and-white units take minimalism to the extreme; nevertheless, they are roomy (some can accommodate six guests) and come with free Wi-Fi, sofa beds, balconies, and kitchenettes. The latter is outfitted with just the basics, but there are plenty of eateries in this up-and-coming area. Trendy bars, clubs, and shops are also plentiful, and numerous Old City sites are in walking distance. Vacationers looking for a full-service hotel with more amenities (including a restaurant, bar, meeting room, fitness center and round–the-clock reception desk -- all of which SoHotel lacks) should consider the nearby Hotel Zenit Valencia instead.
3
The 58-room Hotel Sorolla Centro is simple and lovely -- and perfectly located for visitors to Valencia, whether they are in the city for business or for sightseeing. One block from the hotel is City Hall and a block in the other direction is the bull ring. Nearby streets are pedestrian-only, and the hotel is surrounded by shops, restaurants, and cafes that offer an authentic look at local life and culture.
4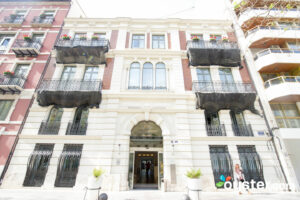 The 66-room luxury boutique Hospes Palau de la Mar Hotel is a refurbished 19th-century palace that's near Valencia's historic center. The lobby is grand, with tall arches, pillars, an imposing marble staircase, and elaborate wood carvings and ironwork. The hotel combines this grand old Spanish feeling with modern, high-quality touches and Zen-like tranquility. Rooms are oases of calm with elegant furnishings, promising a peaceful stay.
5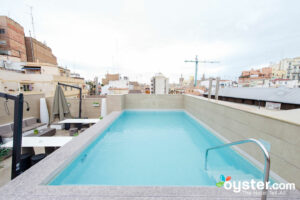 Vincci Mercat is an attractive and modern three-and-a-half-pearl boutique hotel that's a short stroll from the vast Mercat Central covered market. With its location in Old Town and near other sights, the property is an excellent choice for tourists. A rooftop plunge pool with a seasonal poolside bar is the highlight feature here, and the hotel offer a solid hot breakfast buffet for a fee and has a lobby bar. The 68 streamline guest rooms all come with flat-screen TVs, electric kettles, minibars, and free Wi-Fi, and some have balconies. Travelers looking for a hotel with a fitness center can check out Zenit Valencia, which is also closer to Estacio del Nord train station.
6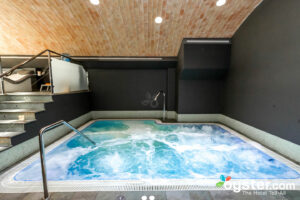 The upper-middle-range Myr Plaza Mercado & Spa is a boutique hotel situated in the heart of Old Town, right across the street from Mercando Central. Its 25 minimalistic modern suites for three to four guests are still fresh from the property's 2016 opening, and all feature fully equipped kitchenettes and stylish (though sometimes narrow) bathrooms with rainfall showers. The property also has a spa with a roomy whirlpool, hammam, relaxation area, and massage services, but the spa is only open during limited hours and use is not necessarily included in the room rate. A casual restaurant and bar, open until late, is another helpful feature as is limited on-site parking -- rare for a central city hotel. By comparison, the Vincci Mercat has a rooftop plunge pool, but rooms lack kitchenettes.
7
The two-pearl Hotel Adhoc Carmen is modest but charming, set on a pretty cobbled alleyway in the heart of Valencia's historic center, just a five-minute walk from the city's cathedral and the Jardines del Turia. The 21 rooms are simply outfitted and appointed, but they're brightly painted, clean, and have flat-screen TVs and modern showers. The reception area has work by local artists on display, which contrast with the historic architecture. There's little in the way of communal areas, and the hotel lacks a restaurant. Although guests can get a discounted breakfast at a nearby cafe. Affordable rates and central setting make this is a good pick for travelers, but travelers looking for a pool and breakfast might prefer the Vincci Mercat Hotel.
8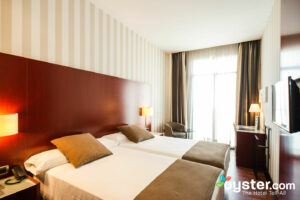 One of Hotel Zenit Valencia's biggest assets is its location across the street from the beautiful Estacio del Nord. The three-and-a-half-pearl boutique property's common spaces are attractive and on-trend, although decor in its 67 guest rooms is more contemporary, with a chain hotel aesthetic. All units have AC, minibars, flat-screen TVs, and free Wi-Fi, but they lack coffeemakers or kettles, and some rooms are a bit small. Hotel features include a solid breakfast buffet with hot items for a fee, plus a Mediterranean restaurant, a bar, and a fitness center with a sauna. Travelers looking for a quieter location, rooms that are more luxurious, and an indoor pool might consider The Westin Valencia Hotel, but rates are significantly higher.
9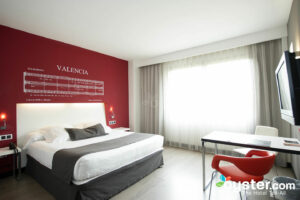 A nine-story building on the outskirts of the old city, the Hotel Dimar is a contemporary, upscale hotel at a reasonable price. Those wanting an authentic Valenican experience will find the hotel is well-situated in a residential neighborhood with cafes, bars, and shops frequented by locals. Bicycles provided by the hotel make it easy for guests to take in the rhythm of the city. Renovated in 2009, the entire property gives off an air of modernity and openness. A delicious free breakfast includes hot and cold items, and there's even a Nespresso machine. Rooms are somewhat trendy, with minimalist furnishings, and some have balconies; some facing the street can be noisy.
10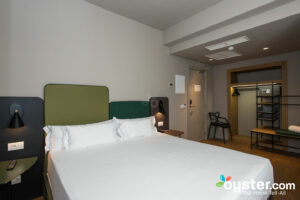 The three-pearl Hotel One Shot Colon 46 is a small, stylish property with a great city-center location. The art-centric hotel is decorated with midcentury modern furniture, and painted in shades of muted sage and gray, with funky floor mosaics and nifty touches like a big chalkboard in the elevator listing what's happening in Valencia that day. The 50 rooms are similarly modish, and have flat-screen TVs, rainfall showerheads, free Wr-Fi, and minibars. Although some have balconies overlooking the Carrer Colon, others have views of an interior wall. Guests generally like the breakfast buffet with an array of cakes, patisserie, and Serrano ham, although it does come at a cost. On the downside, there are no full restaurant, gym, or wellness facilities. Travelerss looking for a hotel with a pool might want to check out the Vincci Mercat.
11
For those looking for a modern hotel in central Valencia that delivers the basics, the three-pearl Catalonia Excelsior is a solid choice. It offers a varied breakfast buffet (not included in rates), limited room service, and a small gym. The 84 rooms vary in decor from homey to sleek, but all have top-notch amenities like flat-screen TVs, minibars, kettles, and marble bathrooms, although parts of the hotel show a bit of age. Past guests have complained about noise issues between the rooms. Myr Plaza Mercado & Spa, with a restaurant, spa, and rooms with kitchenettes, is a good -- if somewhat pricier -- alternative.
12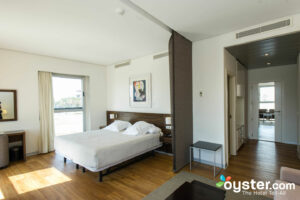 The four-pearl Hotel Neptuno is a beachfront property situated on Valencia's east coast, about a 20-minute drive from the Old Town and other tourist sites. Stylish interiors combine clean lines and modern furnishings with Pop Art paintings and colorful accents. The hotel's 50 rooms feature a minimalist Scandinavian style and amenities like minibars, plasma TVs, and free Wi-Fi, while suites add upscale perks like large furnished terraces with hot tubs and attractive bathrooms with both jetted tubs and hydromassage rainfall showers. There is a restaurant on-site, as well as health facilities that include a steam room, hot tub, fitness room, and spa treatments. For something more centrally located, travelers might want to consider the Vincci Lys, though it doesn't offer as many features
13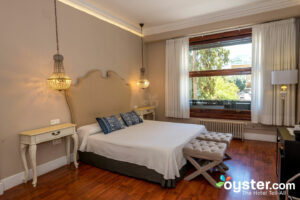 B&B Hi Valencia Boutique has a great location right in Valencia's Ciutat Vella (Old City) surrounded by attractions, restaurants, bars, and shops. Despite the name, it's not a traditional bed-and-breakfast, and there are no common areas apart from a small reception room. (Most guests obtain breakfast at a coffee shop across the street for a fee.) The 11 elegantly decorated rooms are on the small side, but they are equipped with flat-screen TVs and modern bathrooms. Most have Nespresso machines and mini-fridges, too, although some lack external views. It's worth comparison shopping with hotels in the same neighborhood; the Kasa Katia Guest House, on a pedestrianized street, offers an on-site breakfast, for a fee.