Best Kid-Friendly Hotels in Valencia, Valencia Province
Take a look at the best kid-friendly hotels in Valencia.
See All Valencia Hotels
1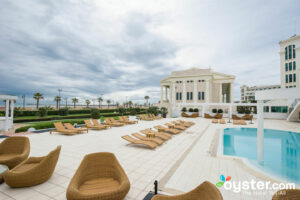 An upscale hotel in a quiet beachfront neighborhood, Hotel Las Arenas Balneario Resort has both luxurious amenities and substantial business facilities. Its sprawling, sometimes impersonal atmosphere has earned it a reputation as being more suited to convention-goers than individual travelers. Nevertheless, with its enviable setting, the hotel attracts all types and often hosts weddings. Along with the ocean, the spa and pools offer plenty of opportunities for relaxation. Spacious rooms are decorated with pastels and light wood furnishings; bathrooms, too, are large, with plush robes and slippers. While the hotel has all the amenities one would expect from a first-class resort, service is sometimes inconsistent for the average tourist, largely due to the heavy emphasis on meetings and conventions.
2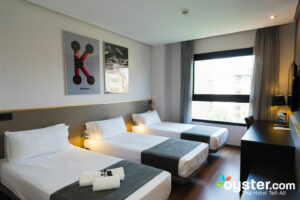 Hotel Kramer is a chic three-pearl hotel with budget rates, since it's located outside of Valencia's city center. Still, it's in a walkable neighborhood and directly next to the Turia metro station. Seventy updated rooms present an almost industrial look and have flat-screen TVs, free Wi-Fi, and mini-fridges. Extras include a simple breakfast (that's free with direct booking from the hotel), trendy tapas restaurant, and cozy reading room. The biggest downside is noise between rooms. It's worth comparing prices at the nearby NH Valencia Center, which has a rooftop pool, gym, and business facilities for not much more money.
3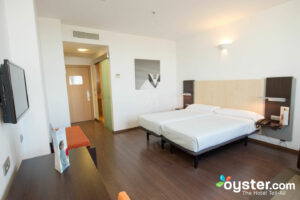 The views from the Ilunion Aqua 4 hotel in Valencia are sweeping and architectural, centering on the City of Arts and Sciences complex from a perch within a tony shopping mall. Interiors at the 184-room, upper-middle-range property reflect the design-centric Spanish city: The furnishings -- although a bit IKEA-like -- are colorful and contemporary. The property was built in 2006 and features a Michelin-starred restaurant with panoramic views as well as a chic lobby-level restaurant where a buffet breakfast is served for a fee. Visitors interested in a place with a pool may prefer to stay at the sister property -- the Ilunion Aqua 3 -- which is slightly smaller at 135 rooms and about an 18-minute drive from the Aqua 4.
4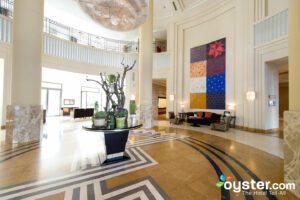 The Westin Valenica is a large, high-end property that's also a good base for discovering the city. The hotel combines classic style with modern technology, drawing many business travelers and large groups with its several ultramodern function rooms and banquet hall. Housed in a majestic white building, easily one of the most impressive structures in the city, the hotel is within walking distance of the center of Valencia. There are three on-site restaurants to choose from -- including those offering Mediterranean and Japanese fare -- plus a cocktail bar/club with terrace. The Caroli Health Club is a great place to replenish, with thermal and water treatments, and guest rooms are large. However, some can be loud and there are fees for Wi-Fi, parking, and use of the heated pool.
5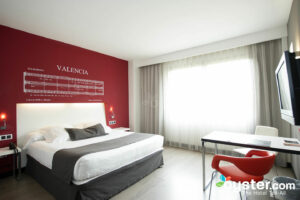 A nine-story building on the outskirts of the old city, the Hotel Dimar is a contemporary, upscale hotel at a reasonable price. Those wanting an authentic Valenican experience will find the hotel is well-situated in a residential neighborhood with cafes, bars, and shops frequented by locals. Bicycles provided by the hotel make it easy for guests to take in the rhythm of the city. Renovated in 2009, the entire property gives off an air of modernity and openness. A delicious free breakfast includes hot and cold items, and there's even a Nespresso machine. Rooms are somewhat trendy, with minimalist furnishings, and some have balconies; some facing the street can be noisy.
6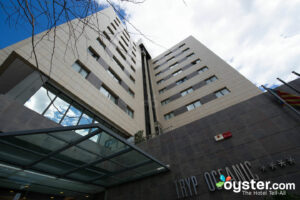 Tryp Oceanic is a comfortable yet unremarkable mid-range hotel near the aquarium and City of Arts and Sciences, a 10-minute drive from the center of Valencia. The casual atmosphere and reasonable rates make it a popular option for all types of travelers, especially families. Rooms are simple and adequate with a somewhat corporate feel, and bathrooms are spacious. The rooftop solarium is worth a ride to the top of the hotel, and offers great city views. The buffet breakfast is affordable, and offers a variety of hot and cold options -- but is served in a rather small room, so there can be a wait for a table. A highlight of the hotel is its proximity to The Oceanografic Park, an aquarium with dolphin shows. Travelers seeking a similarly priced property nearer to the city center, and with a bit more style, could try the Ayre Hotel Astoria Palace.
7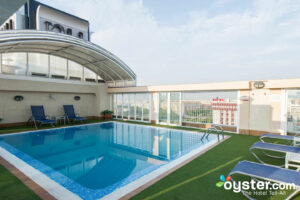 While the upper-middle-range NH Valencia Center is technically in the center of the city, few of the main tourist sights are within walking distance, but the main bus station and a metro stop are nearby. Its 192 rooms show a design flair, with sharp-edged, dark-wood furniture and pale walls. They include minibars, safes, and free Wi-Fi. But the rest of the property, built in 1996, has begun to show its age. The hotel has a fitness center with weight and cardio machines, and a rooftop pool with lounge chairs and views of the skyline. There's also a business center and seven function rooms. Travelers interested in staying in the newer section of Valencia should check out the Tryp Oceanic Valencia, which has comparable amenities and rates.
8
Plaza Picasso is a mid-range, apartment-style hotel located in a residential neighborhood outside the city center. It's a 10-minute drive (30-minute walk) from attractions, but there are plenty of restaurants and bars in the area, as well as two metro stations within walking distance. Its simple one- and two-bedroom apartments have living rooms with sofa beds, along with kitchenettes and dining areas. Like most hotels of this type, there are few other facilities, but this one has a breakfast room and a separate cafe with an outdoor terrace. Similar rates and a traditional hotel experience can be found at the NH Ciudad de Valencia, though it's no closer to central attractions.
9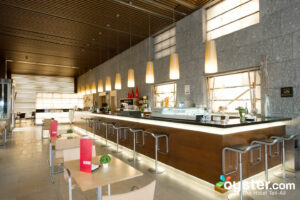 Silken Puerta Valencia is a large three-pearl option that's located in a busy corner of the El Pla del Real neighborhood. It's popular with business travelers and families, though you'll need to take the bus or a cab into the historic city center. Six function rooms, a bistro restaurant, and separate bar -- which serves light meals during the week -- are available on-site, but there's no gym or pool. The 157 rooms are simple, but modern, and include air-conditioning and flat-screen TVs, while top-floor rooms with large furnished terraces and great city views. Sports Rooms include cardio equipment. Travelers wanting to be in the Ciutat Vella should shop around -- attractive properties like the Valenciaflats Catedral can often be had for only slightly higher rates.
10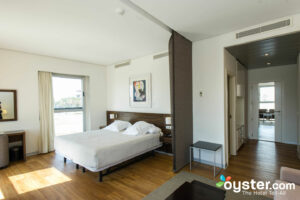 The four-pearl Hotel Neptuno is a beachfront property situated on Valencia's east coast, about a 20-minute drive from the Old Town and other tourist sites. Stylish interiors combine clean lines and modern furnishings with Pop Art paintings and colorful accents. The hotel's 50 rooms feature a minimalist Scandinavian style and amenities like minibars, plasma TVs, and free Wi-Fi, while suites add upscale perks like large furnished terraces with hot tubs and attractive bathrooms with both jetted tubs and hydromassage rainfall showers. There is a restaurant on-site, as well as health facilities that include a steam room, hot tub, fitness room, and spa treatments. For something more centrally located, travelers might want to consider the Vincci Lys, though it doesn't offer as many features
11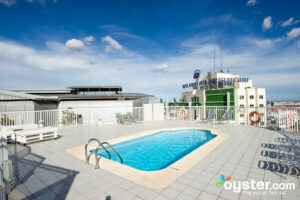 Located in a mall on one of Valencia's main thoroughfares, the sleekly modern three-pearl Hotel Alameda Plaza (previously the Holiday Inn Valencia) sits opposite the City of Arts and Sciences, and is about a five-minute drive to the port and a 15-minute drive to town. It packs in some nice amenities, including a gym, the Mezzo Mezzo restaurant, meeting rooms, and a small rooftop pool with city views from the surrounding terrace. The 200 guest rooms are spacious, and have flat-screen TVs, minibars, and kettles, but they've begun to show some wear and tear. With the mid-2016 shift from Holiday Inn ownership, the property still has some kinks to work out, especially regarding service, according to some guests. Travelers could also check out the Hotel Conqueridor, which is closer to the city center but has slightly higher rates.