Some things we know to be true: The sky is blue, water is wet, and Vermont is stuffed with ultra-cozy inns and bed-and-breakfasts. This is the state synonymous with crackling fireplaces, maple-leaf candies, and piles of soft flannel, so it makes perfect sense that it would be chock-full of cozy properties that make you want to hunker down in New England and never leave. (B.Y.O. Snuggie.) Here are the properties that represent the ultimate in coziness.
See All Vermont Hotels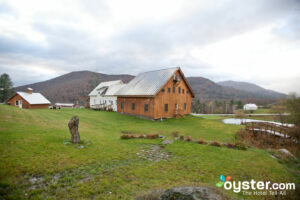 Amee Farm is so charming, it looks like it belongs on the side of a box of cocoa. Its pretty farmhouse sits on rolling green grounds complete with a pond and a footbridge. A wraparound porch set with clusters of Adirondack chairs serves as the perfect perch to take in the views. And yes, there's even a dinner bell by the front door. Interiors are every bit as cozy as the grounds, with broken-in leather armchairs, a corner stove, and rocking chairs galore. Rooms continue the mood with rough-hewn wood accents bringing woodsy details indoors. Families with kids will appreciate the Queen Suite with a pair of rustic bunk beds.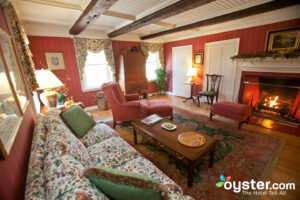 Some Vermont inns add a few tentative touches of coziness and a hint of whimsy here and there. But The Inn at Ormsby Hill leans into it completely. Velvet sofas, floral-print curtains, and a crackling fireplace -- all of it broadcasts a sheer excess of snuggly qualities. On the grounds, a hammock and a gazebo with a rocking chair give spots to laze about alfresco. Rooms are also shamelessly frilly, with canopied beds, Oriental rugs, and feminine wallpaper. In-room features encourage maximum relaxation, too (think deep soaking tubs complete with candles and playful bath toys).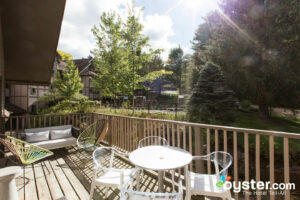 Vermont cuteness isn't all doilies and overstuffed armchairs, as Field Guide proves. Here, you'll find a young, fresh, and revved-up version of the classic cabin in the woods. Cardboard deer busts and forest-printed wallpaper present cheeky rustic touches, and shots of electric orange add megawatt brightness to the space. But the fireplace piled high with logs and the plush seating draped in shearling fuzz prove that hipness and coziness can coexist in equal measure. Rooms continue this stylish mix, with wood-grain bed runners and bird-print wallpaper. And while the decor gives a nod toward rustic getaways, the in-room tech -- including smart TVs and iPads -- put an urban level of connectivity close at hand.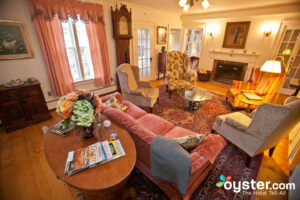 This inn's cute mailbox -- a miniature replica of the Round Barn itself -- shows just how much the property embraces the adorable. The grounds are a pure fairytale, covering more than 245 acres with ponds and footbridges stretching all the way back into a rolling hillside. While interiors are quite cozy -- the lobby is warmly decorated with wingback chairs, a grandfather clock, and a hutch with tea and coffee -- the inn is surprisingly large with enough space for a sizable breakfast room and even an indoor pool. All rooms come with plush bathrobes, and higher categories have soaking tubs and fireplaces, making them the ideal spot to unwind at the end of the day.
From the outside, The Pitcher Inn might appear like your typical New England bed-and-breakfast, but once inside, the property's quirky personality becomes clear. All 11 rooms and suites are individually decorated according to a different theme -- such as mountain, ski, or, trout (yes, trout). Wall-mounted snowshoes, bright-red long underwear, and logging saws add plenty of character and decorative flair to accommodations. One room even has a bed surrounded by tree trunks, giving a storybook quality to the space. While decor is left-of-center, amenities are high-end and swanky. Whirlpool tubs and radiant floor heating come standard, and wood-burning fireplaces, balconies, or huge steam showers can be requested.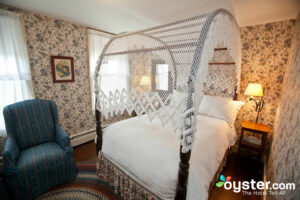 The Grafton Inn is a picture of pure Americana. Its three-story building fronted with shuttered windows and topped with three red-brick chimneys is made all the more endearing with two wraparound porches and a fluttering American flag. The porch holds enough olive-green rocking chairs that everyone can claim a spot at sundown. Inside, oil paintings, writing desks, and brass-knobbed drawers convey a decidedly colonial look. Rooms continue the style with lace-canopied beds and patterned wallpaper. Instead of minibars, rooms are stocked with a block of Vermont cheese paired with an apple, for a true local snack.